United Methodists who have had longtime relationships with Christians in the Middle East through ecumenical organizations are concerned about their plight in Syria and other countries.
The Rev. Motoe Yamada, senior pastor of the Japanese United Methodist Church in Sacramento, Calif., first become acquainted with Mor Eustathius Matta Roham, the Syrian Orthodox Metropolitan (archbishop) of Jazirah and Euphrates, in 2006.
Both are members of the World Council of Churches Central Committee. "He's really a down-to-earth person," she said. "He's always willing to explain his traditions of the Syrian Orthodox Church."
However, Yamada is worried that Syria's civil war is threatening Matta and his church, just as Frances Alguire, former president of the World Methodist Council, has concerns for a longtime friend, Mar Gregorios Yohanna Ibrahim, the Syrian Orthodox archbishop of Aleppo.
Jan Love, who represented The United Methodist Church for many years in various roles with the World Council of Churches, agreed Christians in the region, particularly Syria, are "very threatened," despite the "faithful, long-standing presence dating back to the early centuries of the church."
Love, dean of Candler School of Theology at Emory University, acknowledged the "profound" dedication of Syrian Christians to ecumenism. "It's deeply sad to think that they all are suffering so much fear now in the midst of the civil war."
Keeping in touch
Yamada said she has made a special effort to "check in" with Matta since the events of the Arab Spring. When she saw him at the council's Commission on World Mission and Evangelism meeting in March, he mentioned a sniper had killed a bishop, she recalled.
In September, two days after the Central Committee meeting started in Greece, Yamada said she asked Matta how he was doing. He told her the restaurant where he had eaten lunch just before flying to Greece had been bombed. "He was in tears," she reported.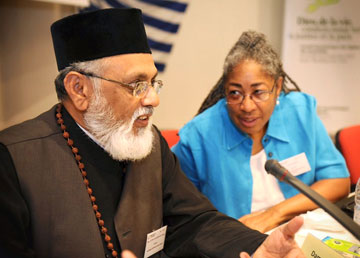 Evelyn Parker, U.S., and the Rev. Kondothra M. George, from the Malankara Orthodox Syria Church in India, lead a Bible study at the recent World Council of Churches Central Committee meeting in Crete. A web-only photo courtesy of World Council of Churches/Mark Beach.
As a local church pastor, "when I hear about Syria, I often just think of what I see on TV," she reflected. But, as Yamada told her congregation after her conversations with Matta, "it's not just happening on the news. When one suffers, we all suffer together. As a body of Christ, we need to remember other parts of the world."
That message was sent worldwide by the council's Central Committee, which issued aSept. 4 statement on Syria calling for an end to all violence and for dialogue by all parties, including Christians, as "the only solution&ellipsis;to safeguard the unity and pluralistic nature of historic Syria."
Alguire, a United Methodist from Chapel Hill, N.C., has warm memories of her friendship with Gregorios through annual dialogues on peace at Saint Egidio Communita, a Catholic group headquartered in Rome, so she worries about the news from Aleppo.
"My heart aches for these dear people and Christian friends," Alguire wrote to United Methodist News Service. "In his last email he was mourning the death of his dear friend, a physician, who was killed while treating the injured."
On Oct. 12, the British Orthodox Church posted a letter to the British foreign secretary on its website, calling for attention to the plight of Christians in Syria.
The letter cited reports of "fierce fighting" in an Armenian Orthodox Church compound in Aleppo in September and noted that Gregorios had told Reuters news service that hundreds of Christian families had fled the city in recent weeks.
Contribution of Orthodox Christians
Love, who was part of a World Council of Churches commission on Orthodox participation, has witnessed the important contributions of Orthodox Christian leaders to the ecumenical landscape.
"We think of the Methodist tradition as an old tradition, but in terms of the long history of Christianity, Methodists are relative newcomers," she said. "It's really powerful to interact with and become friends with people whose churches go to the very origins of our entire faith traditions and who have lived in the places where the gospel was first preached."
During her time with the council, Love was received in Damascus by Greek Orthodox Patriarch of Antioch and All the East, Ignacios IV Hazim, a former council president. "He's an extraordinarily gracious man and a very welcoming spirit for churches and traditions coming together to seek unity," she said.
Love also met there with Moran Mor Ignatius Zakka-I Iwas, supreme Pontiff of the Universal Syriac Orthodox Church. "They have an extraordinary church compound just outside of Damascus," she recalled. "I stayed there for a week one time."
How to help
Both the United Methodist Committee on Relief and Church World Service have supported several partners aiding Syrians, including the International Orthodox Christian Charities, which is providing humanitarian relief inside Syria through the Greek Orthodox Patriarchate of Antioch and All the East and outside Syria in refugee camps in Jordan and Lebanon.
Donations can be made to International Disaster Relief UMCOR Advance # 982450 to support UMCOR's humanitarian aid to Syrian refugees.
As a minority, Christians risk being targeted and manipulated during civil war, she pointed out. "I'm sure it's deeply dangerous for them and probably an extraordinary challenge to try to reach out and address the humanitarian needs of all the people," Love said.
Concern about the Middle East Christian populations was echoed in a statement issued by the General Assembly of the Community of Protestant Churches in Europe during its September meeting in Florence, Italy. Roseangela Jarjour, a Syrian Christian and a top executive of the Federation of Middle East Evangelical Churches, addressed the gathering and called on western churches to "raise their prophetic voice and not simply follow their governments' lead."
While Christians and Muslims initially took to the streets together in Syria, Christians felt they had to retreat as the violence escalated, Jarjour said, noting that her own family was forced to flee Homs. Both Christians and churches in Syria have fallen victim to looting, arson and general destruction.
Christians in the Middle East "don't want to become refugees, but to live in peace and with full citizens' rights and duties in our own land," Jarjour said.
"Christians in Syria are especially deeply worried about the threat to basic human rights and security in the present civil war," the assembly's statement said. "As well as this they fear an impending loss of religious and cultural plurality in Syria and the loss of the principle of the participation of all groups in their society.
"As the CPCE we are deeply concerned because it is often difficult to recognize in the politics of our governments a concern for the life of our Christian sisters and brothers in Syria, for their religious freedom, and for the preserving of religious and cultural diversity in Syria."
*Bloom is a United Methodist News Service multimedia reporter based in New York. Follow her at http://twitter.com/umcscribe.
News media contact: Linda Bloom, New York, (646) 369-3759 or [email protected].
---
Like what you're reading? Support the ministry of UM News! Your support ensures the latest denominational news, dynamic stories and informative articles will continue to connect our global community. Make a tax-deductible donation at ResourceUMC.org/GiveUMCom.