On a dreary, rainy Monday, Dorothy Payetee starts singing a hymn. Soon others join in and slowly begin to file into the small cinderblock building that serves as the village's gathering place.
Today it is mostly mothers and children because many of the villagers are already out busy with daily chores. Payetee, a community health volunteer from Ganta United Methodist Hospital, opens the spontaneous meeting with a prayer and then she starts quizzing the group on healthy habits.
Payetee, Kormassah Mulbah and Tonia Albertha Binda are welcome, familiar faces here. The health-care volunteers are often the only way these villagers can get medical attention.
The three have been coming to outlying villages served by the hospital since 2008. The Ganta United Methodist Hospital works with Curamericas Global in the Nehnwaa Child Survival Project in Nimba County, Liberia. Ganta Hospital serves an area of more than 450,000 people.
Curamericas Global serves as a partner with underserved communities to improve health and well-being. According to the organization, this area has the third-highest maternal mortality rate in the world.
"What are some of the good things we have done?" Payetee asks. It doesn't take long for almost everyone to chime in.
"You have to keep your child warm and the surroundings clean," said one mother with three children attached at her hips.
Mulbah, the family planning supervisor, explains, "We taught them that to prevent pneumonia."
Prevention is key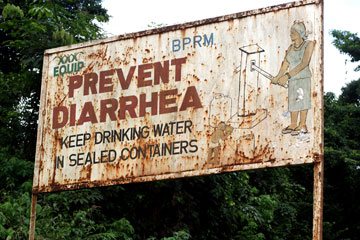 Signs are posted on roadsides to give people important health information.
This small village has a population of 418 and is an hour's drive from the hospital. Problem is, no one has cars. There is one van used by the Nehnwaa Child Survival Project to respond to any emergencies.
Because it is so difficult to get help, prevention measures are stressed, said Allen Zomonway, project manager for the hospital's public health program.
Binda, a registered nurse, cares for infants and children up to 5 years old. Malaria, diarrhea and pneumonia are constant enemies she works to keep at bay.
She dispenses rapid-diagnosis tests for malaria and gives out malaria medicine. She keeps zinc on hand for pneumonia and talks to the villagers about home remedies for diarrhea.
Health-care professionals from John Hopkins Hospital in the U.S. have been to Ganta to train the volunteers. The volunteers also make use of e-learning offered by the USAID, Zomonway said.
The team works on water and sanitation because those are core to good health, he said. Family planning, prenatal and postnatal care for women and HIV testing and education are also stressed.
Liberia has dry and wet seasons. During the dry season, children are exposed to measles, polio, diphtheria and other airborne diseases, he said. Childhood immunizations are available for children under 5 years old.
The program provides water wells and maintains them for two years, and then the upkeep of the wells is turned over to community. That is why education is so important, Zomonway said.
Villagers are taught to cover the wells and treat them every three months. Women are instructed on everyday sanitation techniques such as building elevated racks for dishes to keep them from becoming contaminated by waste from children and roaming animals. They are taught to dig a pit away from the village for garbage.
"It is challenging," Zomonway said. "Many villages did not welcome us at first. They were not receptive to new ideas."
Importance of family planning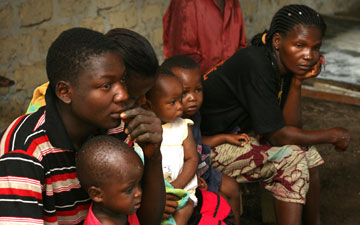 Villagers gather in a cinderblock building to hear what health community workers are doing today.
One of the most challenging subjects is family planning, Mulbah adds.
"We try to tell them to space out their children, at least two years, and we offer birth control tablets and condoms," she said. "Some men are opposed to the idea, and the women have to hide their pills. Some think family planning is interfering with God's purpose."
But Mulbah feels she has broken through many of those barriers.
The United Methodist Book of Discipline, the denomination's law book, discusses family planning in the context of "The Right to Health Care." It affirms "the right of men and women to have access to comprehensive reproductive health/family planning information and services that will serve as a means to prevent unplanned pregnancies, reduce abortions, and prevent the spread of HIV/AIDS." The passage cites John 10:10b, which quotes Jesus: "I came that they may have life, and have it abundantly."
When Payetee asks the gathering about the importance of family planning, there is some laughter and smiles leap from face to face.
One woman, a midwife, volunteers some added advice for the few men in the room. Pointing her finger and talking sternly she says, set aside some money for your pregnant wives so they have some clothing for themselves and the newborn.
She told a story about one man who went to the hospital after his child was born and didn't bring the proper supplies. He had to cut up his trousers for diapers, she says as laughter erupts.
The easy-going exchanges and good humor are indications that the health workers are respected. People are listening, Payetee said.
However, responding to emergencies is a crucial need for all the outlying villages.
"In the absence of a vehicle, we have to use a hammock to bring someone to the hospital." That mode of transportation adds many hours and prolonged pain and danger for the patient, Payetee said.
*Gilbert is a multimedia reporter for the young adult content team at United Methodist Communications, Nashville, Tenn.
News media contact: Kathy L. Gilbert, Nashville, Tenn., (615) 742-5470 or [email protected]
---
Like what you're reading? Support the ministry of UM News! Your support ensures the latest denominational news, dynamic stories and informative articles will continue to connect our global community. Make a tax-deductible donation at ResourceUMC.org/GiveUMCom.