During the last quadrennium, I sought to bring attention to the numbers reported across the United Methodist connection in relation to vital congregations. As a trained researcher, I have always had an affinity for wondering what the numbers were telling us. I am very clear that the numbers do not tell the whole story, but they do point to indicators in our cultural and contextual landscapes that we ought to pay attention to as leaders of the church. Here is what caught my eyes as we prepare to bring together the story of our connection. 
We are a growing denomination. Over the past 10 years, according to the General Council on Finance and Administration Research and Statistics Department, we have had a 24 percent increase in membership throughout our entire connection. Africa Central Conference has leaped by 329 percent, while Northern Europe and Eurasia have lost nearly 30 percent of their membership. Each region has a story to tell. While one part faces challenges and another is blessed with growth, we belong to a connection in which all parts of the body of Christ matter. How do we tell this story?
We are in many places around the world. We have 133 annual conferences in four regions of the world. Sixty-six active bishops, supported by countless laity and clergy offering their gifts as principled Christian leaders, lead those conferences.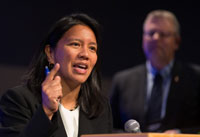 U.S. conferences 
In the United States, the numbers tell an interesting story. Forty-six bishops lead 57 annual conferences in five jurisdictions. Twenty-six of the conferences (a little more than 45 percent) paid 100 percent of their apportionments to support denominational programs. Out of the U.S. annual conferences, 44.2 percent (23) grew their budgets between 2014 and 2015. More than half — 55.8 percent — reduced their budgets. 
But it's not all about money.
Sixty-one percent of the total worshippers in our United Methodist Church in the U.S. also participate in Christian-formation opportunities.
Forty-eight percent of the worshippers involved in United Methodist mission in the U.S. also participate in mission experiences. 
Thirty percent of our congregations in U.S. annual conferences are growing. 
This begins to reflect the quality of discipleship taking place in our United Methodist Church. The hope-filled narrative is that people are growing in their love of God through Christian-formation experiences. This may relate to the generosity we are experiencing in the number of annual conferences paying 100 percent of their apportionments. This may also relate to the fact that so many people in our connection are visiting one another in cross-cultural mission and ministry experiences.
'Glimmers of hope, auras of possibility'
Places in Africa are growing rapidly. Many annual conferences in the African central conferences have partnerships with U.S. annual conferences. These partnerships are signs of our vital connection. We could learn from our colleagues in central conferences about growing in mission and ministry in other contexts around the world. We are stronger when we work together for God's mission through The United Methodist Church. 
We can choose to see these numbers through the lens of crisis and despair. We can respond with fear and trembling. Or we can choose to see these numbers as glimmers of hope, auras of possibility and steps in which the Holy Spirit is creating something new in the people called United Methodist for the lost, the broken and the needy in our world today. 
We started the 2013-16 quadrennium with an invitation to consider the divine imagination leading us in the vision for the work of The United Methodist Church. I am hopeful that this vision will continue to lead and guide us into General Conference. How do we inspire hope and possibility, rather than allow and contribute to the narrative of fear, crisis and despair?
Bishop Robert Schnase, Missouri Area, offers a starting place. He writes, "Permission-giving leaders shift from 'How can I change those people to get them to do what I want?' to 'What are the changes I'm willing to make to unleash people for ministry?' They embody the change they want to see happen. This shift in attitude is an antidote to helplessness. Leading a permission-giving church requires becoming a permission-giving leader. Change in the church begins with the change in values, attitudes and behaviors that takes place in us."   
In such a complex system as our beloved United Methodist Church, we must release one another as permission-giving leaders. None of us knows the full picture of the complexity of our United Methodist connection. We may get glimpses of it from the cultural, contextual lens in which we operate, but we will never fully conceive all the people, places and relationships that must take place for a vital connection to work for the mission of making disciples of Jesus Christ for the transformation of the world. 
This is hard work! Let us trust God to unleash the work of the Holy Spirit in places and spaces where creativity and wonder can grow!
The Rev. Amy Valdez Barker, Ph.D., is executive secretary of the Connectional Table.
---
Like what you're reading? Support the ministry of UM News! Your support ensures the latest denominational news, dynamic stories and informative articles will continue to connect our global community. Make a tax-deductible donation at ResourceUMC.org/GiveUMCom.