The growth of girls' education has been at a disproportionately slower pace than that of boys in developing countries like Liberia, although girls are doing better in cities.
In part, at least, girls suffer because of economic and cultural factors built around the fact that males become the heads of the families – not just in African culture – so parents think it wiser to invest more heavily in boys' educations so that they will help secure the future for their own wives and children.
The experts point out that this runs counter to development trends.
The boy-girl classroom equation is reaching parity in Liberia, particularly in urban areas where the issue of the practical importance of girls' educations has been in the forefront. The rural areas lag behind and aid organizations are addressing the issue.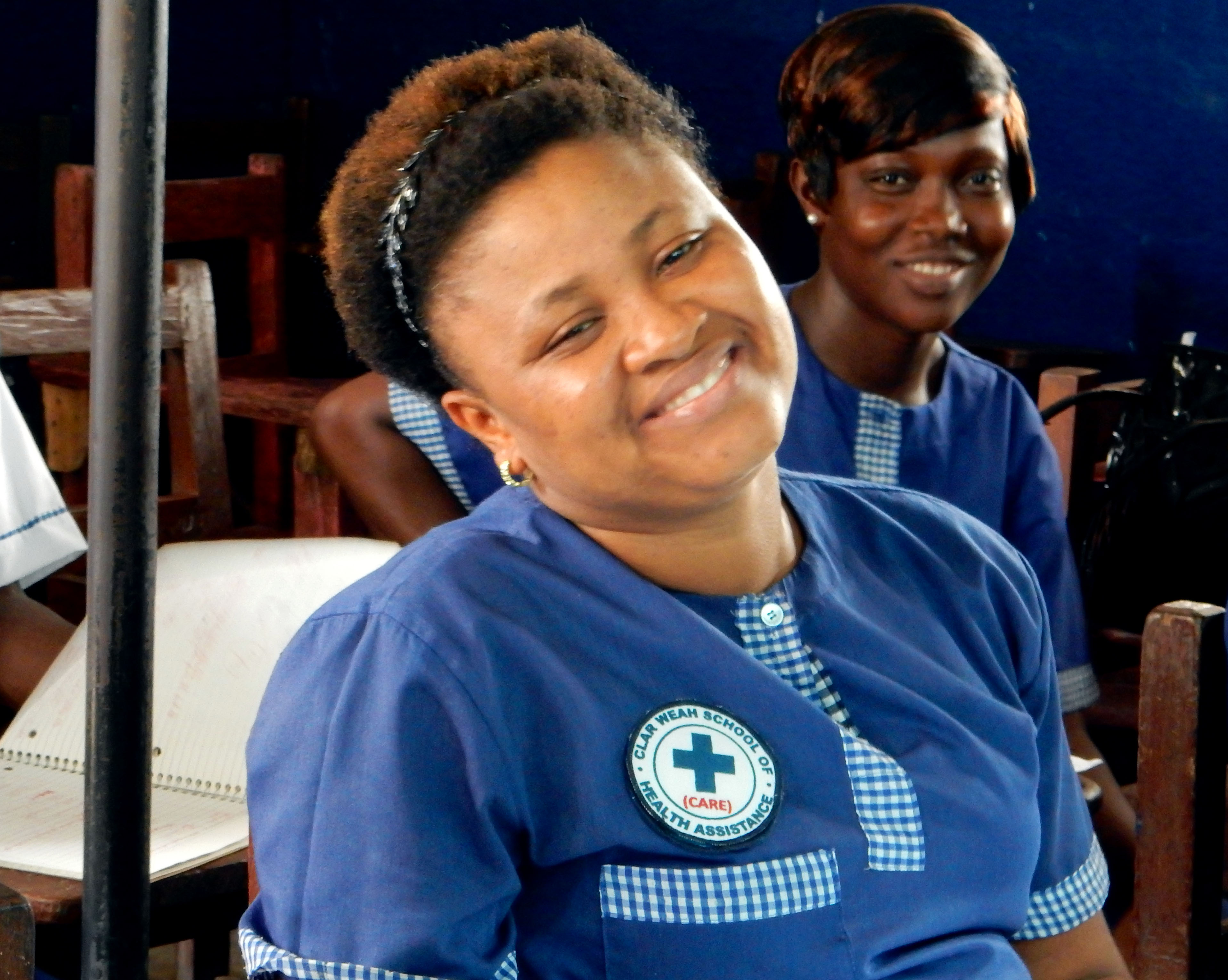 The United Nations, for example, and others fighting for gender equity point out that the economic security of a family increases with the level of education of the mother. Child survival rates are even higher for educated mothers than uneducated ones.
But at what cost? And how much is too much?
The girls, in their attempts to become educated, often have to raise the funds themselves.
A case in point of how much harder it can be for the girls to even make it into the classroom is the story of 11th-grader Margaret Duyen, who, a few pennies at a time, raises the approximately $50 U.S. dollars annual cost of her education.
"I raise my tuition by working with merchants to sell overstocked goods on the streets, to clear their inventory," says Duyen. 
And the cost can be much, much higher, as teachers who award grades and pastors who hold the purse-strings to scholarships sometimes exploit the young women.
There is even more potential danger for the girls as they seek sponsors to help them attend middle and high school.
Of course, it's not always bad, but it can be. These benefactors can range from family members to strangers who legitimately want to help. But, experts say, it again more frequently leads to the exploitation of the girls.
How you can help
To support the Young Ladies in Waiting Mentorship initiative, please contact Nyamah Dunbar at [email protected] or Princess Knuckles at [email protected]
Taking action
The Rev. Princess C. Knuckles of the Liberia Annual Conference was spurred by seeing the situation first-hand.
"God spoke to my heart, after observing the local young women in my community …. to reach out to them," she said.
And this led to her founding a mentoring effort called "Young Ladies In Waiting."
In her effort to enlist people who would be willing to participate in this campaign to help lift these young girls, she reached out to me to see if I could help.
And she points to the key problems facing girls.
"In addition to the economic situation, morals are increasingly lacking ….," she said.  "Girls also lack good examples.  People need good role models that they can follow."
Frances Kromah—a nursing student who has been solely responsible for her tuition since she was in ninth grade – is a member of Young Ladies in Waiting. She agrees with Knuckles.
"Many of the young women are now disenchanted with education and resorting to prostitution as a means of sustaining themselves and caving in to peer pressure to obtain material things which they crave," she said.  
She said that once the sun sets in her neighborhood in the heart of Monrovia, young women – from underage girls to adults – flood the streets in search of clients who want to pay for sexual favors.
Knuckles said the church should become active in helping these girls escape this situation.
"Very few people in the society in general are concerned about the youth, but you can change a lot if you reach out in love," she said. "The church can make a lot of difference in impacting the change needed within the lives of youth."     
And she's not saying that all the girls are giving up and succumbing to using their bodies as the means of acquiring material needs and desires.
That's where education comes in, says Grace David, an 11th-grade member of Young Ladies in Waiting.
"I want to be a nurse, sociologist, and musician," she said.
"Although a lot of young women at my school and in my community fall prey to peer pressure, I am determined to beat the odds" and scale the barriers keeping her from getting a solid education and subsequent financial and moral well-being.
Her personal situation – and her hopes – became particularly dire after her father, the sole breadwinner, died during the Ebola crisis.
For her and her family it became a tale not only of raising the $250 U.S. annually to pay her school fees, but of survival itself.
She recalls going to a church service after her father's death and hearing the pastor call for parishioners to sow into the offering plate the seeds of faith needed to help them in their pursuit of God's help in their problems.
 "All the money that I had was about $50 Liberian dollars, approximately 50 U.S cents.  I decided to put it all in the offering and all I asked God that day was for Him to please allow me to continue my education." 
A benefactor did step forward to help with the fees, but David still fights the anxiety caused by worry over how to acquire the funds to keep paying.
That's really where Young Ladies in Waiting serves its mission of bringing these ambitious young women together to share their common platform and think collectively about how to stay upbeat in their pursuit of advancement and education without resorting to high-risk behaviors.
 Knuckles and I are working regularly with them to provide encouragement and work with them in a common fund-raising concept for their educations and also to help the group – which now includes 21 young Monrovians  – reach more young women.
Dunbar, founder of Sankofa Inc. Agribusiness and former program manager in West Africa for United Methodist Committee on Relief, is based in Liberia. 
News media contact: Vicki Brown, news editor, [email protected] or 615-742-5470.
---
Like what you're reading? Support the ministry of UM News! Your support ensures the latest denominational news, dynamic stories and informative articles will continue to connect our global community. Make a tax-deductible donation at ResourceUMC.org/GiveUMCom.