Key points
The Rev. Karen Y. Collier was one of the first women of color to finish a doctorate in church history, one of the first to serve as pastor in middle Tennessee, and one of the first to serve as an editor for the United Methodist Publishing House.
The Women of Color Scholars program, which she helped establish, provides financial and mentoring support for United Methodist women pursuing doctorates in religious studies.
Collier was also a mentor and friend through major life changes.
---
M. Garlinda Burton.
Photo courtesy of M. Garlinda Burton.
Editor's note: The Rev. Karen Y. Collier was instrumental in creating the Women of Color Scholars program, served as an editor for the United Methodist Publishing House for many years, and was a pastor to United Methodist congregations in the Nashville, Tennessee, area. She died May 5 at age 73. Her longtime friend M. Garlinda Burton shares this remembrance.
Commentaries
UM News publishes various commentaries about issues in the denomination. The opinion pieces reflect a variety of viewpoints and are the opinions of the writers, not the UM News staff.
When I officially began working for The United Methodist Church in 1981, the Rev. Karen Y. Collier was already a denominational legend. She was finishing a Ph.D. in church history, one of the first women of color to do so. She was one of the first Black United Methodist clergywomen to serve in middle Tennessee, and she was an editor for the United Methodist Publishing House — again one of the few women of color in such a position.
Further, Karen came from a well-known Nashville family. Her parents owned a business on Jefferson Street, the main drag in the city's historically Black community, and she and her four siblings were reared in Clark Memorial United Methodist Church. Each became community leaders in their own right — bankers and business leaders, educators, a United Methodist district superintendent and Karen, the legendary Ph.D. Everybody who was anybody in Nashville knew the Colliers.
I was in awe of Karen's confidence, and that's saying a lot, because in those days I was in awe-inspiring company. As a newer member of the small, but growing group of Black women working at churchwide agencies, I had regular "power lunches" with Bishop Leontine T.C. Kelly (she wasn't yet a bishop; she was on the evangelism staff at the former General Board of Discipleship), Lina H. McCord of the Black College Fund, and Newtonia Coleman of United Methodist Communications, where I also worked.
These beautiful sisters taught me so much about our denomination, from the complexities and evolution of theological history to the politics inherent at all levels of our organizational life. Karen had a love for the church that was, nonetheless, anchored in her experiences in challenging systemic racism and sexism that are uniquely difficult for those who are "firsts." She pulled no punches telling me who to watch out for, who to avoid and from whom to get all agreements in writing because they were prone to "misremember." Karen also made me know and cherish her heroes in faith and pop culture.
One of my proudest moments was when Dr. Karen Y. Collier played an instrumental role in creating the Women of Color Scholars, a project administered by the United Methodist Board of Higher Education and Ministry. The program, established in 1988, offers financial support and mentoring to United Methodist women of color pursuing doctorates in religious studies at seminaries and universities. As one of the first such women in the denomination, Karen became the standard-bearer and lead mentor for the more than 50 women to date who have completed their doctorates through the program.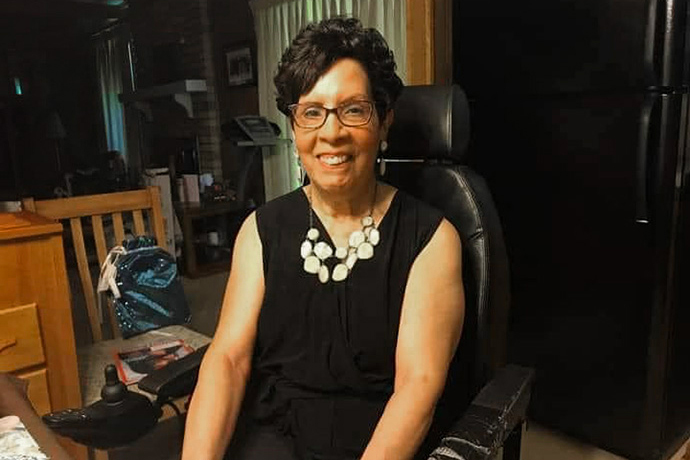 For all the pride I felt watching Karen's professional accomplishments, the best part was that this role model became my family. Karen married my first husband and me, and later became our pastor. When my sister showed signs of mental illness, Karen was the first to alert us. When my husband died, she offered me comfort.
Even as our professional positions changed, we stayed close and still had our power lunches (with Newtonia and me, as Lina and Bishop Kelly passed on). Karen was the pickiest eater among us, so we always let her choose the restaurant. And when she faced health challenges and couldn't drive or walk, we'd take lunch to her house and still talk, laugh and gossip about the goings-on in our denomination and in our community. Karen never lost her curiosity and interest in what was happening in church and society. And she always had a strong opinion about everything.
Saying goodbye to my powerhouse friend is difficult. She lived such a life, full of family, laughter, struggles and triumphs. I would love to have one more power lunch with my sister-friend. But I will wait, Karen Y. Find the best bistro in heaven, and save a table for Toni and me. We know we'll see you there.
Burton, of Nashville, Tennessee, is a United Methodist deaconess and resource developer with the United Methodist Commission on Religion and Race.
News media contact: Tim Tanton or Joey Butler at (615) 742-5470 or [email protected]. To read more United Methodist news, subscribe to the free Daily or Weekly Digests.
---
Like what you're reading? Support the ministry of UM News! Your support ensures the latest denominational news, dynamic stories and informative articles will continue to connect our global community. Make a tax-deductible donation at ResourceUMC.org/GiveUMCom.