In her first year as a seminary student, Shelly Gonzales has come to rely on the campus Cokesbury store as a sort of unofficial student union - a place where she can get needed guidance, meet friends and even enjoy the occasional splurge on fair-trade chocolate.
"For students, it's having that personal touch of people who can really guide you to what you need for your classes," said Gonzales, an elder candidate at Southern Methodist University's Perkins School of Theology in Dallas. "I, for one, will miss that personal touch and interaction."
Gonzales, a member of the Northwest Texas Annual (regional) Conference, is not the only one.
The United Methodist Publishing House's Nov. 5 announcement that it plans to shutter all 57 of its Cokesbury stores - including 19 seminary locations - has theological schools across the United States scrambling to determine their next move.
The timing of the closures will vary depending on local circumstances, but all Cokesbury stores are to end business no later than April 30, 2013. The United Methodist Publishing House does not plan to cease current operations at its seminary stores until after the spring book rush period.
For seminaries, the shutdown of the campus stores means losing places where ministerial students buy textbooks, their first stoles and souvenirs emblazoned with their theological school's name and logo. The Cokesbury stores at United Methodist, United Church of Christ, Presbyterian and interdenominational seminaries also have served as a ministry that introduces clergy to resources they will use their entire careers.
The United Methodist Publishing House, a self-supporting nonprofit agency, has faced increasing pressure from online sales and budget shortfalls at its brick-and-mortar stores. Now, the Publishing House plans to redirect its resources to the Cokesbury Call Center (1-800-672-1789), special church events and Cokesbury.com.
Neil Alexander, United Methodist Publishing House president and publisher, said his agency is "reaching out to the seminaries and ready to establish Internet-based 'virtual stores' for textbook and other book sales that are custom-built for each school."
At present, he said, 17 seminaries partner with Cokesbury.com on a virtual store. Cokesbury supports 1,380 courses encompassing 7,810 textbooks - an increase of about 20 percent from fiscal year 2011.
"We are also ready to provide guidance and consultation on how schools could assess the pros and cons related to the logistics and financial viability of their running an on-campus store of their own," Alexander added.
Still, seminary leaders have expressed concerns about what the closures mean for both their schools and the future of Cokesbury in general.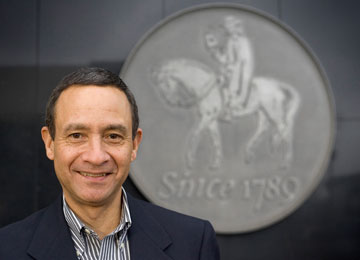 Neil Alexander, publisher and president of the United Methodist Publishing House. A UMNS file photo by Mike DuBose.
What customers will miss
People are increasingly turning online for their reading material, and seminary students and faculty are no different.
Still, the Rev. William B. Lawrence - Perkins dean and professor of American church history - said his students will miss the convenience of the campus Cokesbury store where they and ordained clergy enjoy a 20-percent discount.
He has set up a task force to explore Perkins' options after the campus store closes.
More critically, he worries the closure of Cokesbury stores could do lasting damage to the United Methodist Publishing House - and the clergy pension funds the agency historically has supported with its surplus revenue.
"Having a Cokesbury store on the site of the United Methodist theological school has the advantage of beginning to establish a program of customer loyalty on the part of seminary students who themselves are going to go out to be leaders in the church," Lawrence said.
"Where will the graduates of our school and all the other seminaries that have been accustomed to using Cokesbury for vacation Bible school and Sunday school curricula, vestments, gifts for graduates go? The risk is that customer loyalty will evaporate, and so will that part of the business."
The Rev. Jay Rundell, president of Methodist Theological School in Ohio, pointed out that the Cokesbury store on his campus always has experienced a spike in business on the weekends licensed local pastors attend Course of Study. "That's one constituency that may be affected," he said.
He added that at a recent student council meeting, someone asked where students would get "stuff" with the seminary's name once Cokesbury is closed.
"Things like graduation gowns are ordered through Cokesbury, and all the other accoutrements students like," he said. "We will need to find a way to do that."
Like other seminary administrators, he is just beginning to think about life after the Cokesbury campus bookstore.
Rundell expects his seminary in Delaware, Ohio, will explore online options to serve student and faculty needs. If Cokesbury cannot afford to keep open its stores, he said, he doubts his seminary can generate enough revenue to maintain a store on its own.
"I understand that Cokesbury is trying to fill this (online) niche," he said. "We will look at that certainly. Cokesbury has supported us and supported a lot of things across the church for a long time. &ellipsis; But we will have to weigh it against what other organizations have to offer."
Necessary change
Rex D. Matthews, associate professor in the practice of historical theology at Emory University's Candler School of Theology in Atlanta, has seen the challenges facing Cokesbury from multiple perspectives.
He was the manager of Candler's Cokesbury store from 1980 to 1985 and senior editor at the United Methodist Publishing House's Abingdon Press from 1989 to 1997. He still is general editor of Kingswood Books, a series on Wesleyan and Methodist studies published by Abingdon.
"The Y2K scare about the failure of computers all over the world and the social and economic chaos that would result &ellipsis; proved to be a lot of hooey - but the chaos that has turned the publishing world upside down since then is real enough," he recently wrote in a letter to a friend. "Nobody back then, other than maybe Jeff Bezos himself, understood what Amazon might (and now has) become."
Specifically, he said Amazon and similar online stores now are so effective at facilitating the sale of secondhand books that "some places are going to textbook rental."
All of that puts pressure on the publishing and bookselling sides of the industry, he said.
Still, he estimates that about half of Candler's students buy their textbooks at the Cokesbury campus store. The student discounts make its prices competitive, if not cheaper, than ordering from Amazon, and the store is faster than the mail.
Working with seminaries
Alexander said the United Methodist Publishing House is making every effort to ensure needs are met and customer loyalty is not lost during this time of transition.
"Of course, we are eager to connect with and build long-term relationships with students, and that has been a driving purpose for maintaining the seminary stores for many years," he said. "Meanwhile, students as well as others have increasingly migrated to other channels including Cokesbury.com as a part of the evolution in the digital world. We hope and expect that we will reach and serve students with increasingly robust tools like MinistryMatters.com and Cokesbury.com as well as the personalized service available through the toll-free Cokesbury Call Center."
Not all 19 of its seminary partners have given permission for the Cokesbury retail arm to sell items with campus logos. In some cases, the student association or university bookstore owns the license.
"Sales of school-name products through Cokesbury have been modest," he said. "But we hope to work with schools to handle any requests for these types of products through our custom-products unit."
Cokesbury also will continue to sell used textbooks and offer ways for seminary students to "sell back" textbooks online at the end of each semester in its customized virtual seminary stores, Alexander said.
He added that his agency would continue to offer students and faculty Cokesbury charge accounts.
Gonzales, the Perkins student, said she understands the financial necessity of closing the stores.
"Probably, we'll get used to ordering things online," she said.
But, she added, "I don't think I will be as likely to buy things like fair-trade chocolate online because it's not something that's at the top of my mind."
*Hahn is a multimedia news reporter for United Methodist News Service.
News media contact: Heather Hahn, Nashville, Tenn., (615) 742-5470 or [email protected].
---
Like what you're reading? Support the ministry of UM News! Your support ensures the latest denominational news, dynamic stories and informative articles will continue to connect our global community. Make a tax-deductible donation at ResourceUMC.org/GiveUMCom.