Arkansas executed Kenneth Williams, 38, on April 27, ending a series of executions carried out by the state before its supply of sedatives used for lethal injections expired at month's end.
The state initially planned to execute eight men but legal challenges stopped four.
The Rev. Steve Copley, chair of the board of the Arkansas Coalition to Abolish the Death Penalty and a United Methodist pastor, was one of a number of United Methodist clergy who spoke out against the executions. 
"As a United Methodist, I believe strongly that we must end the use of the death penalty in our country.  There are many issues that have surfaced during these past couple of weeks that show the need to end its use," Copley said of the multiple executions.
Copley said last week that a letter signed by clergy from several denominations asked Arkansas Gov. Asa Hutchinson to stop the proposed executions.
Jack Jones and Marcel Williams received lethal injections on the same gurney Monday night, just a few hours apart. Ledell Lee was put to death on April 20, Williams was executed for a murder he committed after escaping prison while already serving a life sentence for another murder.
After Lee's execution, the Rev. Britt Skarda, pastor of Pulaski Heights United Methodist Church in Little Rock, talked about her objections to the death penalty.
"Arkansas death row inmate Ledell Lee's last meal request before being executed last night? Holy Communion — the body and blood of Jesus Christ. This heinous act at the hands of the state does not make us bigger or better or more godly. Rather it makes us smaller and meaner and less human. Lord have mercy. Christ have mercy," said Skarda.
Skarda and other United Methodist clergy were among those speaking out against the  "unprecedented" pace of the original plan to execute seven men by April 27.
Hutchinson said he scheduled the executions because one of the drugs in the lethal injection cocktail the state uses expires at the end of April. He signed the orders on Feb. 27 for eight executions; however, one of the men had his execution stayed after the state parole board recommended life in prison without the possibility of parole. Legal challenges on multiple fronts have delayed three more of the planned executions.
United Methodist clergy noted the timing of the executions during the Easter season.
"I was appalled that our governor announced these executions the week of Ash Wednesday and that they would be carried out the two weeks after Christians celebrate life through the risen Christ," said the Rev. Jay Clark, an associate pastor at Pulaski Heights.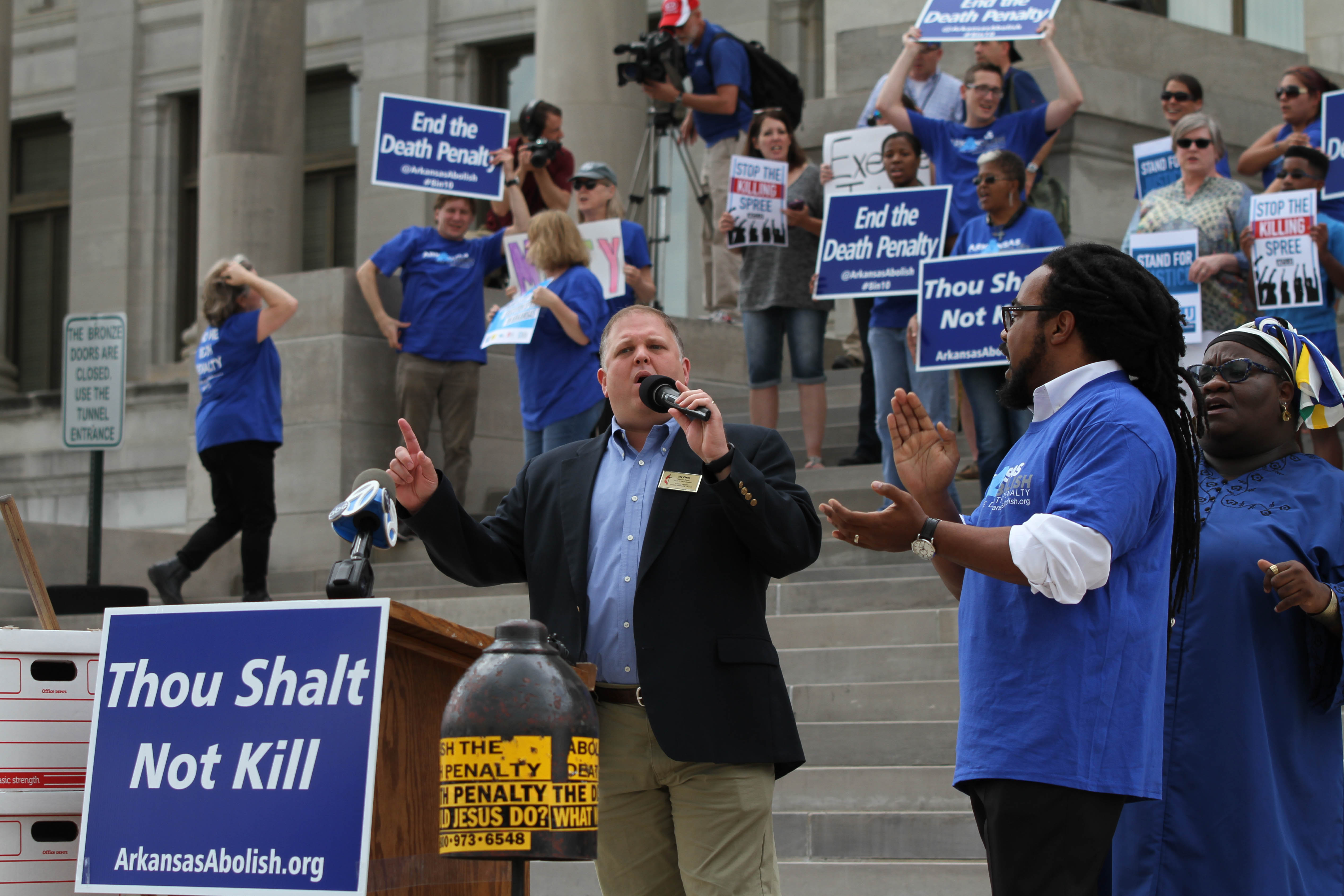 The Rev. David Freeman, pastor of First United Methodist Church, Little Rock, spoke about the executions from the pulpit on Palm Sunday, April 9.
"I simply said that just as Jesus' palm parade was a form of political protest, we should exercise our own form and stand against these executions. I said that our state scheduling eight and thankfully now seven executions in the 11 days after Easter seems eerily similar to Pilate's scheduling executions during the Passover to quell any rebellions."
The Rev. Michelle J. Morris, pastor at Wesley and Cavanaugh United Methodist churches in Fort Smith, writing in a blog, said the dates of the executions "feel a little like the leaders and soldiers who mocked Jesus.
"It feels a little like the state is saying, 'Oh, you believe in the resurrection? In forgiveness of sins? Well, watch this. Where's your forgiveness and resurrection now, huh?' " 
The Methodist Church took a stance against the death penalty in 1956, an opposition that continues today. 
Morris said she opposes the death penalty for four reasons: innocent people are executed; people are asked to kill other people; people are denied an opportunity for repentance, and Jesus never chose retaliation.
"I am called to follow Jesus, to try to model my life after his," she said. "He didn't face the cross, then come back resurrected and start putting people to death for what they did to him."
Clark said he did not feel is was "our job to decide who lives and who dies. We discredit God's redemptive power when we take a life into our own hands.
"As a United Methodist, I have heard all of my life about our unique view of grace and why grace is important — it's time for United Methodists of Arkansas to practice what we preach."
Gilbert is a multimedia news reporter for United Methodist News Service. Contact her at (615) 742-5470 or [email protected]. To read more United Methodist news, subscribe to the free Daily or Weekly Digests. 
---
Like what you're reading? Support the ministry of UM News! Your support ensures the latest denominational news, dynamic stories and informative articles will continue to connect our global community. Make a tax-deductible donation at ResourceUMC.org/GiveUMCom.