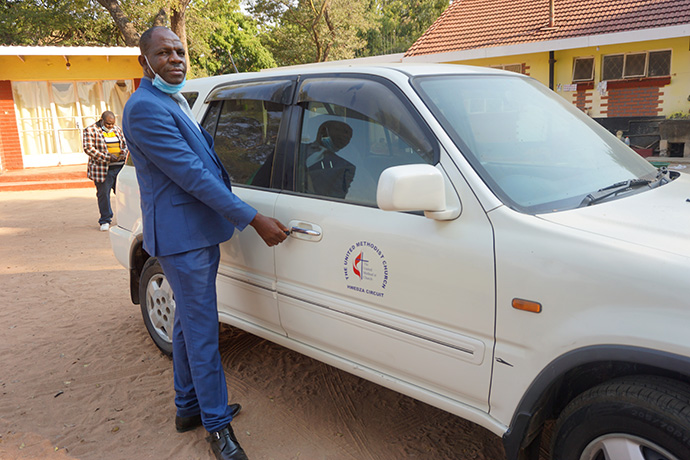 ---
Key points:
• At Hwedza United Methodist Circuit, spread within a radius of 37 miles, the pastor traveled to four local churches monthly without a vehicle.
• Without a vehicle and reliable public transportation, the pastor walked great distances, sometimes sleeping on the road.
• Next on the fundraising agenda are a carport and fencing of the parsonage.
---
Hwedza United Methodist Church members sang and danced to show their gratitude to God after receiving their first circuit vehicle.
The Rev. Godknows Risinamhodzi, Chitungwiza Marondera District superintendent, said nothing is as essential as ensuring pastors have mobility for the ministries they are called to serve.
"Mobility is one of the greatest challenges, among many, in most rural setups," he said. "With the current economic challenges, this achievement was never a walk in the park. Such an achievement was borne out of great sacrifices."
Risinamhodzi credited the Rev. Tsitsi Madziyire, Seke North United Methodist Church pastor in charge of the sister circuit, Hwedza United Methodist Church, for launching the initiative. He also complimented the Rev. Annamore Kafesu, associate pastor, and the leadership team and task force for "catching the spirit."
During a weeklong, fact-finding mission in April 2021, Madziyire said, "we discovered that Hwedza UMC has a membership of 300 spread within a radius of 37 miles with four local churches. The pastor had to cover all four local churches monthly; yet, she was not mobile."
Asked how she managed to conduct church business without a circuit vehicle, resident evangelist Learnmore Rungwandi, pastor in charge, provided a heartrending explanation that led the visitors to agree that a vehicle was desperately needed.
"This required a team effort," said Madziyire. "Everyone went home, determined to do something toward the cause. We implemented an aggressive fundraising strategy and mobilized friends and relatives from all walks of life," she said. "Hwedza UMC was also contributing the little they could. There was nothing too small or too big."
In July 2021, a vehicle valued at $6,000 was purchased for the church.
"Through this achievement, I got closer to God, knowing well that God can do the impossible," said Rishon Mareya, task force coordinator. "The next project is to assist them with a carport and fencing of the parsonage because (with) miracles in our midst, only faith is needed."
"I am happy," Rungwandi, said. "My tears have been dried, and my prayers have been answered. I had endured enough of walking long distances and humiliation and had lost my dignity. Had it not been because of the calling, the love of my job and my determination to bring people to Christ, I would have thought otherwise."
She walked "countless miles," using any available mode of public transportation, even an ox-drawn cart. "Unfortunately, on reaching the venue," Rungwandi admitted, "I would not be as presentable as I would have wished."
She added, "It was a constant cause of embarrassment, not being able to render support when called at night when someone was sick or going through a domestic dispute needing mediation. I used to be late for meetings, until I decided to go a day before.
"After the meeting, coming back was another mammoth task. One day, I cried and prayed when the public transport broke down, and I slept on the road.
"Today I cannot believe that all this is now ancient history," Rungwandi said. "To God be the glory."
Patricia Chinopfumbuka, Hwedza United Methodist Church lay leader, agreed. "It was very painful and emotional to see the evangelist walking to the next local church," she said. "We could not assist her because we had nothing."
When the fundraising idea was initiated, she said, people "vowed to support whatever they could contribute. We managed to raise $658. The spirit of Chabadza (working together for mutual benefit) was at play.
"Now that we have a vehicle," Chinopfumbuka said, "the evangelist can visit locals more frequently. We can also accompany her. She can attend meetings on time and arrive back home safely." Remaining needs are vehicle maintenance and fuel.
Simon Mafunda, Zimbabwe East Conference lay leader, said, "The efforts by friends to support the idea to procure a vehicle for rural ministry is commendable and greatly appreciated. This complements the Rural Pastors Transport Initiative that has been going on for more than five years."
He noted that many rural circuits include several local churches separated by miles, making it difficult for pastors.
"If many people within our churches and beyond catch this spirit of helping each other," Mafunda said, "the rural ministry will be greatly transformed."
"We applaud the receiving circuit, Hwedza, for grasping the Chabadza concept, which required them to play their part, as well in response to the initiative by the Rev. Madiziyire," Risinamhodzi said.
"The offering horizon also stretches to those beyond Chitungwiza Marondera District boundaries as Rev. Madziyire and the task force needed to cast their nets deeper and wider."
He said the achievement is an example of connectionalism.
"Let us continue to evangelize within and outside our pulpits," Risinamhodzi said, "for the church is not at home until we take Jesus from the sanctuary to the community. Undoubtedly, with this achievement, more is assured within the church's outreaching and witnessing ministries."
Chingwe is a communicator for the Zimbabwe East Conference.
News media contact: Julie Dwyer at [email protected]. To read more United Methodist news, subscribe to the free Daily or Weekly Digests.
---
Like what you're reading? Support the ministry of UM News! Your support ensures the latest denominational news, dynamic stories and informative articles will continue to connect our global community. Make a tax-deductible donation at ResourceUMC.org/GiveUMCom.