As the Chicago teachers' strike entered its second day Sept. 11, parents of 350,000 students scrambled for child care, and at least three United Methodist churches opened their doors to respond to community need.
Chicago Area Bishop Sally Dyck issued a public call for prayer for "our public schools in all our communities across this conference."
"The Chicago Public Schools is the third largest public school system in the U.S. As a large and complex system, its issues are heightened but they are the same in most school systems across Illinois and even throughout the country," the bishop noted. "The outcome of this strike may well have impact on how other school systems resolve their economics, politics and educational reform initiatives."
While calling for prayer for all involved, the bishop said her primary concern is for the children. "It's not easy to be a kid these days," she said. "Especially in a large public school system in a city which is gripped with violence. One mother bemoaned that she had to keep her child inside during the strike because it was too dangerous to play outside."
Over 96 hours during the 2012 Memorial Day weekend, the city experienced more than 40 shootings that took the lives of 10 people. On June 4, Bishop Hee-Soo Jung, then assigned to the Chicago Area, released a pastoral letter calling for United Methodists to pray and take action to end the gun violence that has rocked the third-largest U.S. city. The number of violent deaths was nearing 300 at the end of July.
"I encourage all United Methodist churches to find a way to be in partnership with the public schools in your area, especially those who need it most," Dyck said in her Sept. 11 statement.
'Responsibility to be educators'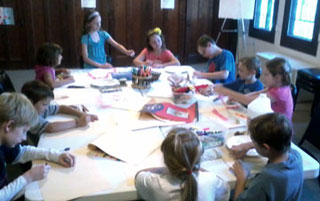 Children of the Beverly neighborhood in Chicago work together at the Trinity United Methodist Church while schools are closed. A UMNS web-only photo by Joseph Johnson.
On the city's northwest side, the 90-member Humboldt Park United Methodist Church has a strong community presence, especially with women dealing with domestic violence. "This week," said the Rev. Ramon Nieves, "we are also ministering to their children who are not in school due to the strike. Our doors have been opened for all children who need a place."
Such outreach is important, he continued, "because the church has a responsibility to be educators, too, to its children and its community. We also have teachers who are members of the church, who are leaders in our congregation. We are committed to supporting them through this time."
Twenty miles south, in the Beverly neighborhood, Trinity United Methodist Church recognized "a major need," said the Rev. Joseph A. Johnson. He is in his fourth year at the church, which averages 20 to 30 worshippers each Sunday.
When he got the email from his alderman, Johnson recalled the last teachers' strike - 25 years ago - that lasted 19 days. He knew the church had to do something.
"We began yesterday with welcoming 14 students," he said. A retiree, a self-employed mom, youth who are vacation Bible school veterans and neighborhood parents tutor participants in reading and math, lead games, show movies and coordinate recreation. The children bring their own lunches, and the congregation serves a snack. Parents pay a nominal fee, mostly to cover the snack.
Because the building features a gym, it is already a popular site for community activities. "Two of the kids and their families have been in ministry with us through VBS," Johnson said. "We also have 'Day Off at Trinity,' which offers care to students who have the day off on report card pickup day."
'Complex situation'
Meanwhile, the 650-member First United Methodist Church at the Chicago Temple downtown is right in the middle of the action. Located across from Daley Plaza, the church is situated between the Chicago Public Schools headquarters and city hall.
During the hours that school normally would be in session, said the Rev. Wendy Witt, the teachers are picketing at the schools. Later in the day, they come downtown. The associate pastor described her role as "connecting the church with the community." During the strike, the church provides a hospitality/cooling center for anyone who wants to come in from 7 a.m. to 9 p.m. every day of the week.
The congregation includes many people concerned about education. "We have administrators, principals, teachers, Head Start teachers, parents and children," Witt said.
"We're hearing all sides of a very complex situation - not just one side."
While 144 "Children First" sites are open across the city so students will have a safe place to stay, the contingency locations are only open half a day. Starting on Thursday, Sept. 13, they will be open until 2:30 p.m. CDT to meet parent demands.
For now, the park district is taking up some of the slack, Johnson said.
Some 26,000 teachers and support staff in the nation's third-largest public school district are engaged in a standoff with Mayor Rahm Emanuel. At the heart of the controversy, the Chicago Sun-Times reported, are two key issues: allowing principals the right to choose teachers and evaluating teachers based largely on student test scores.
"One of our concerns," Johnson said, "is if the strike drags on, will we be able to continue with our lay staffing?"
But the parents are thankful for the church's outreach. "One of the mothers was extremely grateful and in tears," the pastor said.
"Many parents work, not because it's a fun thing, but because it is an economic necessity."
*Dunlap-Berg is internal content editor for United Methodist Communications, Nashville, Tenn.
News media contact: Barbara Dunlap-Berg, Nashville, Tenn., (615) 742-5470 or [email protected].
---
Like what you're reading? Support the ministry of UM News! Your support ensures the latest denominational news, dynamic stories and informative articles will continue to connect our global community. Make a tax-deductible donation at ResourceUMC.org/GiveUMCom.