Late-winter tornadoes and high winds roared across several Midwestern states early Feb. 29, leaving death and destruction in their wake.
But even as United Methodists grieved loss of life and assessed damage, they sought ways to be Christ in their communities.
In Harrisburg, in southeastern Illinois, six people were confirmed dead, and many were missing. Earlier reports from state officials said 10 had died. The undamaged First United Methodist Church became a hub for disaster relief.
The Rev. Paul E. Black, director of communication ministries for the Illinois Great Rivers Annual (regional) Conference, said the EF-4 twister hit south of Marion and moved northeast through Creal Springs, damaging several buildings. It continued to Carrier Mills and missed the main residential section. Then it hopscotched up U.S. 45 to Harrisburg. The tornado continued northeast to nearby Ridgway, which according to news reports received massive damage.
To date, no United Methodist church or parsonage in the conference was damaged or destroyed.
In Harrisburg, "the Walmart and a farm implement dealership sustained heavy damage, and a strip mall located across the highway was destroyed," Black said. "The latest updates show 300 homes damaged or destroyed and 100 persons treated for injuries. Officials are proceeding with evacuating the Harrisburg hospital, sending patients to nearby Marion."
Schools are closed, and Saline County officials are asking people to stay home while emergency crews assess the damage.
The United Methodist Cache River District is mobilizing disaster response. The Midwest Mission Distribution Center is on alert, ready to ship emergency kits and other supplies to assist in cleanup.
Several church members underwentearly response training through the United Methodist Committee on Relief because of flooding last spring in southern Illinois. They will go to work as soon as the assessment is completed. Another early response training session, already set for March 17 at First United Methodist Church, Harrisburg, will proceed on schedule.
Harrisburg Mayor Eric Gregg said, "The loss of life breaks my heart. The outreach is heartfelt and appreciated. Many of our people went to Joplin to help, and today we are the ones who find ourselves in need."
Kansas and Missouri also hit
In Kansas, what is believed to have been a tornado flattened the Harveyville United Methodist Church. About 40 to 60 percent of the town sustained damage. The town of about 230 is southwest of Topeka near the Kansas Turnpike.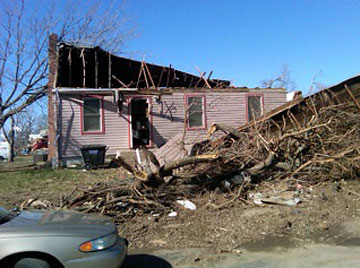 Dozens of homes were damaged in Harveyville, Kan.
The storm downed trees and power lines, according to Lisa Elliott Diehl, Kansas Area communications director for The United Methodist Church. "Dozens of homes were damaged," she said, "along with an apartment building." The Rev. Dennis Irwin, pastor of Harveyville United Methodist Church, has been in contact with his congregation. While several members' homes sustained damage, no injuries were reported.
High winds and hail hit other areas of Kansas, Diehl said.
Three deaths were reported in southwestern Missouri, where a suspected tornado hit a mobile home park outside Buffalo.
Grace Community United Methodist Church, Buffalo, sustained minor damage.
"We just accounted for the last of our church members," said church secretary Lee Ella Oglesbee. "No one is hurt, although one elderly couple's home is a total loss. The worst of the storm seemed to be confined to a few square miles.
"It's a small town," she added, "so, of course, several of us know the woman killed and the people who were injured. But they were not part of our congregation."
UMCOR assesses needs
Thirty miles away, First United Methodist Church, Lebanon, Mo., had only a few loose shingles.
To support United Methodist disaster relief Disaster Response, United States, UMCOR Advance No. 901670 - through The Advance, donate online or give a check through your local church.
"Several area business, campground travel trailers and mobile homes were damaged," said the Rev. Barbara L. McKenzie, associate pastor."Trout season begins tomorrow, so the campgrounds and motel in the Bennett Spring State Park area were filling up.
"We'll know more later about other damage.Right now, a lot is secondhand reports."
In Branson, Mo., a popular tourist area, 32 people were treated at one hospital for minor injuries. News reports said what was believed to be a tornado moved through downtown Branson, heavily damaging the city's famous theaters and sucking furniture from hotel rooms.
Forecasters cautioned that more tornadoes could hit the Tennessee Valley and southern Appalachians as the storm system moved east.
Tom Hazelwood, disaster response executive for the United Methodist Committee on Relief is in contact with his counterparts in the affected annual conferences to assess relief needs.
"We are inviting people to follow Tom's Twitter feed as well as to check back at the UMCOR website and Facebook page for updates," said Linda Unger, UMCOR staff writer.
*Dunlap-Berg is internal content editor for United Methodist Communications, Nashville, Tenn.
News Media contact: Barbara Dunlap-Berg, Nashville, Tenn.,(615) 742-5470 or [email protected].
---
Like what you're reading? Support the ministry of UM News! Your support ensures the latest denominational news, dynamic stories and informative articles will continue to connect our global community. Make a tax-deductible donation at ResourceUMC.org/GiveUMCom.