The twisters that ripped through the Midwest Feb. 28 and 29 ushered in another barrage of severe weather March 2 that killed at least 39 people in five states.
But even as United Methodists mourned losses, they continued to reach out.
One of the hardest-hit towns was West Liberty, Ky., population 3,435, reduced to rubble by 150 mph winds.
The Rev. Kenneth W. Jett Jr., pastor of West Liberty United Methodist Church, his wife, Jeanene, and two congregants ran for shelter in a small cubbyhole in the church basement as the building crumbled around them. Both the church and the parsonage sustained major damage.
James Morse, disaster response coordinator for the Kentucky Annual (regional) Conference, said the West Liberty church "may not be salvageable."
Louisville Area Bishop G. Lindsey Davis assured the devastated communities, "God sees our pain, and God will provide for us in these days to come." Encouraging prayer, he said, "We are a generous people, and I urge our churches to respond by giving. &ellipsis; May God bless us as we work together.
"We are still in the early stages, but we are committed to rebuilding and ministering to people in the midst of turmoil."
In battered Salyersville, Ky., the United Methodist church is still standing and serving as feeding station three times a day, Davis said. Churches in the Kentucky Conference have already provided hundreds of blankets to a nursing home without power.
'Rallying to assist the community'
The Rev. Charles Wilfong, a district superintendent in the Indiana Conference, reported widespread damage, especially in the towns of Henryville, Marysville, Pekin and Palmyra.
"I learned that two Pekin UMC families have lost their homes," Wilfong said in an email message, adding that several congregants were in serious condition and hospitalized. "The church, parsonage and family life center all have power restored, and the congregation is rallying to assist the community."
In Ohio, the village of Moscow experienced the fury of an EF3 tornado with winds of about 160 mph. Three people lost their lives. Grant Memorial United Methodist Church, Point Pleasant, Ohio, is just three miles from Moscow.
"The congregation immediately went into servant mode, providing relief to those families affected by the tornadoes," said the Rev. Jocelyn Roper, assistant to the Ohio River Valley district superintendent. Members provided food as the church became a depository for relief supplies.
"The churches have done everything they could to help," Roper said. "They've tried to be very creative" in their response. "This is a very rural area, close to the river. These folks usually get affected by floods. They don't expect tornadoes."
According to news reports March 5, many still lacked electricity as snow, rain and plummeting temperatures hampered clean-up efforts.
Volunteers from the Tennessee Conference continued to respond to the deadly tornado outbreak experienced across the South over the weekend.
"Our hearts and prayers are with those affected by these devastating storms," said Brandon Hulette, director of mercy, mission and disaster recovery for the conference.
Tornadoes touched down in several parts of Middle Tennessee on March 3.
By Saturday evening, the conference had deployed two trained emergency response teams to Kingston Springs, Tenn., with operations based out of the United Methodist church there,which was damaged in the storm.
In addition, two emergency response teams were deployed to the Dodson Branch area of Jackson County, Tenn. Conference personnel are coordinating the volunteer effort there in conjunction with partner agencies, Hulette said.
'Comfort food' for bodies, souls
In Rome, Ga., members of the 350-member Chapel Hill United Methodist Church offered storm survivors and volunteers "comfort food" - steaming bowls of soups and stews. The congregation counted their blessings, particularly because the tornado struck just two hours after the Lenten service.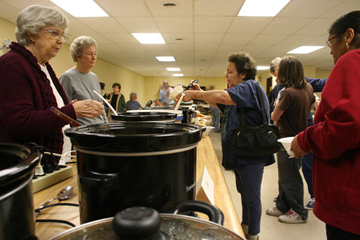 Rome, Ga.'s Chapel Hill United Methodist Church members Billie Dixon (left) and Barbara Dixon offer homemade soup to Susan Cox, whose home was lost in the Feb. 29 tornado. A web-only photo by Lauren Jones/Rome News-Tribune.
The Rev. Ken Kulp said members felt called to reach out to their hurting community and to give thanks for the lives that were spared. "Our plan was to bring volunteers and (survivors) together," he said, calling it "a bit of therapeutic ministry."
The sanctuary's minor structural damage was repaired in time for Sunday worship, but "the mission building took a pretty hard hit," Kulp said. "It was knocked off its foundation about a foot."
The earliest reports of tornadoes on March 2 came from the Huntsville, Ala., area, still reeling from April 2011 twisters. No United Methodist churches reported losses of life or property, Danette Clifton, North Alabama Conference communicator, said.
In the Alabama-West Florida Conference, the Verbena United Methodist Church received the most damage. Several members of the congregation and the community had major damage to their homes. The conference has a couple of disaster response teams working in the area, and "progress is slowly being made," according to an email received March 5.
Harveyville, Kan., a town of 200, lost its only United Methodist church Feb. 28. The United Methodists worshiped Sunday with their Church of Christ neighbors and celebrated that two of their church's stained-glass windows survived the tornado.
UMCOR assesses damages
In Harrisburg, Ill., which bore much of the brunt of the midweek twisters, the Rev. Tom Hazelwood, head of U.S. disaster response for the United Methodist Committee on Relief was surveying damage March 5 with Bishop Gregory Palmer and disaster response officials of the denomination's Illinois Great Rivers Annual Conference.
In a posting on Twitter, Hazelwood reported that the United Methodist church in nearby Ridgway was fine, but that St. Joseph's Catholic Church a block away had been destroyed.
Hazelwood plans to visit parts of Indiana and Kentucky struck by the tornados throughout the week.
The best immediate way to assist those affected by the recent tornados is by donating to UMCOR's fund for U.S. Disaster Response. Contributors can select "Tornadoes 2012" from the "special designation" drop-down menu on the webpage.
UMCOR also is asking for donations of cleaning buckets or financial contributions to purchase cleaning supplies through its Material Resource Ministry.
Learn more about United Methodist Disaster Relief
*Dunlap-Berg is internal content editor for United Methodist Communications. Linda Bloom of United Methodist News Service contributed to this story.
News Media contact: Barbara Dunlap-Berg, Nashville, Tenn.,(615) 742-5470 or [email protected].
---
Like what you're reading? Support the ministry of UM News! Your support ensures the latest denominational news, dynamic stories and informative articles will continue to connect our global community. Make a tax-deductible donation at ResourceUMC.org/GiveUMCom.