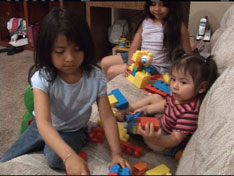 Textbook open, Mariela studies environmental science while her three younger sisters watch TV before bed.
In a few minutes, she will help them brush their teeth and say their bedtime prayers. But the 18-year-old is not babysitting. Mariela is the primary caregiver for her sisters ages 2, 4 and 7 now that their mother is gonearrested in an immigration raid at her workplace.
"She was not supposed to be at work on that morning," Mariela says. "My stepfather told her not to go ... but she wanted to make some overtime to send more money to (family in) Guatemala."
U.S. immigration officers arrested Mariela's mother on April 16 at the Pilgrim's Pride poultry processing plant in Chattanooga during a crackdown on an alleged scam to provide fake IDs for illegal immigrant workers. Poultry plants in four other states were also raided.
"I waited for her to get home from work, but she never came," Mariela recalls. "I was waiting and waiting. A neighbor called us the next morning to say my mom had been taken. My sisters think she is on vacation in North Carolina. ... I cannot tell them she is gone. There is nothing we can do."
Her mother is being held in Louisiana and awaits likely deportation to Guatemala. Mariela's stepfather works a shift job and depends on Mariela to care for the children when she's not in school.
The dilemma is all too common for families broken apart when a family member who is an illegal immigrant is taken into custody. They often leave behind children still in need of parental care. Many of the children are U.S. citizens, born in the United States.
"I waited for her to get home from work, but she never came."— Mariela, 18.
"These are resilient families ... but this is simply traumatic," says the Rev. Mike Feely, pastor of East Lake United Methodist Church and director of the Saint Andrews Center, an outreach of The United Methodist Church.
Feely compares the after-effects of the immigration raid to the aftermath of a natural disaster.
"If you lost a loved one all of a sudden, and now they're in another country, and the only way you can communicate is by phone ... that's like a death," he says.
The United Methodist Church has long advocated for comprehensive immigration reform in the United States. At its recent General Conference, the church's top legislative body adopted a resolution calling for "full protection of all workers, which includes the opportunity to gain legal status for all migrants." The resolution also urges U.S. lawmakers to ensure that immigration laws do not rip apart families.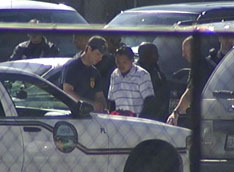 Chaos in the aftermath
Approximately 100 Chattanooga workers were among 280 immigrants arrested following an investigation of employees at Pittsburg, Texas-based Pilgrim's Pride, one of the nation's largest chicken-processing companies. The other plants raided were in Mount Pleasant, Texas; Live Oak, Fla.; Moorefield, W.Va.; and Batesville, Ark. According to news reports, those determined to be in the country illegally but not engaged in identity theft may be deported or given the option to leave.
The raids left family advocates such as Feely and the Rev. Sam Gutierrez scrambling to tend to the needs of families such as Mariela's. Gutierrez leads a Spanish-speaking service at East Lake United Methodist Church, where Mariela has attended the youth group.
"This is the side people don't see," Feely says. "For example, we have one single mom we're helping. She has three kids, but she picked up four more from her neighbor's house ... because otherwise she knew the kids would be waiting and there would be no one at home. Both parents were picked up. We're helping with these situations ... where someone is now feeding eight at dinner, and they're used to feeding two."
The raids created complex issues made more difficult by language barriers. The staff and partners at the Saint Andrews Center responded as quickly as possible.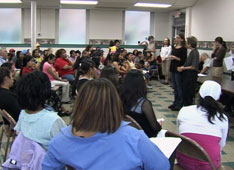 Family support
On a Thursday evening following the raids, more than 300 people, including children, packed the center's basement for a special informational session where eight volunteer attorneys helped the families sort out their legal issues.
"I'm here tonight because I am an immigrant myself," says manufacturing executive Ed Canler, serving as a translator... We cannot just take a knife and cut these families apart. We do not want to see a group of people and their problems marginalized, but that has happened to the Hispanic community."
Canler immigrated to the United States from Cuba as a boy and speaks fluent Spanish. Several members of his church, Christ United Methodist, also came to help.
There were many questionsquestions about housing, legal aid and child custody.
Feely said other families face more basic questionssuch as how to feed themselves and pay the rent if the breadwinner is now gone from the house.
"I would like these families to be seen as working individuals who have the same dreams and aspirations as the first pilgrims who came to this country," Canler says.
For Mariela, she still dreams of having her family together again, finishing high school and building a future.
"My dream job? I want to help people ... especially older people. I would like to be a nurse for the elderly," she said. "They really need help, and many young people don't understand how to help them. God tells us to help others."
For more information about the Saint Andrews Center and how to help, visit www.st-andrewscenter.org.
*Robinson is a freelance producer based in Winston-Salem, N.C.
News media contact: Fran Coode Walsh, Nashville, Tenn., (615) 742-5470 or [email protected].
Related Articles
Church supports justice for migrants
Church leaders support sanctuary for immigrants
Church urges humane treatment of immigrants
United Methodist groups oppose immigration bill
Second woman seeks sanctuary in Chicago church
Resources
---
Like what you're reading? Support the ministry of UM News! Your support ensures the latest denominational news, dynamic stories and informative articles will continue to connect our global community. Make a tax-deductible donation at ResourceUMC.org/GiveUMCom.