Churches can, and often do, provide a spiritual and practical support network that benefits healing, said speakers at an international United Methodist health forum that examined how faith practices can benefit physical health.
"Healing Faith — Healing Congregations and the Church," was sponsored by United Methodist Global Ministries and the Bethanien Diakonissen-Stiftung, or the Bethany Deaconess Foundation, a health care company connected with The United Methodist Church in Germany. The conference focused on the role of the church in healing.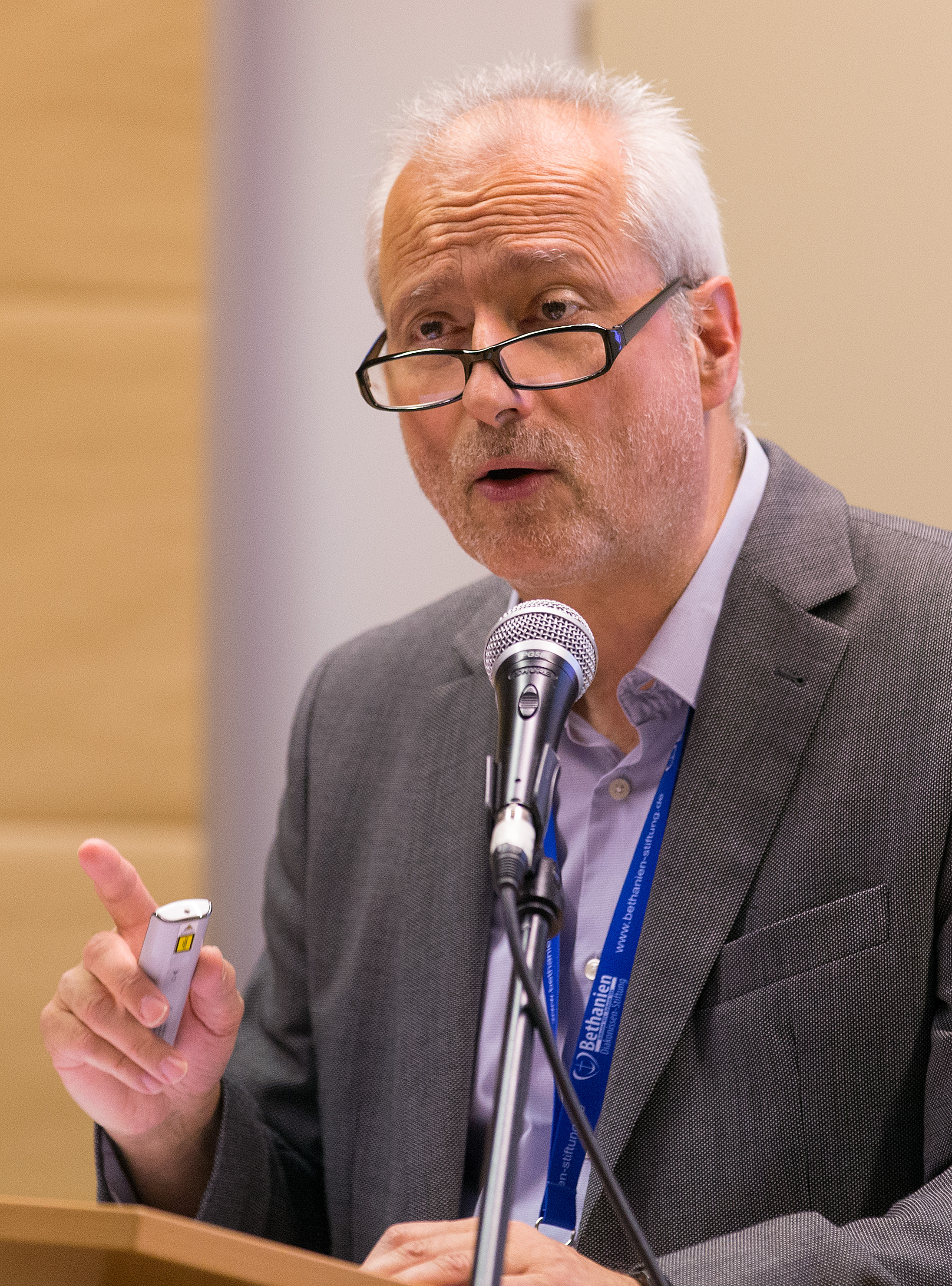 "Religious people go to the hospital less, have lower blood pressure, are better protected against cardiovascular diseases and have less depression," said the Rev. Holger Eschmann, a professor at Reutlingen School of Theology. He noted that the health benefits of faith apply to all religions, not just Christianity. "Today, the term spirituality is not connected with Christianity."
He cautioned that some European studies have found a negative effect of religion, especially if a religion is restrictive.
"Don't treat it like a medication. Never say you are sick because you didn't pray enough," he said. "Salvation does not depend on health. God is not a wonder drug."
However, a faithful person knows his or her life is in God's hand and that in times of crisis, faith provides the knowledge of salvation and gives comfort, hope and trust, Eschmann said.
Before the meeting, participants from the U.S. visited United Methodist hospitals and health systems, including the Bethanien Hospital in Frankfurt, the Martha Maria Hospital in Nűmberg and Zeisigwaldkliniken Bethanien Hospital in Chemnitz. All those hospitals were originally started and operated by United Methodist deaconesses.
The Rev. Lothar Elsner, one of the forum organizers, said those visits were arranged because he wanted employees of the 13 nursing homes and eight hospitals run by the Bethanien Diakonissen-Stiftung to understand and connect with the global church.
"They (about 7,000 health care employees) only know the German context of the little United Methodist church here," said Elsner, who is president of the foundation. There are about 51,000 United Methodists in Germany.
The foundation also operates child-care centers, provides child-welfare services, runs assisted-living facilities, addiction treatment and services for parents and families who have lost an infant.
The forum was designed for Americans and Germans who work in United Methodist health care, as well as German United Methodist church members, to theologically reflect on the role of congregations. "We decided to work here to create a forum for questions of body and spirit together," he said.
Both Elsner and Thomas Kemper, top executive of the United Methodist Global Ministries board, said they hoped to build on the connections made during the forum and hospital visits to find ways for the German and U.S. hospitals and churches to collaborate more.
German congregations do a lot with respect to health, but no one knows about it, said Dr. Beate Jakob, a consultant for Health and Healing with DIFAEM, Deutsches Institut für Ärztliche Mission e.V, or the German Institute for Medical Mission.
Churches can and do provide visitation, self-help groups and health education, she said.
She also suggested that worship services can promote health by talking about hope.
"If we define health broadly, we find there are more resources we can use. We can reduce depression by embedding people in a faith-based social network," she added.
Forum organizers
The forum was hosted by the Bethany Deaconess Foundation, the United Methodist Board of Global Ministries, the South Germany Conference of The United Methodist Church, the Martha and Mary Diaconal Foundation, Reutlingen School of Theology and Adult Education.  
At a hospital started by DIFAEM, the Tropenklinik Paul-Lechler Hospital Tübingen, which is a certified center for providing care for the aged and the second-largest German hospital for travel and tropical medicine, there is a healing service with anointing every three months, Jakob said.
In the South Germany Conference, the site of the Stuttgart forum, there is a three-year program to build up healthy congregations, Elsner said.
Monika Pongratz, a United Methodist laywoman who attended the forum, said the health issues in Germany are different from the U.S. or Africa, since health care is widely available under the German system.
"We don't have food deserts, but people may not be able to pay for food," she said. Food deserts are areas where people must drive more than 10 miles to get fresh food.
Those attending the conference heard presentations from staff at Methodist LeBonheur Healthcare in Memphis, Tennessee, and Houston Methodist Hospital.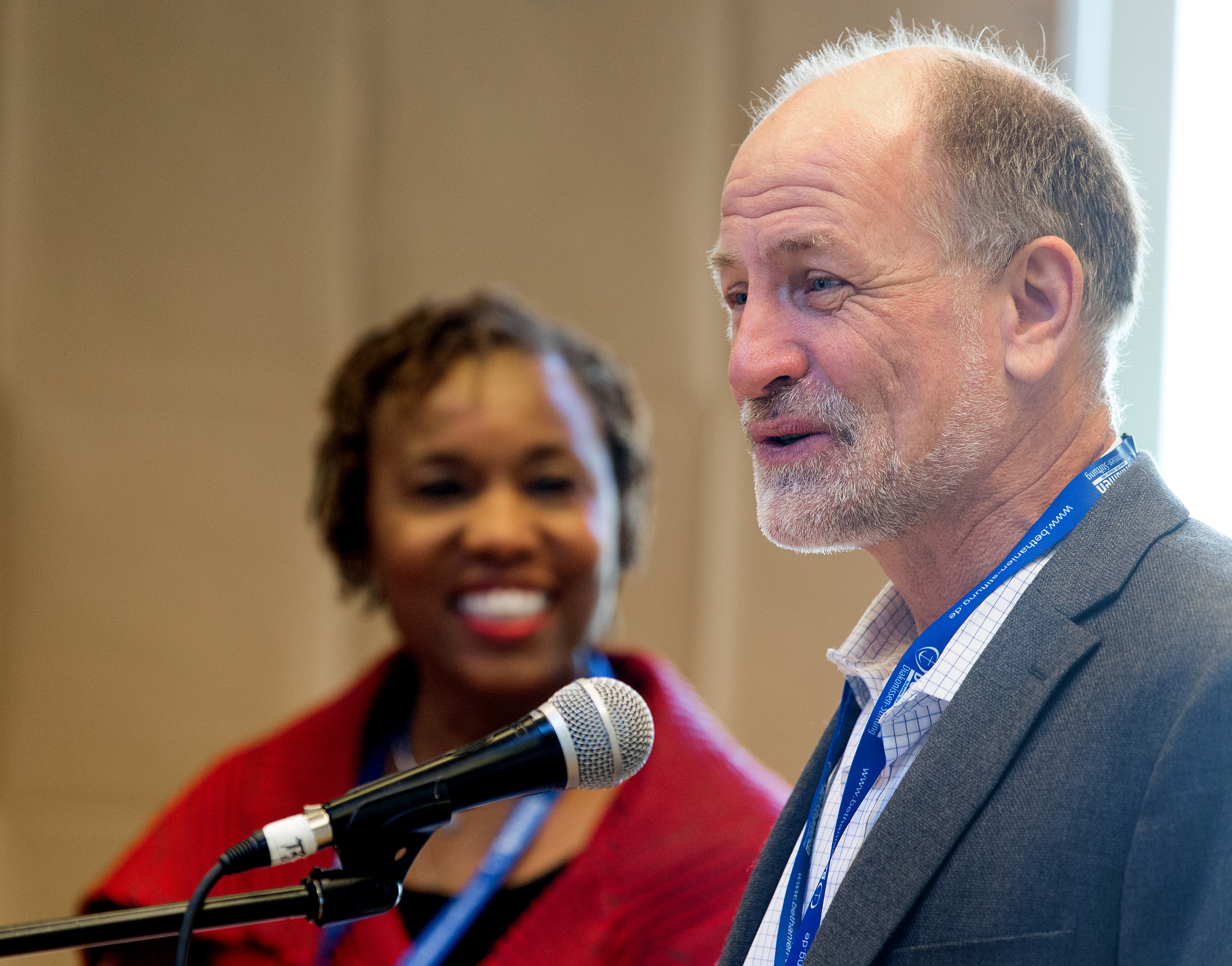 The Memphis hospital has a congregational health network that the Houston hospital is adapting.
Niels French, director of operations and international ministries for the Memphis system, said more than 600 congregations are involved in the collaborative network with Methodist Healthcare, which serves a high-poverty area and works with the Arkansas, Memphis and Mississippi conferences.  
When a patient is admitted, they can check a box that tells the hospital to notify their pastor, French said. When that happens, the hospital chaplain also visits.
Another component is the health academy, which annually provides four seven-week health-education courses on congregational care and visitation, care for the dying, aftercare training and navigating the health system.
The program also has health navigators who work closely with congregational leaders, French said. He noted that one big challenge faced by the program is that churches change, so when one pastor leaves and another is appointed, interest in the network may wane.
The Rev. Kimberly Mabry, project manager of Houston Methodist Hospital, said the hospital serves the first "minority-majority" city in the U.S., where racial-ethnic people are in the majority.
She spoke about the efforts to adapt the Memphis model for a congregational care network in Houston and the close work of the healthcare system with the Texas Conference, especially through the Golden Cross program. That program, supported by church offerings throughout the conference, negotiates discounts of medical bills and helps people who can't afford health care pay for treatment.
Read the first story in our report on the international United Methodist health forum, Church networks reach remote corners for health care.
Brown is editor of United Methodist News Service. Contact her at [email protected] or 615-742-5470. To read more United Methodist news, subscribe to the free Daily or Weekly Digests.
---
Like what you're reading? Support the ministry of UM News! Your support ensures the latest denominational news, dynamic stories and informative articles will continue to connect our global community. Make a tax-deductible donation at ResourceUMC.org/GiveUMCom.