Editor's Note: As The United Methodist Church focuses on vital congregations and responding to membership trends around the globe, United Methodist News Service is taking a close look at church vitality. This is part of an ongoing series of reports.
The Rev. Russell Clark is a passionate man. As pastor of First United Methodist Church in Reddick, Fla., the go-getter likes to shake things up at the 105-member church.
Wait. One hundred and five members? That was true until Feb. 10, 2013, when those numbers changed dramatically. On that Sunday, First United increased its membership by a fourth. Twenty-six newcomers joined the church at one time.
It was a very good day for the now 131-member church and a day Clark will never forget.
"I was ecstatic," said Clark. "It was a historic day for our church. I was with my wife at the grocery store and it dawned on me that this is something the church will be talking about 50 years from now."
At a time in which The United Methodist Church tries to define just what makes a congregation vital, Clark - who has served First United Methodist for a little more than three years - credits the congregation's willingness to change and become the church "it is supposed to be."
"The transformation First United Methodist has gone through in the last few years blows me away," he said. "These new members were co-workers, neighbors, friends and family members. Everyone was excited to tell people about our church."
Members spread the word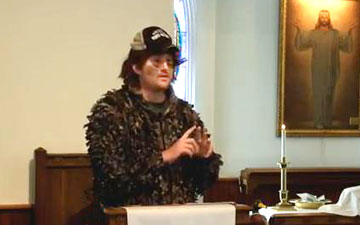 The Rev. Russell Clark preaches out-of-the box sermons - sometimes wearing funny hats and costumes - free of church jargon and highlighting new and traditional music to appeal to people at different life stages.
Watch some of his sermons
One of those members who continually spreads the word about the spiritual perks of joining First United was Tom Christmas.
"What I noticed about the new members was the diversity," he said. "Not only did young families join, but so did older people and others who didn't regularly attend church. One guy had always played golf on Sunday but gave that up after he heard Russell speak."
Christmas, who grew up at the small church, credits his pastor's own passion for inspiring passion in others.
"He has passion not just for the Lord, but for everybody ... all races, all ages and all philosophies," Christmas said. "He sees the true person."
Clark says his secret to growing a church is "just doing what a pastor is called to do." He's determined to bring young people into the fold by showing them that God is still relevant. His focus is empowering people of all ages to do ministry.
In fact, he uses the phrase "one generation" to define and sum up the focus of the church ever since he came aboard. He explained that First United Methodist has gone through four stages. The first stage prioritized inviting young people to come back to church. The second was assuring the older, seasoned members they were not forgotten or left out. Church leaders then worked hard to bridge the gap between old and young and merge both age groups into one generation with a deep respect and love for one another.
Christmas sums it up this way.
"Russell has the ability to bring us together as one," Christmas said. "He talks to my two boys, to me, to my mom, who is 63, and even to my grandmother, who is 84."
The element of surprise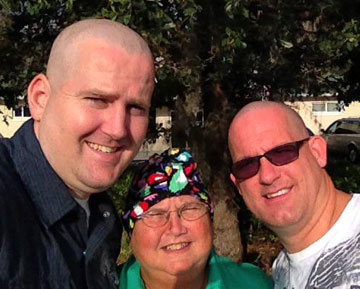 (From left) Clark and Tom Christmas shave their heads in support of Jo Christmas (center) during her chemotherapy.
Surprise is one of the ways the creative pastor keeps his congregation on their toes. He preaches out-of-the box sermons - sometimes wearing funny hats and costumes - free of church jargon and highlighting new and traditional music to appeal to people at different life stages. Blended services provide something for everyone.
"People who come to church deserve a sermon that doesn't put them to sleep," he said.
Member and church treasurer, Julya Sims, said she loves Clark's creativity and "outlandish way of reaching out to people."
"I have a 12-year-old son who relates to Pastor Russell's goofiness," Sims said. "He keeps things interesting for all ages."
Clark said he also tries to provide thought-provoking messages communicated in his own emotionally open way.
"Pastors sometimes don't share who they really are," he said. "I was taught to preach, not about what I think people need to hear, but rather about how God has inspired me."
"I'm not afraid to be my true self ... with spiky hair, a crazy personality and an emotional vulnerability that people can relate to."
Love people where they are
Watch examples of vital churches
He credits his college and seminary experience with teaching him to love people where they are.
"At Texas Wesleyan, I was the token Christian in the theater program," he explained. "That's where and when I learned not to hate others who were different from me and to appreciate diversity."
"Later, at Brite Divinity School, I was encouraged to look beyond United Methodist views to understand multiple perspectives. That's where I truly began to understand the marginalized and the outcasts."
"We all need to be our true selves - who God made us to be. My purpose in life and ministry is to help others believe that God made them to be awesome!"
*Susan Passi-Klaus is a Public Relations Specialist/Writer at United Methodist Communications.
Contact: Susan Passi-Klaus, Nashville, Tenn., (615) 742-5138 or [email protected].
---
Like what you're reading? Support the ministry of UM News! Your support ensures the latest denominational news, dynamic stories and informative articles will continue to connect our global community. Make a tax-deductible donation at ResourceUMC.org/GiveUMCom.