Amid signs proclaiming that "No human being is illegal" and "You shall love the sojourner," about 300 United Methodists gathered for an April 24 lunchtime rally in the water garden behind the Fort Worth Convention Center.

After members of the First Tongan United Methodist Church of Waimanalo, Hawaii, drew the crowd with song and dance, church leaders representing a range of racial and ethnic communities advocated for immigrant, civil and human rights.

The rally was organized by the United Methodist Task Force on Immigration and led by Bishop Minerva Carcaño of Phoenix, its chairperson, to highlight immigration-related legislation being considered by General Conference, the denomination's top legislative body.

The task force itself developed two proposed resolutions one on global migration and another on immigration in the United States under the sponsorship of the denomination's Board of Global Ministries and Board of Church and Society.

Rally participants were encouraged to take immediate action on immigration reform by turning on their cell phones and calling their Congressional representatives and their local churches to oppose H.R. 4088, the SAVE Act, a bill focused on strict enforcement of immigration laws.

Bishop John Innis of Liberia called migration both a human right and an issue of justice.
A call to hospitality
"As United Methodists, we've always been concerned about the subject of immigration," said Bishop Timothy Whitaker of Florida. He reminded participants that 20 years ago, the denomination's Council of Bishops addressed the issue in a letter titled, "To Love the Sojourner."

The basis of that letter can be found in the Bible, and the ethical implication "is the call that we have from God to practice hospitality to all people," he added.

In Florida, as well as the rest of the nation, the immigration debate has been fueled by racist undertones, and immigration laws have resulted in the breakup of families, he said. Some immigrants are brought into the state "under conditions of slavery," Whitaker said, to work on farms and in fields.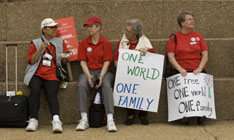 In upstate New York, the tightened border with Canada means that members of the Mohawk Indian tribe have trouble visiting family on either side, according to the Rev. Alvin Deer, a Native American United Methodist from Oklahoma. "If we shut off our borders, we, as Native Americans, are shutting off our people," he said.

Kyung Za Yim, president of United Methodist Women and a Korean-American laywoman, pointed out that "I, too, am American, even though my face is the face of a stranger."

United Methodist Women, which had a number of participants at the rally, has made immigrant rights a priority of its mission work. "All will benefit from stamping out anti-immigrant rhetoric and racist policies," she declared.

The Rev. Mark Nakagawa, a Los Angeles pastor, talked about being close to the Mexican border, where the U.S. government is erecting a fence. The church may be unable to stop that, he said, but added, "It's about time we created a United Methodist faithquake ... to tear down walls that people create everywhere."

How a person immigrates to the United States makes no difference in the long run, the Rev. Tyrone Gordon, a Dallas pastor, pointed out. "Some came on cruise ships, some came on immigrant ships, some came on slave ships, but we're all in the same boat now," he said.

"The people who come from other places are looking for hope," added the Rev. David Martinez, another Texas pastor, who read aloud several letters from undocumented immigrants.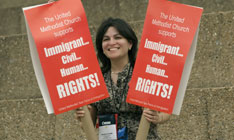 A sense of powerlessness
The Rev. Kelvin Sauls is a staff member of the United Methodist Board of Discipleship but also a South African immigrant, part of a larger African immigrant community "rendered voiceless and, therefore, powerless."

"We have witnessed the denial of civil and human rights among all these immigrant communities," he said.

Monalisa Taitahi, a Tongan native and United Methodist from Hawaii, spoke about the powerlessness she felt as an attorney dealing with the "hostile" immigration laws of the United States. Often, she said, she is left "sitting in court with nothing to do but walk away, with a prayer in my heart."

Immigration law needs to be reformed to consider the human face of migration, said Erin Hawkins, chief executive of the United Methodist Commission on Religion and Race. "To criminalize our brothers and sisters from coming into the United States, for wanting to work and thereby contribute to our society, is not only wrong but immoral."

*Bloom is a United Methodist News Service writer based in New York.

News media contact: Linda Bloom, e-mail: [email protected].

Phone calls can be made to the General Conference Newsroom in Fort Worth, Texas, at (817) 698-4405 until May 3. Afterward, call United Methodist News Service in Nashville, Tenn., at (615) 742-5470.
Related Articles
Resource
---
Like what you're reading? Support the ministry of UM News! Your support ensures the latest denominational news, dynamic stories and informative articles will continue to connect our global community. Make a tax-deductible donation at ResourceUMC.org/GiveUMCom.