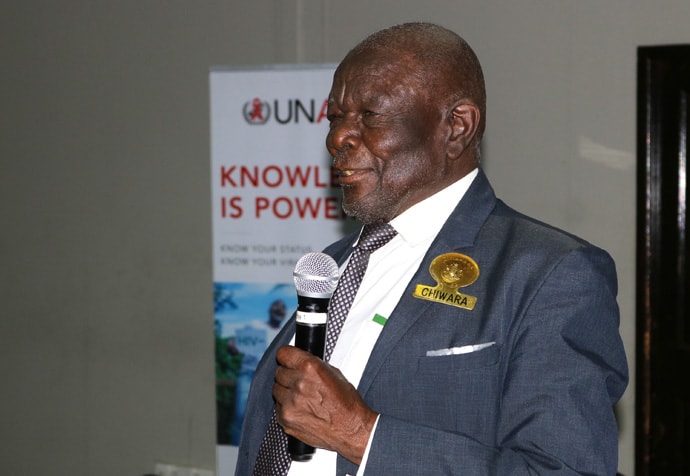 Theologian and traditional African leader Reuben Marinda of the Chiwara dynasty is a Zimbabwean leader in raising awareness with men and boys in the fight against HIV and AIDS.

The chief is a rare mix of theologian and a custodian of African cultural and traditional values and norms.

The training The United Methodist Church invested in Marinda — or Chief Chiwara — is paying off, said Bishop Eben K. Nhiwatiwa.

"He is very much involved in advocating for self-care in terms of HIV and AIDS, and this is a tremendous contribution from a traditional leader and a theologian like him."

Chief Chiwara was among the attendees of the "High Level Dialogue with Traditional and Religious Leaders" event co-hosted by UNAIDS and Padare Enkundleni Men's Forum on Gender at Cresta Lodge in Harare.

The National AIDS Council, the Ministry of Health and Child Care and President's Emergency Plan for AIDS Relief facilitated the meeting.

The workshop, attended by 65 men, was intended to improve advocacy for HIV-related services, support achievement of globally agreed-upon fast-track goals and improve HIV outcomes for men, boys, women and adolescent girls.

"If we close the gap among males, we will reduce the infections happening in women," said Dr. Angela Mushavi, of the National Prevention of Mother-to-Child Transmission organization and pediatric HIV coordinator with the Ministry of Health and Child Care, who emphasized the need for men and boys to get tested early.

"Men will only visit the hospital when they are critically ill or when it is already too late," Mushavi said.

She said that the mindset of traditional African patriarchal society makes it harder to achieve the targets of health practitioners.

"The engagement of men and boys (from traditional and religious circles) in the HIV-AIDS dialogue is a game-changer toward alleviating the prevalence of the disease," said Chief Chiwara to clamorous applause.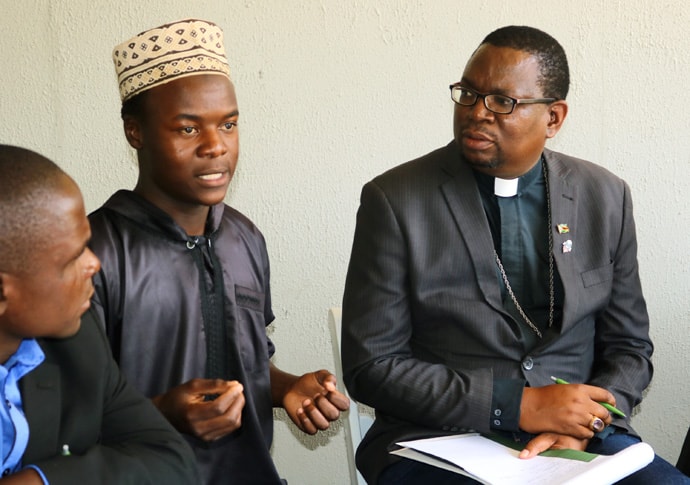 Dr. Martin Odiit, the UNAIDS country director for Zimbabwe, noted the importance of the chief's work.

"Traditional leaders and faith leaders are opinion leaders and people in communities take them seriously and are looked at as role models," Odiit said.

"We are looking up to you to influence the future of young boys and influence men who are not behaving as they are supposed or expected to," he said. "If we want to stop the spread of HIV-AIDS, we must get men and boys involved."

Nhiwatiwa commended the participation and engagement of traditional leadership in the HIV and AIDS awareness crusade.

"Chief Chiwara is a pioneer in himself, a respected leader, and it is not surprising that he has engaged himself in this great work," Nhiwatiwa said. "Further in discussing health issues with men, we do not end with male challenges, but there is also a need of empowering men and boys with knowledge regarding women's health concerns."

Apart from the work being done by the health agencies and the local ministry, the bishop highlighted that the men and boys in the church are not left out.

"The men are very much involved from the grassroots," he said. "When it comes to teaching, we are a learning community as a church. At the local churches, districts and conferences, there are a lot of teachings and seminars."

During most revivals coordinated by the men's ministry in Zimbabwe, the attendance by health organizations to provide HIV counselling and testing is a permanent feature.

Nhiwatiwa said Chief Chiwara came to United Theological College between 1973 and 1977 under the auspices of The United Methodist Church, which helps run the ecumenical training school. He is a former student of the Rev. John Wesley Kurewa, the E. Stanley Jones Professor of Evangelism at Africa University. His classmates are among the senior clergy in the Zimbabwe Episcopal Area, including the Revs. Kelvin Mwandira and Jairous Mafondokoto.

"I am the first student from African Independent Churches to be trained at a theological college run by mainline churches," Chief Chiwara said.


Subscribe to our
e-newsletter
Like what you're reading and want to see more? Sign up for our free daily and weekly digests of important news and events in the life of The United Methodist Church.

African Independent Churches are churches founded by indigenous people in Africa. In Zimbabwe, African Independent Church leaders are known for their white garments.

"These are churches that were known for polygamy and marrying young girls, but my theological foundations and participation in gender activities have made me have a flexible view on gender issues," Chief Chiwara said.

"In fact, I wrote a thesis on marriage entitled 'Two have become one,' and I value the institution of marriage. If we preserve it for the married couples alone, then HIV-AIDS will not remain a problem in African communities."

The religious and traditional leaders at the workshop said that in order to slow the spread of HIV, men and boys must not be left out of the conversation. They also applauded the advent of self-testing kits.

Zimbabwe has more than 1.3 million people living with HIV — about 770,000 females and 600,000 males. According to 2018 statistics, 13% of the population is living with HIV.

"The good news is that new infections are decreasing (and) such programs as the men and boys dialogue are expected to produce positive results," said Isaac Taramusi, data modelling and monitoring and evaluation coordinator with the National AIDS Council.

"Messages of awareness preached in churches and through the traditional leaders have contributed to the decline. But, we can still do more."

Maforo is the United Methodist communicator for the Zimbabwe Episcopal Area.

News media contact: Vicki Brown at (615) 742-5470 or

[email protected]

. To read more United Methodist news, subscribe to the free Daily or Weekly Digests.