July 24, 2009 | ABIDJAN, Côte d'Ivoire (UMNS)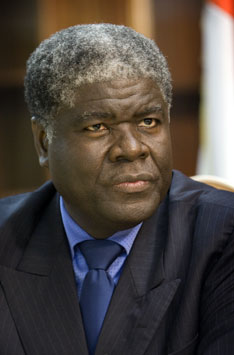 "Radio can teach the population to live in peace," says Robert Beugré Mambé, who is planning Côte d'Ivoire's national election. UMNS photos by Mike DuBose.
When United Methodists begin broadcasting by radio in December, they will be employing a powerful new channel for informing and educating people in this West African country.
"Radio can help with many things," says Robert Beugré Mambé, a United Methodist and the official in charge of planning the country's national elections. "First of all, it can help people to live in peace, to love God...People who love God will also love their neighbors."
Those words are not said lightly in a country trying to emerge from a period of instability and civil war. Mambé sees radio's potential in helping the country move forward, teaching people about citizenship and abiding within social norms. It can also inform them during the voting process and encourage a fair, free and peaceful election, he says.
"Radio for The United Methodist Church would be an excellent, desirable, essential and necessary initiative," he says.
The church's Côte d'Ivoire Conference will launch its own community radio station by the end of the year, with help from United Methodist Communications, the United Methodist Board of Higher Education and Ministry and the denomination's Texas Annual (regional) Conference.
The station, EMU-CI – the letters are an abbreviation for The United Methodist Church- Côte d'Ivoire – received its FM frequency license this month. The station will be at 101.6 on Ivoirian radios.
The Ivoirian church currently has 30 minutes of airtime every Sunday to preach the gospel on state-run radio and television, says Côte d'Ivoire Bishop Benjamin Boni. "We need to go beyond that. … That's why we are grateful that UMCom and other partners are joining us to see how we can set up a community radio (station) in this country."
The Rev. Larry Hollon, who leads United Methodist Communications, has a personal interest in developing community radio. "As a journalist I realized many years ago, it was not enough to merely tell stories and passively move on to the next," he says. He wanted to be more than an observer and to "address the underlying causes of so much suffering."
Providing a lifeline
"Community radio can be a lifeline of information," he says. It can provide a voice for people who otherwise are not heard, and it can convey information about health, economics, parenting, citizenship and spiritual concerns.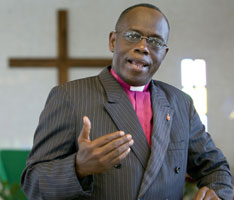 The United Methodist Church currently has 30 minutes of air time every Sunday to preach the gospel on state-run radio and television, says Bishop Benjamin Boni.
It is the "most efficient, effective and economical way to reach people with important information," he says. "It's particularly valuable in rural areas and among urban populations who are underserved or ignored because they don't represent viable markets for commercial broadcasters."
Hollon has seen how community radio has supported women's groups in Kenya, brought people together across geographical distance in rural areas of Latin America, and provided information to people in their own language in Uganda and parts of Asia.
Jean Yoou of Abidjan, a former Côte d'Ivoire Conference lay leader, sees radio as a powerful tool for evangelization. He notes that a station would enable the church to reach people at any time with news about the church.
Gen. Philippe Mangou, a United Methodist and leader of Côte d'Ivoire's military, is responsible for helping bring stability to the country. He affirms the church's plans for community radio.
"Communication goes beyond the borders," he says. Through radio, the church can reach many people. "With all that Côte d'Ivoire went through, people need to listen to the word of God."
Emphasizing community
United Methodist Communications has committed $155,000 to getting the station up and running and funded for its first year. The Texas Annual Conference is committing $50,000 and the Côte d'Ivoire Conference is providing $20,000. The partnership is seeking additional funding for years two through five.
The station will be behind Jubilee United Methodist Church in Abidjan and will cost about $200,000 a year to operate. It will serve the Abidjan area, and organizers are still waiting for the license, which will specify the area to be served. The format, including hours of operation, will depend on the final budget.
For the long term, the organizers are seeking partners who will help the station financially, working to keep overhead costs down and to find sources of revenue, and seeking grants to underwrite specific programs.
Hollon notes that community radio is "about the community, not about radio." It is about people and their stories, he says.
"When we help people to tell their own stories we are partnering with them in empowerment and in personal and community development," he says. "That's why supporting community radio is so urgent and so important."
Information on the community radio initiative is available here. Giving information can be found by going here and clicking on the "Donate Now" link under Community Radio Initiative.
*Tanton is director of the Media Group at United Methodist Communications.
News media contact: Tim Tanton, Nashville, Tenn., (615) 742-5470 or [email protected].
---
Like what you're reading? Support the ministry of UM News! Your support ensures the latest denominational news, dynamic stories and informative articles will continue to connect our global community. Make a tax-deductible donation at ResourceUMC.org/GiveUMCom.