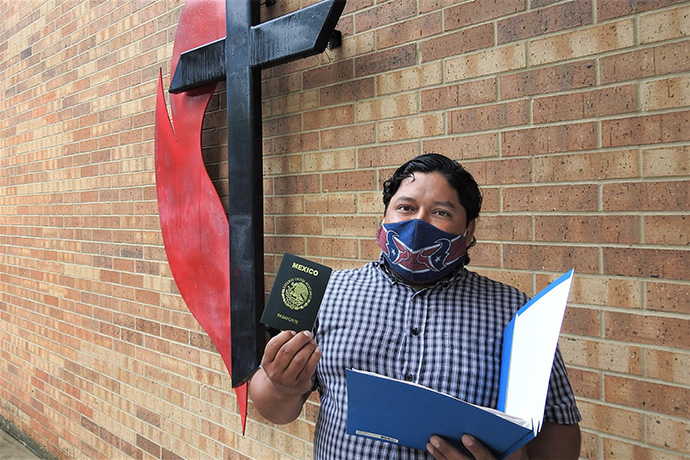 The Christian imperative of welcoming the stranger can take many forms, some rather unusual.
For Kingwood United Methodist Church, it recently meant hosting a six-person team from the Mexican Consulate in Houston.
"We were pumped when the Mexican Consulate reached out," said the Rev. Chris Harrison, associate pastor for service ministries at the 4,600-member church. "This wasn't something where we were like, 'Oh, gosh.' This was like, 'Yeah! Amazing.'"
From April 5-9 and again from April 12-16, consular officers set up shop to issue or renew Mexican passports, ID cards and birth certificates for Mexican citizens living and working in the Houston area and other parts of Texas and the U.S.
Over the two weeks, more than 1,100 document-seekers came to the predominantly Anglo church's sprawling, woodsy campus in Kingwood, an affluent, planned community in northeast Houston.
Church volunteers greeted their guests with "Bienvenidos!" ("Welcome!") and handed out water bottles on the warm days.
Among those in line on April 14 was Juan Martinez, a 35-year-old roofer anxious to have his passport renewed.
"I'll feel more relaxed," he said through a translator.
And, indeed, after he had his updated passport in hand, he was glad to hold it up and pose for a photo under Kingwood United Methodist's Cross and Flame sign.
The church's associate pastor for Hispanic ministries, the Rev. Sara Reyes, helped arrange the collaboration with the consulate, and became something of an ambassador herself. She supervised volunteers, made sure there was coffee for the consular officers and personally greeted many of those who came for help.
"This is a way to show the love of God to my Mexican community," said Reyes, a native of the Mexican state of Hidalgo and a third-generation Methodist pastor. "I feel very blessed for the opportunity."
A 2015 study found the Houston area had about 600,000 Mexican-born residents, including naturalized U.S. citizens, lawful permanent residents and persons unauthorized to be in the U.S.
For Mexican citizens in the U.S., an up-to-date Mexican passport and ID card can ease travel home for family visits or emergencies, and can be important in setting up bank accounts, registering for school or other day-to-day practicalities.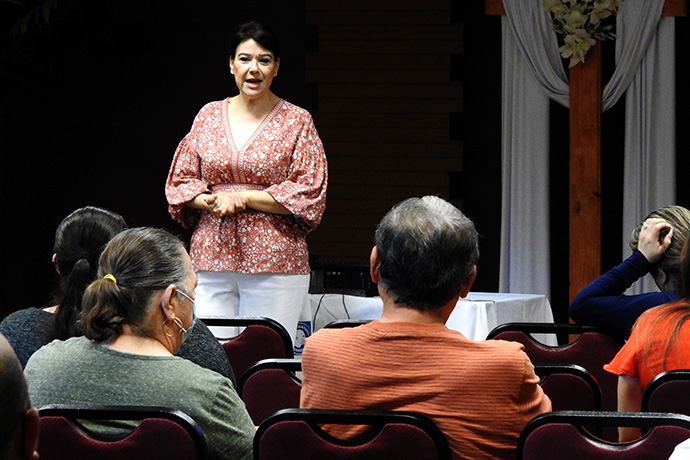 The Mexican Consulate in Houston operates mainly from a downtown office, but also sends teams to neighborhoods where their constituents are concentrated.
"We move to areas to make it easier for the Mexican community," said consular officer Manuel Solano, part of the team at Kingwood United Methodist.
He added that the need is greater than ever, given a backlog created by the pandemic, which limited appointments at the main office.
Kingwood is not the first church to host a Mexican Consulate in Houston team, but Solano was unaware of any other United Methodist church that had.
Consulate officials knew of Kingwood United Methodist's Hispanic ministries, in part because Spanish-language TV did a report on relief work organized by Reyes and other Kingwood leaders after the crippling freeze hit Texas in February.
The consulate asked Reyes if Kingwood would host a team. She got the OK from other church leaders.
"This moment is a reflection of the heart of Kingwood United Methodist Church," Harrison said.
After Hurricane Katrina in 2005, Kingwood United Methodist opened as a shelter for displaced Louisianans, and that experience refocused the church outward, Harrison added.
He describes a congregation that has become deeply committed to its foster care and prison ministries, and to addressing racial and ethnic divides.
The church includes El Refugio, a Hispanic congregation of about 120 led by Reyes, a licensed local pastor who did her Course of Study at Perkins School of Theology.
El Refugio has a thriving women's leadership program, and its youth program has a strong record of seeing high school graduates move on to college — a big goal for Reyes.
The larger church has been influenced by Reyes, according to Harrison.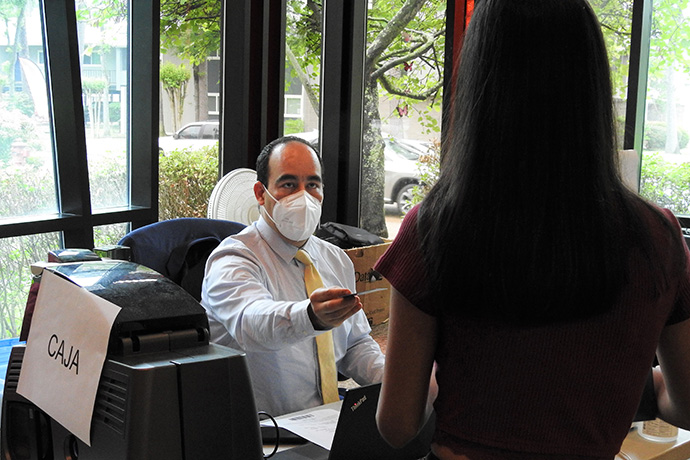 "This congregation knows how to love people that look different from themselves in the mirror, and Sara's a huge part of that, with the environment she's created," he said.
Still, Harrison acknowledged a small amount of pushback internally from the decision to host the Mexican Consulate.
The documents program is aimed at Mexicans who have legal status in the U.S., but consular officers don't screen for that. And in this political environment, Harrison said, any ministry related to immigration is going to be sensitive.
Kingwood's leaders felt and still feel that hosting the Mexican Consulate team was right.
"Every church knows that part of our call is to help the least and lost, it's straight out of scripture, but not every church lives it," Harrison said. "We don't do it perfectly, but I'm proud of the ways we do it, and this is another one of those ways."
Bill Holston, a United Methodist and Dallas-based immigration lawyer, applauded Kingwood United Methodist's effort.
"When the church decides to use its considerable resources to do something practical for immigrants, it encourages me," said Holston, executive director of the Human Rights Initiative of North Texas. "They're fulfilling the biblical mandate of welcome."
For the two weeks, Kingwood United Methodist had Spanish-language yard signs directing visitors to Building K, where the consular team worked.
They used the El Refugio worship space, its cross still draped for Easter, as a waiting area for applicants, as well as for interviews and payment of fees. Across the hall, in a Sunday school room, other consular officers operated printers and made final touches to documents.
"This is a perfect setup for us," Solano said on April 14. "And we've had a great response."
Working by appointment only except for a few emergency requests, consular officers saw more than 100 people a day, with the time from arrival to departure averaging about 35 minutes.
Though most of the document-seekers live in the Houston area, some came from distant parts of Texas, and even from other states.
Fidelina Osorio was among the locals. She said she's a chicken cook who has lived in the U.S. for 23 years and lost her Mexican passport in a fire.
"I thank God for this," she said of her chance to get a replacement. "I've had a lot of problems without a passport."
Reyes had an extended visit with Osorio, as she did many of those who came to see the consular team.
Not one to miss an evangelism opportunity, the pastor handed out information cards about El Refugio.
"A lot of the people here are looking for a Spanish-language service," Reyes said.
And now they know the way.
Hodges is a Dallas-based writer for United Methodist News. Contact him at 615-742-5470 or
[email protected]
. To read more United Methodist news,
subscribe to the free Daily or Weekly Digests
.
---
Like what you're reading? Support the ministry of UM News! Your support ensures the latest denominational news, dynamic stories and informative articles will continue to connect our global community. Make a tax-deductible donation at ResourceUMC.org/GiveUMCom.