One of the sweetest possessions Debra Kelley owns is the key to her front door.
"I pay rent, light bill, water bill, cable. All the things a normal person would pay. I can't tell you how good it feels," she said with a wide grin on her face. "I actually look forward to getting my bills."
A key, mail, going to work — simple things equal freedom for her. After being in prison more than 20 years, DK, as her friends call her, didn't think she would ever be free again.
Kelley said good things started happening when the Rev. Tamika Robertson, pastor of Dixon Memorial United Methodist Church in Nashville and a chaplain at the Tennessee Prison for Women, started a chapel service at the prison.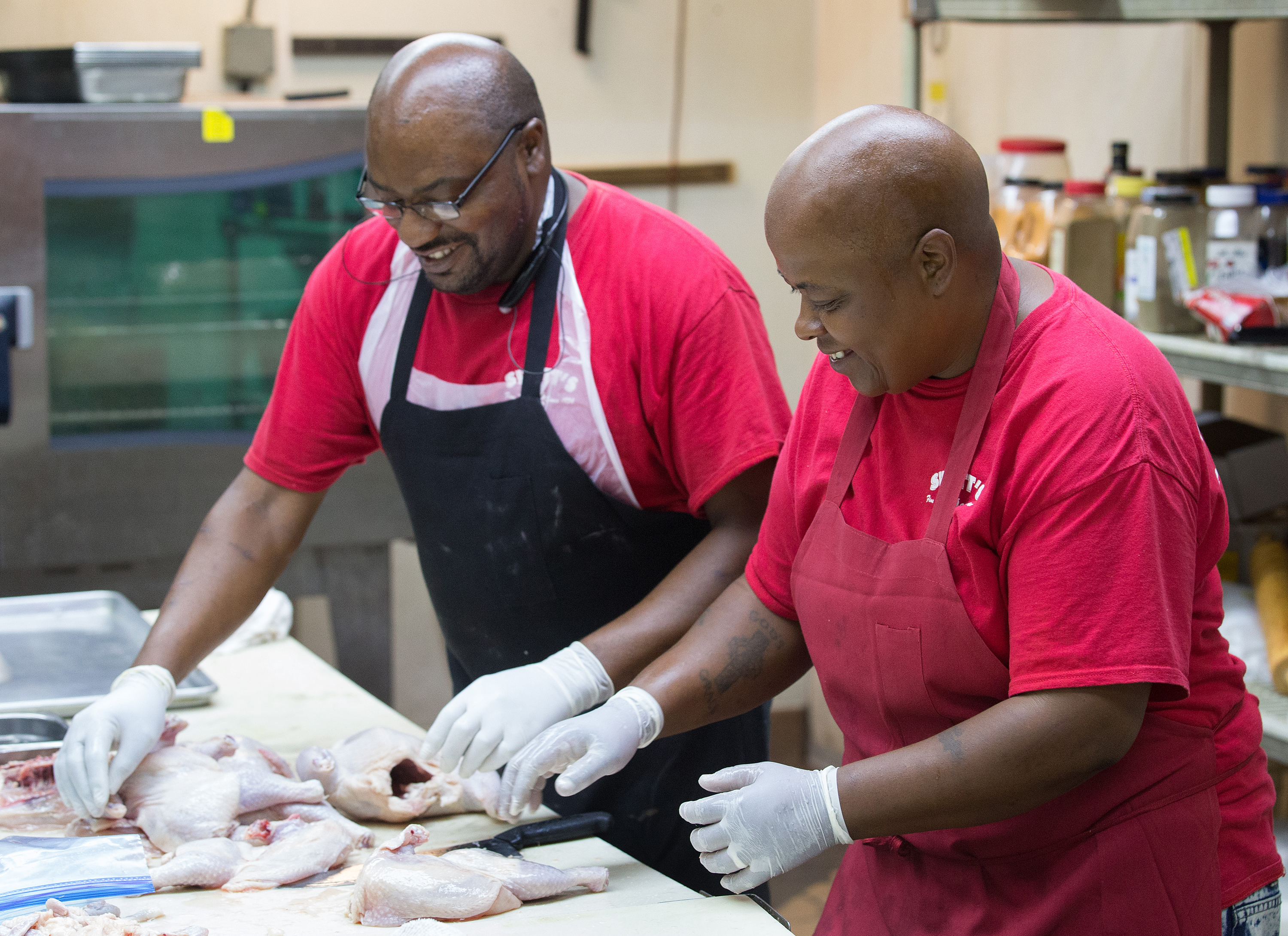 "There was something about her, she had a glow, and I knew she was sent from God," Kelley said.
Robertson feels just as strongly about Kelley. "Her light was shining in prison, shining bright."
Robertson began a praise band and Kelley was the leader. As the two worked together, Robertson started talking to her church members about enrolling in Take One, a program managed by the Tennessee Department of Correction.
Take One matches faith-based and non-profit organizations with offenders being released from prison. Take One participants get to know a returning citizen while still in prison. Then they vow to walk hand in hand with the ex-offender in the adjustment to public life.
Statistics from the correction department show that 97 percent of offenders now incarcerated in Tennessee will return home and 46 percent will be arrested again. Take One is focused on reducing those recidivism numbers.
Robertson said Kelley was a leader even in prison, respectful and focused.
"Even being in the system, she didn't let the system take her. She always kept her joy, she was always singing, she kept the faith," the pastor said.
But Kelley said it wasn't until her last conviction — for a murder she said she was innocent of — that she saw God was calling her to a different life.
Learn more, get involved
Kelley had previous convictions for robbery and was "heavy, heavy" into drugs.
"I knew I was doing wrong, but Lord I wasn't doing that wrong," she said of her murder conviction. She ended up with a 17-year sentence, which she served.
Robertson said that means no reporting to courts or probation. "No parole. Free!"
Kelley believes the Lord allowed her to get into this trouble to open her eyes.
"If it had not been for my mistakes, my downfalls, my ups, my downs, my days of crime, my days of laughing — I won't be where I am today," she said.
"Somewhere down the line whatever you did wrong you are going to pay for it. 'Vengeance is mine,' says the Lord."
Kelley has five grown children. "All drug-free," she said proudly. Her youngest son, 25, is living with her now. He was 2 years old when she went to prison so they are just getting to know one another.
"I know they (her children) are afraid I'm going to fall back into that trap. I have to prove it to them," she said.
"They worry about me, call me all around the clock. I call them my little wardens."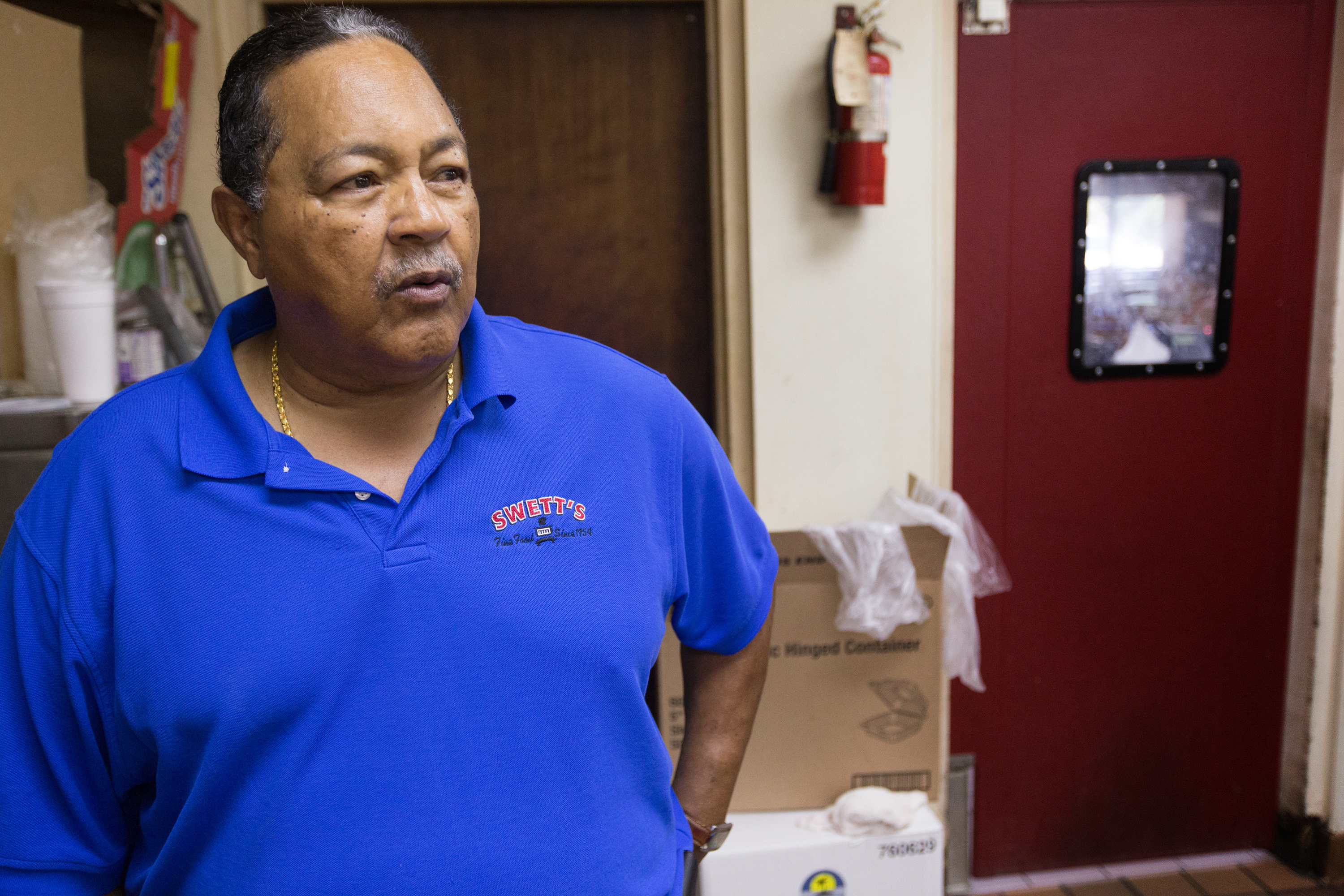 Kelley started working for David Swett, owner of Swett's restaurant while still in prison. When she got out, he hired her to work in his restaurant known for its homestyle southern cooking. Swett often hires ex-offenders.
"We do a lot of hiring of people who have been incarcerated; we have been very successful," Swett said. "We get some good people; of course, sometimes we get people who slip."
Kelley goes to work early to start preparing for the lunch crowd. She said life smells so sweet — cornbread muffins baking, apples caramelizing, pinto beans bubbling, green beans, macaroni and cheese, ribs in the smoker.
"Mr. Swett, he gave me a second chance," she said, pulling out a tray of meatloaf. "He taught me so much but he won't give me his recipes," she jokes.
Her favorite Scripture is Galatians 5:1, "Stand fast therefore in the liberty wherewith Christ hath made us free, and be not entangled again with the yoke of bondage (KJV)."
She has no intention of returning to bondage.
"You just don't know how it feels to turn a key to my own house. Just walk into my living room," she said.
"It is a blessing to be among the living cause I could have been dead long ago."
Gilbert is a multimedia reporter for United Methodist News Service. Contact her at 615-742-5470 or [email protected]. To read more United Methodist news, subscribe to the free Daily or Weekly Digests. 
---
Like what you're reading? Support the ministry of UM News! Your support ensures the latest denominational news, dynamic stories and informative articles will continue to connect our global community. Make a tax-deductible donation at ResourceUMC.org/GiveUMCom.