Early on the morning of Nov. 26, a violent 6.4-magnitude earthquake struck Albania, claiming over 20 lives, injuring 600 and collapsing buildings.

It was not an isolated incident: The seismological department of the Institute of Science in the Albanian capital of Tirana registered more than 500 earthquakes in a two-day period. A dozen of them had a magnitude of at least 4.0 on the Richter scale.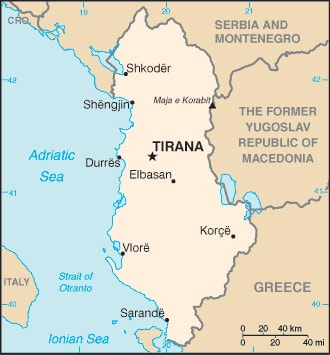 Nov. 28 is usually celebrated in Albania as Independence Day. This year, however, all celebrations were cancelled. Instead, rescue workers feverishly searched for survivors. Rain and the many aftershocks made their work much more difficult.

Durrës is the closest town to the epicenter with a local United Methodist church, but the earthquakes also caused considerable damage in Tirana.

The Rev. Wilfried Nausner, superintendent of The United Methodist Church in Albania, reports on a district of Tirana in which many houses are relatively old. Everywhere, chimneys and roofs are broken or damaged, and significant structural damages are expected, he said. The building of the Church of the Nazarene located in this part of the city has been closed by the authorities. Similar measures are expected for numerous other houses.

The houses had not yet been extensively inspected following another strong earthquake in September, and existing damages have now become even greater. Sadly, it is the poorest residents who will now lose their homes, Nausner said.

Tents that were erected may offer little comfort given the increasing cold of the night, he said. Many sought refuge with relatives and friends who live farther away.

Nausner's wife, Jean, said, "Durrës has become a ghost city."

According to Wilfried Nausner, the buildings used by The United Methodist Church in Albania were not destroyed, save for damage to an apartment in Durrës that is rented as a church.

United Methodists in Albania are mobilizing to help. They are considering collecting blankets and clothes, Nausner said.

Women who are part of a sewing project in Pogradec decided to sew bags on the national holiday and donate the proceeds of sales to the earthquake victims in and around Durrës.

On Sunday, Dec. 1, there was an offering in all five Albanian United Methodist congregations for the same purpose. In addition, church leaders are evaluating what concrete help can be provided in cooperation with other Protestant churches and partners.

"In view of this national disaster, we want to be close to the people and make a contribution to alleviating their need and distress," said the Rev. Mustafa Isufi, pastor of the Methodist congregation in Pogradec.

Schweizer is assistant to Bishop Patrick Streiff, Central and Southern Europe Episcopal Area, Zurich.

News media contact: Vicki Brown, news editor,

[email protected]

or 615-742-5469. To read more United Methodist news, subscribe to the free Daily or Weekly Digests.