United Methodist leaders decried violence against the Lumads, an indigenous people who have been the victims of genocide and human rights violations for the past several months.
The Lumads, who are from the southern Philippines, have been caught in the middle of combat between government soldiers and paramilitary rebels. Reports have surfaced of entire communities of Lumads being displaced.
The struggle escalated in September with the murders of three Lumads, including a school teacher. Since then, Lumad activists have camped out in Metro Manila, protesting the atrocities committed against their communities.
The Nov. 15 Lumad Solidarity Day, led by the Manila Episcopal area of the Philippines Central Conference, was held at Redemptorist Baclaran, a church compound in Parañaque, Metro Manila, where the Lumads are being housed temporarily. About 50 United Methodist leaders attended.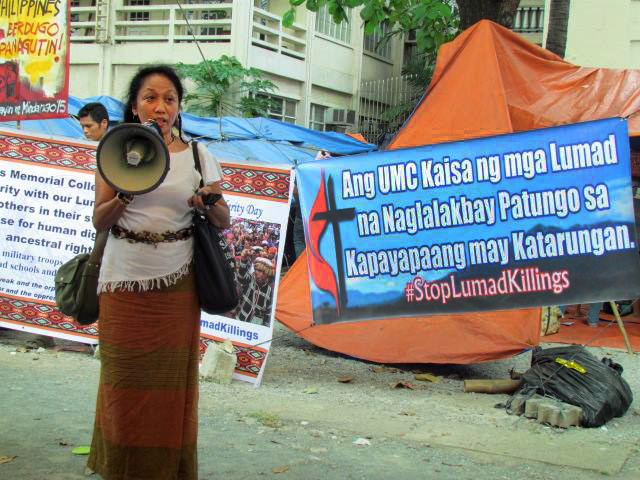 Message of solidarity
The Rev. Joey Umali, district superintendent of the North Bulacan district, delivered a message of solidarity lending support to the Lumads' journey for peace and justice. Admonishing people to hate robbery and wrongdoing, Umali cited Micah 6:8: "And what does the Lord require of you? To act justly and to love mercy, and to walk humbly with your God."
Umali gave emphasis as well on the feeding of the 5,000. 
"Why do we have to feed many people? How were they able to feed the many people?" he asked. "When they offered it to God, the Lord provided, and people couldn't fathom how the food have multiplied! We have to bring to the Lord everything, including the struggles of our Lumad brothers and sisters." 


In the midst of despair and upon hearing the question, 'Where is God in all these struggles?' Umali said, "All believers are bid to fight for justice."
The College of Bishops and the Board of Church and Society of the Philippines Conference issued a statement that was read at the event, calling for a halt to the killings, for prosecution of the perpetrators and to allow the Lumads to return to their land to live in peace.
United Methodist statement
The statement quoted from the United Methodist Social Principles, saying that war crimes and genocide are "destructive of humanity, promote impunity, and therefore must be unconditionally prohibited by all governments and shall never be tolerated by the Church."
The Lumads were provided a sack of rice and vegetables and their datu, the title for chief, expressed his gratefulness:
"We are deeply touched of this expression of solidarity, and we thank the United Methodists," he said. "We felt that we are not alone on this struggle; we discovered that the Church is with us," said Datu Dulphing Ogan, who is the secretary general of the Kalumaran, the confederation of different indigenous tribes in Mindanao.   
Mangiduyos is a correspondent for United Methodist News Service.
News media contact: Vicki Brown, news editor, [email protected] or 615-742-5470.