The United Methodist Church, in collaboration with the Ministry of Primary and Secondary Education in Zimbabwe, has rolled out a new program that gives children access to computers at an early age.
Murewa Day Care Center in Mashonaland East province is the pilot school for the e-learning initiative, which aims to increase children's access to information and communications technology. The program is being hosted by the Zimbabwe West Annual Conference and is the brainchild of the church's women's organization, Rukwadzano RweWadzimai. 
The goal is to have computer laboratories at all United Methodist-run schools in Zimbabwe by 2025. Each of 16 primary schools has an early childhood development class or day care center.
"The program is all supported by The United Methodist Church at large in Zimbabwe," said the Rev. Vienna Mutezo, connectional ministries director and deputy administration assistant to Zimbabwe Bishop Eben K. Nhiwatiwa. "The original idea was from the church's women organization … to benefit the community from Murewa at large."
Speaking during the graduation ceremony of 62 students in November, Tendai Gurupira, coordinator for  the Department of Ministry with Women, Children and Youth for the Zimbabwe Episcopal Area, said the ministry's thrust is to ensure that every child acquires computer knowledge from a young age.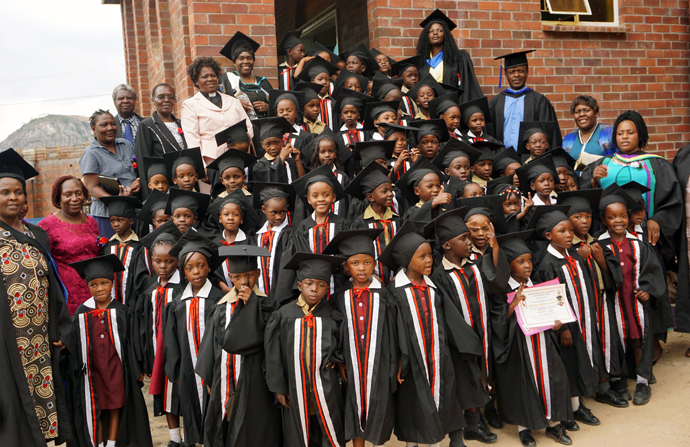 Sixty-two children graduated from the new e-learning program at Murewa Day Care Centre in Zimbabwe. Photo by Kudzai Chingwe, UMNS.
"Our endeavor is to see every child enrolled at our centers having (information technology) knowledge in this communication age," she said.
She said although resources were limited, the need to educate the children in their infancy necessitated the setting up of these centers at United Methodist institutions.
"Our resource base is not permitting at the moment to have this program rolled out at all centers at once, but, with time, all (United Methodist Church) institutions should have computer laboratories to allow for (information and communications technology) studies," Gurupira said.
To date, the center has received a donation of 30 computers to help with the implementation of the program and computer laboratories.
Six-year-old graduate Charlene Ramaboea was delighted to learn computer basics at Murewa Day Care Center.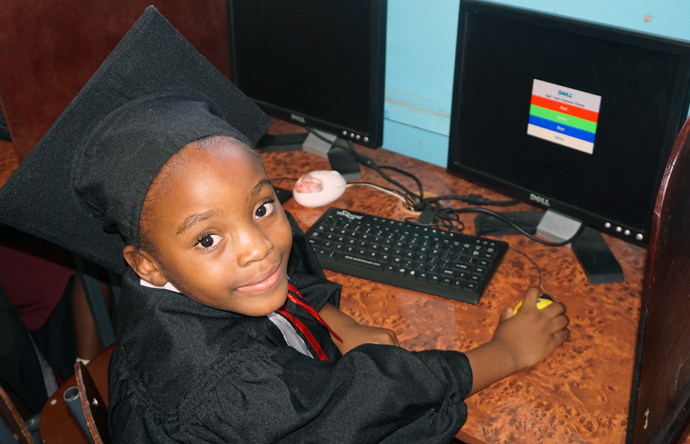 Six-year-old Charlene Ramaboea shows off her computer skills at the Murewa Day Care Centre in Mashonaland East province, Zimbabwe. Photo by Kudzai Chingwe, UMNS.
"I am happy after having completed my studies in basic computer use as this would prepare me for further studies as I grow up," she said.
Another graduate, Tadiwa Kadiramwando, also 6, said learning computer was the best thing that has occurred during his time at school.
"I now have the knowledge about computer parts and their functions making it easier for me to operate the machine," he said.
Enjoy a selection of poems written by the children in honor of their computers: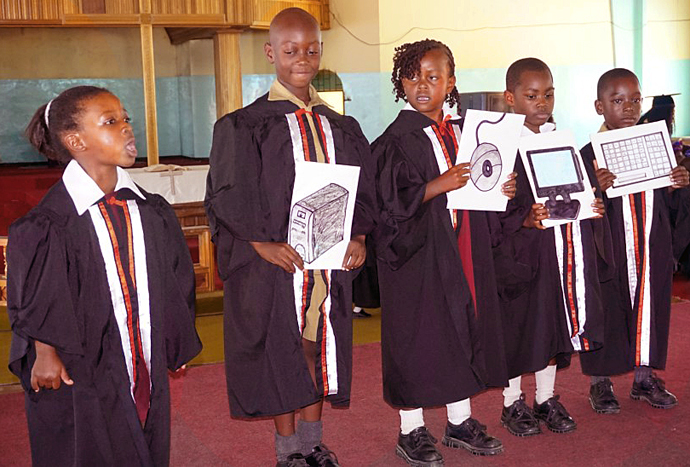 "My Computer"

CPU where are you? Here I am.
Mouse come here? Here I am.
Call Mr. Key board, where are you? Here I am.
Miss Monitor please come? Here I am.
CPU, mouse, key board and monitor we are a family thank you.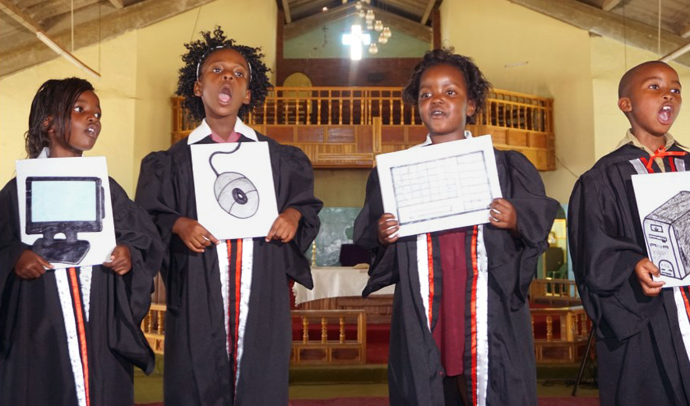 "Computer Parts"

The monitor shows us what we do on our computer.
We click the mouse to move the cursor on our computer.
The keyboard will let us type on our computer.
CPU instructs us on our computer.
THANK YOU.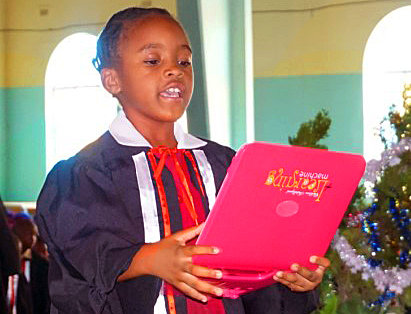 "My little computer"
This is my little computer
I play games on it
I calculate on it
I type on it
This is my little computer
I love my little computer
Thank you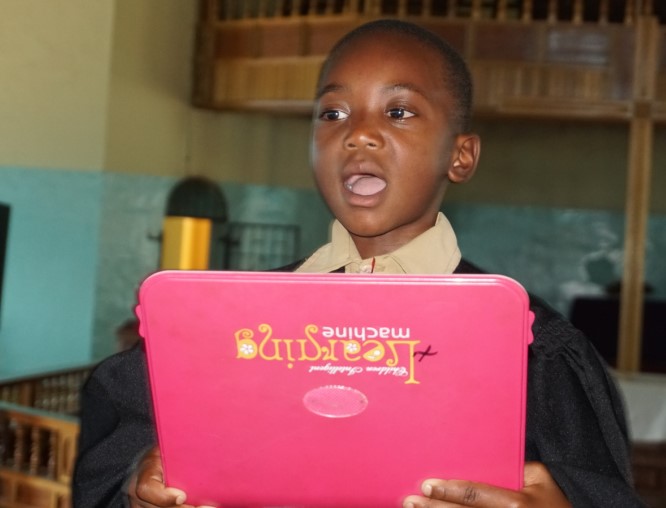 "A Poem on Technology"
Technology, technology, what is it all about? It is the innovation, creativity and modernization.
Dad, Dad can I talk to you, no I am busy, go and talk to your mother.
Mum, mum can I talk to you, no I am busy go and play games on the computer.
THANK YOU