The hymns in Shona mingle with sounds of the hosho gourd and a drum, creating a bit of home for the 25 members of the Zimbabwean diaspora community gathered for Sunday worship.
The enthusiastic gathering and response to the sermon by the Rev. Tazvionepi Nyarota give no clue to the struggles faced by the United Methodist Church-Edmonton and other churches in Canada started by Zimbabwean migrants. A new partnership and funding from the United Methodist mission agency will help.
"Worship in our language makes them feel connected to home," Nyarota says of the church members who worry their ties to their culture are dying in the many years they have lived outside of Africa. "Some can't go home at all because there is danger. Many face difficulties with the choices they made, especially as they lose relatives at home."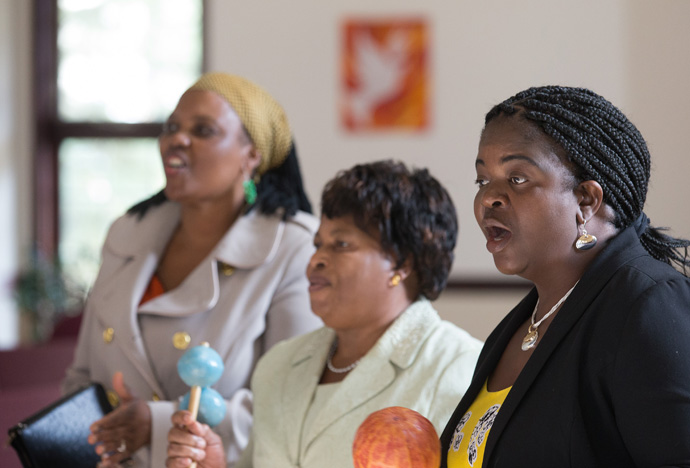 Some came as political refugees; others were seeking jobs that are nearly non-existent in Zimbabwe. Most migrants initially go to Toronto, home to the first United Methodist church founded in Canada by the diaspora – the Zimbabwe United Methodist Church, Nyarota said. Later, they often follow jobs to Edmonton, Calgary, Vancouver or other cities.
Most in the diaspora send every penny they can spare to relatives in Zimbabwe — one reason the churches struggle.
The United Methodist Church and The United Church of Canada have an agreement that the only United Methodist churches in Canada will be those serving an ethnic population such as the Zimbabwean migrants, said Alfiado S. Zunguza, Africa Area liaison for United Methodist Global Ministries.
In addition to the Toronto and Edmonton churches, Zimbabweans have founded churches in Hamilton, Calgary and Fort McMurray. There is also a growing prayer group in Vancouver that could eventually become a church.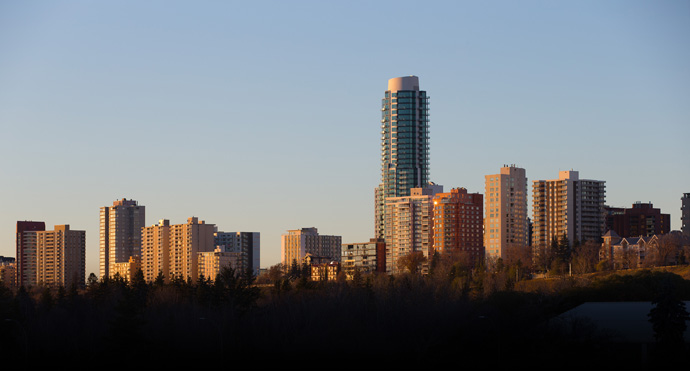 Until Zimbabwe Bishop Eben K. Nhiwatiwa appointed Nyarota in 2014, none of the churches had a pastor. The Edmonton church, which has about 60 members, had saved about $35,000 to pay a pastor for a year. They wanted that pastor to serve their church and others in Western Canada, which Nyarota has done, both preaching and handling funerals. But the church has struggled to continue paying her salary and members worry that they have been able to provide benefits.
Financial struggles
"The church suffers, because after paying bills and sending money home, we don't have much. We love the church, but it's a struggle," said Allan Chigumira, one of the founders of the Edmonton church and chair of the pastor-staff parish relations committee.
"We really need the church. It gives us memory. The way I understand preaching in Shona is deeper. English doesn't get there for us," he said.
Chigumira said his brother in Zimbabwe has worked for two years without pay simply to keep his benefits. Now, the government plans to begin taxing the money that Zimbabweans abroad send home to relatives.
Still, new developments could mean a brighter future for the faith life of Zimbabwean United Methodists in Canada.
The Edmonton Presbytery, a regional administrative body of The United Church of Canada, has taken on the Zimbabwe United Methodists in Canada as a mission. And the United Methodist Board of Global Ministries has approved funding for a missionary for Western Canada who will serve as pastor.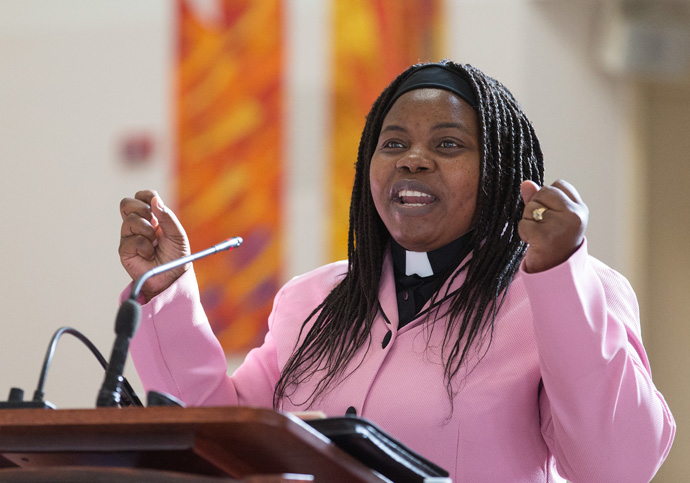 Global Ministries will provide salary for the pastor, Zunguza said, but the churches will be responsible for housing and other expenses. He said the expectation is that Nyarota, who already has the proper work permits, will fill the position in Western Canada. Zunguza said Thomas Kemper, the top executive of Global Ministries, is open to considering a similar arrangement for Eastern Canada.
Under the arrangement with the United Church, the Edmonton Presbytery will provide pastoral supervision.
Help from the United Church
The United Church of Canada already found the Edmonton church a cheaper place to worship than the space they previously rented. Louise Rogers, a volunteer with the presbytery, connected the Zimbabweans with Mills Woods United Church, which provides worship space for a minimal contribution toward utilities.
The Rev. Ian Kellogg, pastor of Mill Woods, said the two churches have held some joint worship services and some of the Zimbabweans have helped with the food bank. But he hopes there will be more collaboration.
"They are young and they have children," said Kellogg, noting that his own church is mostly retirees.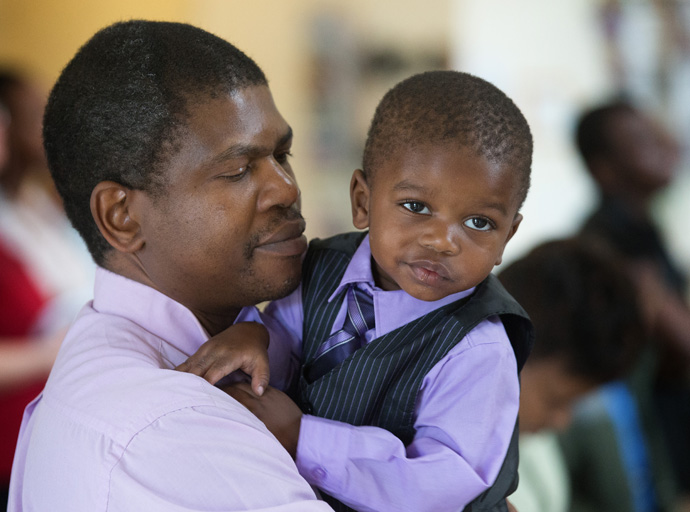 Everjoyce Madzinga, the lay leader for The United Methodist Church-Edmonton, who serves on the presbytery as the multicultural ministry representative, was there on Oct. 22 when the presbytery approved the Zimbabwean church as a mission.
She and Nyarota uluated their thanks, explaining to the Canadians that the high-pitched vocal trilling is a traditional Zimbabwean way of expressing thanks and happiness.
"We are so happy. . . . We worship one God, there is one Christ, we will remain in ministry together," Nyarota said.
The United Church also has provided $10,000 in bridge funds to help until arrangements for the missionary placement are final.
Diaspora supports Zimbabwe economy
Exact figures are hard to come by, but the International Organization for Migration in Harare, Zimbabwe, estimated in its 2015 annual report that up to 3 million Zimbabweans live outside their home country. In 2014, Zimbabweans in the diaspora sent home more than $1.8 billion, or about 15 percent of the country's gross domestic product.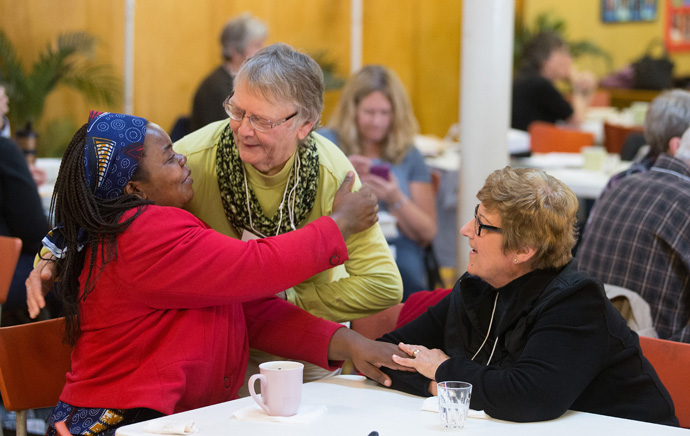 South Africa, the United Kingdom, Australia, Canada and the United States have the largest Zimbabwean populations. In addition to Canada, Bishop Nhiwatiwa has appointed pastors to lead Zimbabwean congregations in the United Kingdom, Australia, New Zealand and South Africa, said the Rev. Alan Gurupira, assistant to the bishop.
As migrants in Canada struggle to keep their customs and culture alive for their children, they also feel responsible for figuring out how to revive the flagging economy at home.
"It's up to the diaspora to create jobs in Zimbabwe, because the government isn't going to," said Remmington Mujuru, a church member.
HOW YOU CAN HELP

Donations for the church can be sent to United Methodist Church-Edmonton, care of Mill Woods United Church, 15 Grand Meadow Crescent NW, Edmonton, Alberta T6L1A3.
Once a missionary is approved for Western Canada, there will be an Advance number to support the missionary's work.
Isaac Mutseka migrated 15 years ago, before Zimbabwe withdrew from the Commonwealth of Nations in 2003. He is now a Canadian citizen, but his ties to Zimbabwe remain strong.
When he visits, he buys supplies to work on his mother's house and he financially supports a local school, helping with repairs such as a new roof and taking soccer uniforms every year.
He also bought tire repair equipment in South Africa and brought it to his two nephews, helping them negotiate for use of an abandoned service station for a repair business. 
Both Mujuru and Mutseka said alcoholism and hopelessness are rampant in Zimbabwe.
The World Factbook of the Central Intelligence Agency said true unemployment in Zimbabwe is unknown, but was estimated at 95 percent in 2009, with more than 72 percent of the population living below the poverty level.
Keeping heritage alive
The church feeds the soul, but is also crucial to keeping the Zimbabwean culture alive for their children, migrants said.
"We want to carry who we are and pass that onto our children,'' Madzinga said. "The church helps bring up our children so they know how to treat their elders. It gives them a sense of the extended family they would have had if they lived in Zimbabwe."
Brown is editor of United Methodist News Service. Contact her at [email protected] or 615-742-5470.
---
Like what you're reading? Support the ministry of UM News! Your support ensures the latest denominational news, dynamic stories and informative articles will continue to connect our global community. Make a tax-deductible donation at ResourceUMC.org/GiveUMCom.