It has been 18 months since Ashley Loring Heavy Runner went missing from the Blackfeet Indian Reservation in Browning, Montana.
Her family is still desperate for answers. Because Loring Heavy Runner was an adult — she was 20 years old when she disappeared June 12, 2017 — the family has received little help from authorities.
Sister Kimberly Loring has led door-to-door searches and scoured the mountains near U.S. Highway 89, the last place the young woman was seen.
On Dec. 12, with assistance from The United Methodist Church, Loring and her family were able to take their story to lawmakers in Washington.
"I hope people see that we can't be swept under the rug and that we need help," Loring said. "The family is doing 80 percent of the work looking for Ashley. We need more help to bring Ashley home."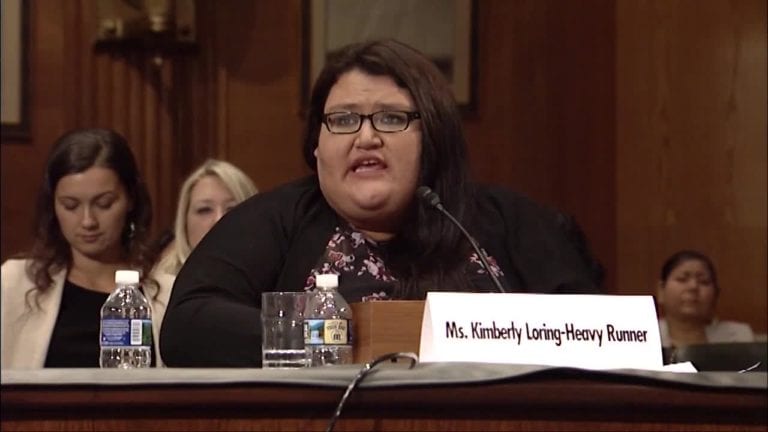 Members of Loring Heavy Runner's family attend Blackfeet United Methodist Parish in Browning. When Kimberly Loring was invited by U.S. Sen. Jon Tester (D-MT) to testify in the Senate oversight hearing titled "Missing and Murdered: Confronting the Silent Crisis in Indian Country," church members wanted to help.
"We have been keeping up with the search for Ashley and the issues around murdered and missing indigenous women for some time," said Sheriann Hill, a member of United Methodist Women and wife of the Rev. Calvin Hill, who is appointed to Blackfeet United Methodist Parish.
The local United Methodist Women group raised $300 to help with travel expenses for the Loring family to attend the hearing and reached out to the denomination's Native American Comprehensive Plan, which matched the gift. They also contacted Bishop Karen Oliveto, Mountain Sky Episcopal Area, for help.
"The Mountain Sky Conference staff mobilized to find support so that Kim could tell her story," Oliveto said.
The conference contributed $1,700 in travel expenses to send Loring and a cousin, Lissa Loring, to the hearing. Oliveto also connected the women with staff from the United Methodist Board of Church and Society, who provided housing and accompanied the women to the hearing.
"Our Native American sisters are being murdered and are missing at alarming rates. We must tell their stories. We must enact legislation to address this crisis," Oliveto said.
Unfortunately, Loring Heavy Runner's disappearance is just one chapter in the story of missing and murdered indigenous women. The murder rate for indigenous women is 10 times the national rate on some reservations, according to a 2016 National Institute of Justice study. More than half of Native American women have been sexually assaulted, including over a third who have been raped during their lifetime, according to the study, which noted that the rate of rape is nearly 2.5 times higher than for white women.
"We consider this not only a public health crisis, but a crisis against our future generations," testified Amber Crotty of the Navajo Nation during the hearing. She expressed concern about jurisdiction complications between tribal police, state law enforcement and federal agents that cause a delay in response time to missing women and children.
Kimberly Loring testified to Senate members about her struggle with getting information from authorities and the mismanagement of what the family claims to be evidence. She said she and a search party in the mountains recovered a sweater they believed Loring Heavy Runner was wearing the day she went missing. It was torn, covered in oil and had red spots on it, she said.
Loring was told that the sweater was turned over by Blackfeet Law Enforcement to the Bureau of Indian Affairs and sent to a crime lab. In her Senate testimony, she said she later found out that the sweater was never sent and is still in evidence at the Bureau of Indian Affairs.
She also testified that Blackfeet Law Enforcement said they searched the area where the sweater was found but she later learned that was untrue.
"From the very beginning, both the Blackfeet Tribal Law Enforcement and the (Bureau of Indian Affairs) have ignored the dire situation that Ashely is in and have allowed the investigation to be handled in a dysfunctional manner. This isn't just a reality for our family but a reality for many murdered and missing indigenous women's families," Loring said during her testimony.
Charles Addington, deputy associate director for the Bureau of Indian Affairs, also testified at the hearing. He said the way a person is reported missing matters, adding that better training and coordination is needed for first responders to know how to take action, preserve evidence and navigate the jurisdictional maze.
"We have to be immediate in the response and coordination so everyone from rescue groups, local authorities, (the Bureau of Indian Affairs) and FBI are committed to getting to the bottom of what has happened," he said.
He agreed that reports of missing and murdered Native women continue to be a big challenge in Indian Country.
Lissa Loring recalled some of the challenges in the search for Loring Heavy Runner. She said Kimberly Loring would often look for rides to go out and search the area, sometimes alone. She said they've also been chased by bears while searching in the mountains.
"We want to bring her home, that's our biggest goal," Lissa Loring said. "It's really tough … You feel helpless and hopeless."
With the cold temperatures and snow in Montana, the family has shifted its efforts to telling Loring Heavy Runner's story and keeping it in the forefront of the media. They also are working and saving money during the winter so they can afford to continue the search in the spring.
"I am here to stress to you, we are important, we are loved and we are missed," said Kimberly Loring during her Senate testimony. "We will no longer be the invisible people in the United States of America. We have worth."
Ginny Underwood is a communication consultant with ties to the Oklahoma Indian Missionary Conference. She is a member of the Comanche Nation of Oklahoma.
News media contact: Vicki Brown at (615) 742-5470 or [email protected] To read more United Methodist news, subscribe to the free Daily or Weekly Digests.
---
Like what you're reading? Support the ministry of UM News! Your support ensures the latest denominational news, dynamic stories and informative articles will continue to connect our global community. Make a tax-deductible donation at ResourceUMC.org/GiveUMCom.