Gridlocked parking lots. Harried employees. Cranky children. Exhausted shoppers. Empty wallets. 'Tis the season to be jolly?
Christmas shopping doesn't have to be that way.
Across the United States - in big cities and tiny hamlets - United Methodist congregations are encouraging people to spend less on forgettable, consumer-driven gifts and more on thoughtful gifts that benefit others. Hosting alternative-giving fairs, they pull people from crowded malls to church fellowship halls and help to create new holiday memories.
Take First United Methodist Church in downtown Hutchinson, Kan., for example.
Every year - on the third Saturday in November - the congregation hosts its communitywide Alternative Christmas Market. The event, said the Rev. Mark Conard, is "a means for persons to give gifts that bring the true joy of Christmas to the giver, the recipient and to those in need."
This was the 10th year for the market, which Conard described as "an interactive way for people to learn about non-profit agencies, to bring their children and grandchildren to experience giving and to honor or remember others at the holiday season."
The market consists primarily of displays and information booths by a variety of nonprofit agencies. This year, 17 organizations participated.
Along with the agencies, the local Ten Thousand Villages store offers "fair-trade" Christmas items for sale. Fair trade, an organized social movement, aims to improve trading conditions and promote sustainability for producers in developing countries.
After browsing the various booths, participants decide which agencies to support. They use a single form for that purpose, sometimes donating to one agency or choosing among several. They pay by check, cash or credit/debit card. "In Honor" or "In Memory" cards are available so shoppers can share the news of their gift with others.
The 2012 market netted more than $13,000 for participating agencies.
"Plans are already in place for next year's Alternative Christmas Market," Conard said. "Leaders of the effort are working to increase the profile of the event, having launched a website and Facebook page."
'The gift that keeps on giving'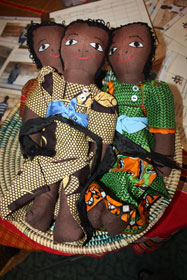 Handmade African dolls were among many items showcased by Christ United Methodist Church, Franklin, Tenn., during its alternative market in December.
Photo by Janet Phelps.
A similar event happens every Sunday morning in Advent at Aptos Community United Methodist Church in California. Among the alternative-giving opportunities are Habitat for Humanity, Heifer International and United Methodist missionary Katherine Parker who serves in Cambodia.
Also benefiting are the National Alliance on Mental Illness, the Second Harvest Food Bank, an area advocacy agency for foster children and a local consortium that seeks positive change in such areas as unfair home foreclosures, inadequate school facilities and low-income housing.
At John Wesley United Methodist Church in Tallahassee, Fla., the goal is "to encourage people to consider giving gifts to those who have enough by giving to those in need," member Debbie Gibson told a Tallahassee Democrat reporter. This is the 26th year for the alternative-giving market.
Thirty local and international nonprofits and agencies invite generous giving. Participants include Habitat for Humanity, Heifer International, Ten Thousand Villages and SERRV. Tallahassee-specific participants range from charitable trusts and emergency-care ministries to family services and a wildlife refuge.
"You can find something that speaks to a person's interests," Gibson said. "It's one of those places where you enjoy shopping - the person who you are shopping for gets joy, and the families who are in need also benefit. It's the gift that keeps on giving."
For the first time, Christ United Methodist Church, Franklin, Tenn., is trying a "Mall-ternative" - its spin on the alternative gifts fair.
"Too often in our culture, the focus of Christmas is on consumerism," said Jennifer Fuqua, who chairs the communications committee. "As a church, we want to shift the focus back toward the birth of Christ and who we are called to be as his followers.
"There will be wonderful options for holiday shopping as an alternative to the crowded mall, so that's why it's call 'Mall-ternative.'"
Among the choices at the two-day event are baked goods, handcrafted items, books, holiday décor and fair-trade products. The children's ministry and youth group, Fuqua added, "will have some very special items and opportunities to support relationships with Christ, with one another and with God's hurting world."
'Truly giving in the spirit of the season'
Try The Advance for a United Methodist connection!
NEW YORK (UMNS) - Included in the many charitable Christmas giving opportunities are several with a United Methodist connection through The Advance. One hundred percent of every Advance gift goes to the mission project or ministry of the giver's choice. (Administrative costs come from other sources.) Here are several well-known possibilities to consider for holiday sharing, along with the Advance number:
See a complete listing of Advance projects.
Make a donation online.
Henderson Settlement, a multipronged United Methodist ministry that reaches out to the people of Appalachia, reaps rewards from the alternative-giving efforts of two congregations. Since 2006, the Advance project has been part of the alternative gifts market at Centenary, a United Methodist congregation in Lexington, Ky.
Ministries and organizations that operate under fair-trade guidelines are invited to bring items from their agency to sell. Henderson Settlement markets handcrafts from women in its Frakes, Ky., community. "The market," said Vicki Stephenson, mission advancement director, "can also help people be more mission-minded through the holiday season and empower or transform the lives of those they have supported."
Athena Gaalswyk from St. Paul's United Methodist Church in Kensington, Md., created another way for alternative giving to Henderson Settlement. Six years ago, members began the "Scattered for Service" program. The church creates and assembles a catalog of the ministries its members support. Each featured agency shares a special story and provides four or five ways people can support their ministry.
"Examples of giving that support Henderson Settlement," Stephenson said, "are $35 for a food box, $10 for a personal supply pack, $20 to sponsor a child for junior pro basketball, $25 for senior adult recreation, $30 to feed the goats for one month and $50 for nutritious snacks for the after-school program." Each member of the congregation has two Sundays to select the ministries he or she will support.
Response has been positive. "Giving a gift of something that is needed is more soul-satisfying than giving something that is wanted," one participant said. Another remarked, "When I give a family member, a teacher or a friend a gift that is really needed - such as a gift from the Scattered for Service catalog - I feel I am truly giving in the spirit of the Christmas season."
Alternative giving prepares the heart for Christmas, another participant said. "It refocuses my attention on what really matters, reconnects me to a larger community and blesses my spirit. It expands my opportunities for generosity and presents new possibilities to love bigger."
For more information about resources for the Advent and Christmas season, visit www.umc.org/advent.
*Dunlap-Berg is internal content editor at United Methodist Communications.
News media contact: Barbara Dunlap-Berg, Nashville, Tenn., (615) 742-5470 or [email protected].
---
Like what you're reading? Support the ministry of UM News! Your support ensures the latest denominational news, dynamic stories and informative articles will continue to connect our global community. Make a tax-deductible donation at ResourceUMC.org/GiveUMCom.