Looking over the toppled crypts in a 100-year old cemetery, the Rev. Kermit "K.C." Roberson said, "You would think the rapture had come."
In mid-August, rains came and didn't stop. Places in southern Louisiana that had never flooded before were suddenly under 4 to 6 feet of water.
The water was powerful enough to raise concrete crypts and caskets out of the ground and toss them around like boats.
Roberts United Methodist Church cares for Plainview Cemetery, which has been the final resting place for decades of African-American United Methodists in Denham Springs.
"Seeing caskets come up is not something anyone thought they would ever see," he said. "Concrete vaults just popped open like a container off a shelf." Watch video interview with Roberson. 
Making this right is going to take a long time. The state and parish coroner's office instructed the church members not to touch the caskets until DNA testing can be done on each of the remains.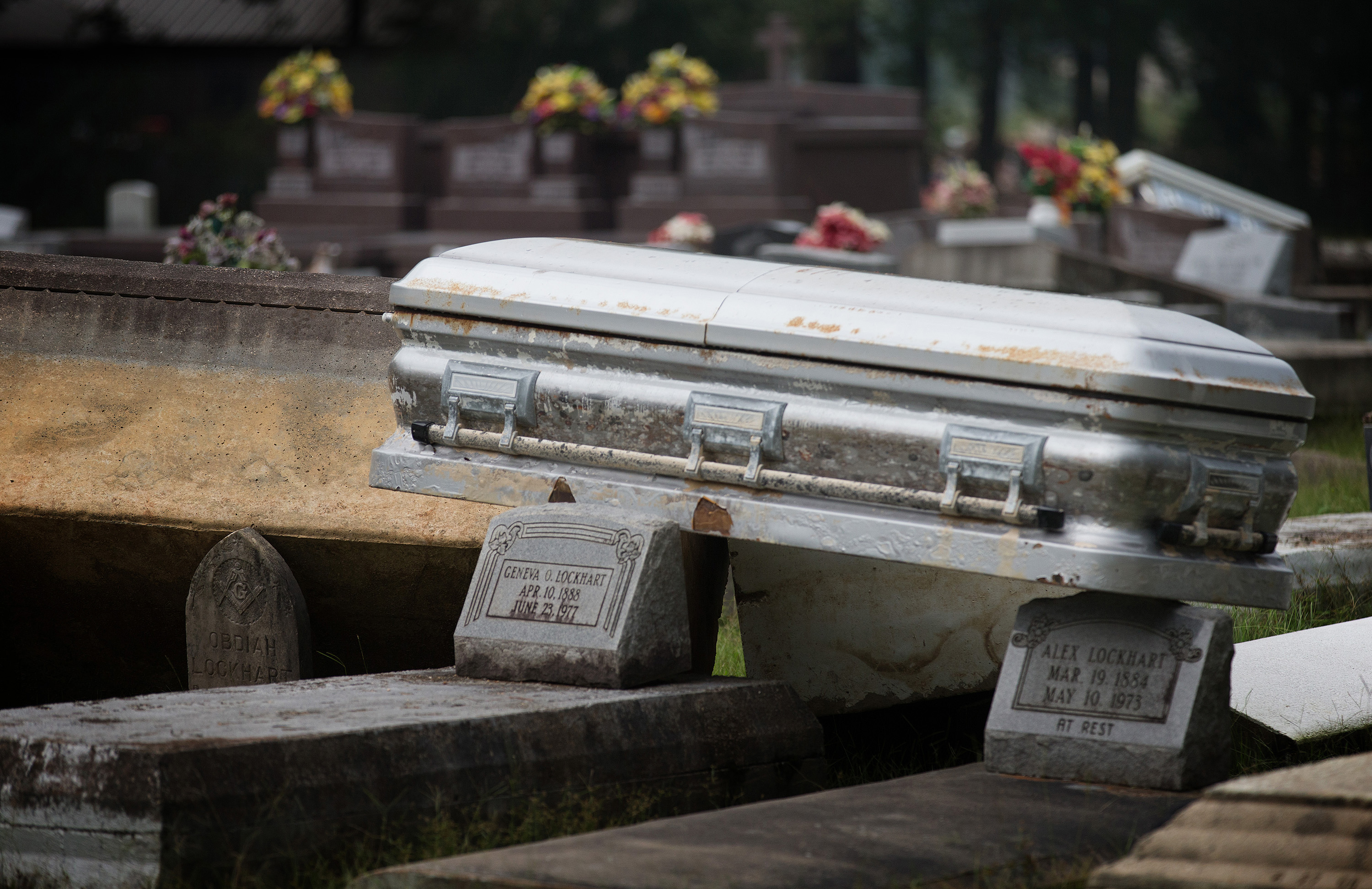 Emotional devastation
Roberson said families are devastated.
"It really is overwhelming, working with folks who want to see hope in this," he said.
He can't answer the question everyone is asking: How long it will take to get their loved ones back in their rightful places?
The cemetery, like all the surrounding area, is in the recovery stage. Not being able to reinter the bodies just makes it more emotional, he said.
The 122-year-old Roberts United Methodist Church — started and founded on the site that is now the cemetery — had minor roof damage, but no water inside the building, Roberson said.
But the damage to the cemetery is "catastrophic," he added.
Officials from the coroner's office will have to lift all the upturned caskets, line them up and then open them. Once DNA testing finalizes the identities of the remains, the families can start the painful process of putting their families back to rest.
Roberson said there is a map of the plots that will help get the bodies back in their original graves. From now on, he plans to make sure each casket is identified before it is buried.
"Something like they do at hospitals, put a band around the casket with the name and date."
Showing respect
Roberson said he first heard of the damage when photos started appearing on social media. As soon as the waters receded, family members went to check on the graves of loved ones.
The pastor said one of the things they are trying to prevent is sightseers coming by to snap photos of the disheveled graves.
"We are trying to be respectful. Not all the family members have been notified of the damage."
Roberson said one family member called him and said she took her elderly mother to look at the cemetery.
She reported, "My mother is OK, but my grandmother is flipped upside down."
Roberson said the church has a responsibility to the community.
"We will have to answer to the people who have family members out here and for those in our community that look to this cemetery, that look to our church, for keeping and maintaining this sacred Holy ground for them."
Gilbert is a multimedia news reporter for United Methodist News Service. Contact her at (615) 742-5470 or [email protected]. 
---
Like what you're reading? United Methodist Communications is celebrating 80 years of ministry! Your support ensures the latest denominational news, dynamic stories and informative articles will continue to connect our global community. Make a tax-deductible donation at ResourceUMC.org/GiveUMCom.