Key points:
Sasha Halwax will leave soon for her freshman year at Virginia Tech.
Sasha's dad Joe Halwax, an executive at Wespath Benefits and Investments, is comforted by knowing that Wesley at Virginia Tech, the school's United Methodist ministry, will be an oasis for his daughter.
Wesley at Tech will provide a place for Sasha to grow her faith in a safe, loving environment.
---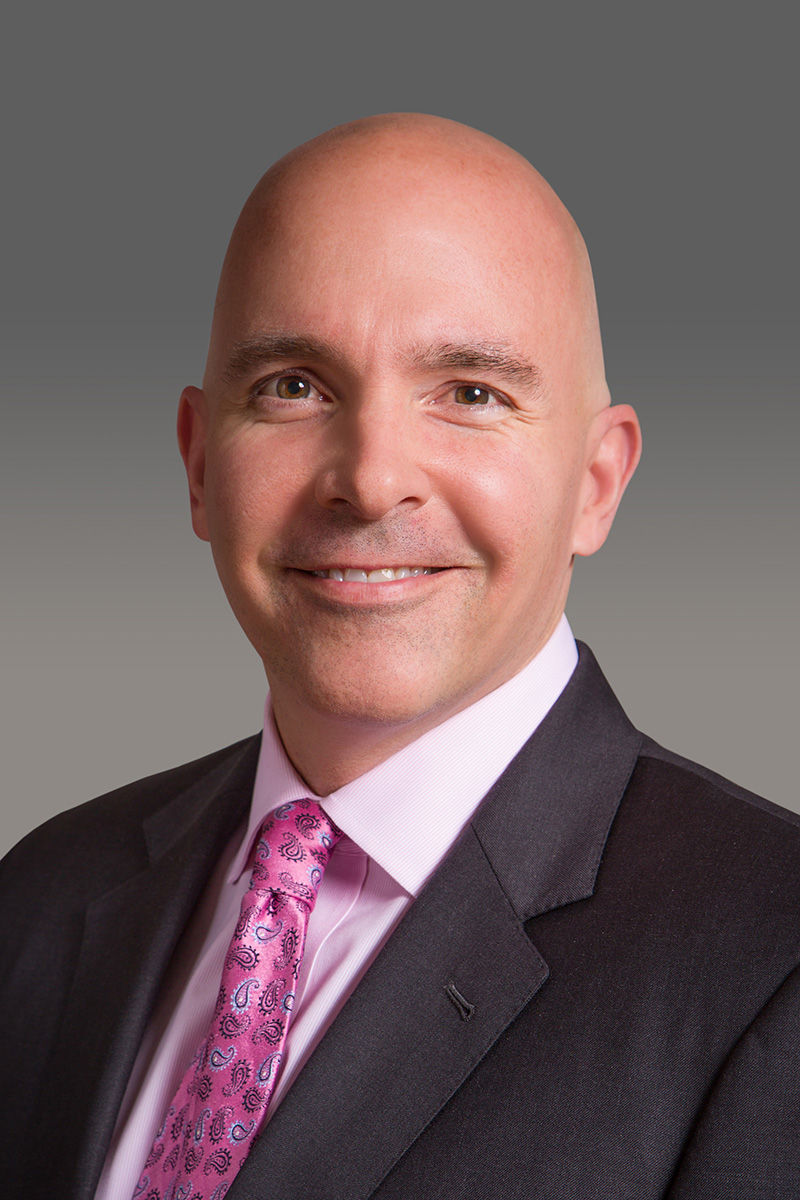 Joe Halwax.
Photo courtesy of Wespath Benefits and Investments.
Commentaries
UM News publishes various commentaries about issues in the denomination. The opinion pieces reflect a variety of viewpoints and are the opinions of the writers, not the UM News staff.
Taking your child to college is an age-old rite of passage. It is a wonderful, exciting moment, but it can also be anxiety-inducing—especially the first time, as the unknowns are scary. We naturally wonder if our children can fly when they leave the nest.
My wife Jeannie and I know this feeling well, having gone through the college admissions process over the last year with our daughter, Sasha.
Admissions itself is a difficult, "Ninja Warrior"-like event. Just when you get across the balance beam, you either run the gauntlet or get hit with a water cannon. Last fall, our youth minister, the Rev. Barb Javore (North Shore United Methodist Church, Glencoe, Illinois) told us that it is highly unlikely that the college application process would end as expected, but to have faith that Sasha will arrive where she is supposed to be.
This guidance is important for all families on the going-to-college journey: There is a plan. Have faith.
After sending out applications and considering her options, Sasha will soon head to Virginia Tech. Blacksburg, Virginia, is more than a nine-hour drive from our home — and not easy to get to by air. But so far, Virginia Tech has been wonderful in every aspect. We are especially hopeful Sasha will make the Marching Virginians band, giving her an instant set of friends and a chance to be part of the greatest entrance in college football.
As the summer passes, I know it will not be long until we are dropping Sasha off at Virginia Tech for the first time. These are nervy times for us parents. We can try planning ahead to make the moment a little easier. Social media, for instance, can be a platform for gathering intel and getting ready — but even that can be taxing. In my experience using Facebook for Virginia Tech parents, I quickly found plenty of other users trying to find answers to all the unknowns their children would face. The more I read, the more I stressed.
Ultimately, once you drive away from campus that first time, your child is left to spread their wings, grow into young adulthood and (hopefully) make good decisions for themselves. We parents of college-bound kids pray that they will make good friends, find good mentors and connect with others who will come to care for them as much as we do. But how can we be sure they will find that network? So far, I found my best answer to this question not on social media, but in the United Methodist community we met on campus.
During a recent campus visit, I happened to discover Wesley at Virginia Tech, the school's Methodist ministry. I emailed their office about stopping by with Sasha. Soon, I received a call from Bret Gresham, the campus minister and director of Wesley at Virginia Tech, who was gracious enough to invite us for a tour of their ministry.
Though I am Methodist and have worked at Wespath, The United Methodist Church's benefits and investments agency, for more than four years, I knew only a little about on-campus programs like Wesley at Virginia Tech. But given that I was preparing to leave my firstborn several hundreds of miles from home, I was interested in learning more about the community.
Subscribe to our
e-newsletter
Like what you're reading and want to see more? Sign up for our free daily and weekly digests of important news and events in the life of The United Methodist Church.
What a wonderful ministry it proved to be.
From the street, the Wesley building is colorful and inviting to young adults. The building has two floors, a big group hall for events like community dinners, television and game rooms, plenty of study space and a sand volleyball court in the back. It is a fantastic spot for students to connect and be together in a warm and inclusive place. That inclusivity includes those who are questioning their faith, wondering about the meaning of God in their life and those wanting to learn about other religions.
During our visit, Bret was part of an "assassin game," whereby he was on guard for an unknown person trying to eliminate him with a bean bag. Once you are "hit" you are eliminated, so I offered to stand between Bret and the dangers of the would-be student commandos, taking bean bags as necessary.
There were about 20 students at Wesley on a Monday afternoon around 1 p.m., and we met most of them. Several were kind enough to help Sasha with advice on dorms, her desire to have a music minor and, of course, how the food plans work.
Two students in particular stood out.
The first, Harry, is the director of the Wesley band and organizes the musically inclined Wednesday night service. The setup was impressive and included a giant stage and soundboard in the back. Harry is a vocalist who wants to teach music in high school to share his passion with others. Another student, Ben, plays horns for the Marching Virginians and was a huge help in explaining the process for joining. Both Harry and Ben were very gracious with their time and spoke highly of their experience at Wesley.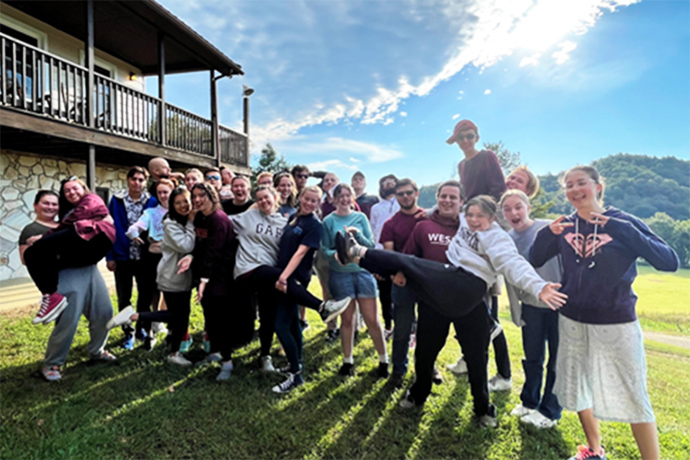 Wesley at Virginia Tech is guided by Bret, but the ministry is ultimately driven by the students, providing them with opportunities for growth and leadership. Here is what Bret shared about their work:
"At Wesley our Vision is to 'be an affirming, grace-filled community that develops and sends out disciples rooted in faith.' This vision is built upon our values of grace, love, spiritual growth and discipleship. With this foundation, our mission to 'Love out Loud' in everything we do is lived out through a team-based ministry run by our students. We hope to be a safe place where all students are able to live out, question, and come to faith as they figure it out in community. In doing so, our students learn how to love themselves as God loves them, love their neighbors unconditionally and love God with their whole selves.
"Another aspect is being a connectional ministry and bridging the gap between youth group and being a young adult in the local church. We work hard to connect our young adults who graduate to local United Methodist churches wherever they go.
"I believe the clothing drives, mission trips and youth retreats are important and vital to them living out their faith, but the dire need for campus ministry is because young adults in college need a place to do faith in a safe, loving environment. They need a place to be themselves and grow in community. Without it, more students would look to suicide and harming themselves as an alternative to living life alone or in pain. Campus ministry is that vital."
The college path has many twists and turns, just like life. For many of us, having a church provides a loving community that makes the journey more enjoyable, and helps when inevitable personal challenges arise. And while we may look back fondly on the college years, we've likely forgotten about the challenges and stress of managing those first steps to adulthood and a grueling class schedule. I believe Wesley campus ministries play a vital role in helping young adults better navigate their journey, being a place of community and support, along with offering the chance to grow in their faith.
In August, we will take Sasha to Blacksburg to start her life as a Virginia Tech Hokie. I remember when I told our youth minister the Rev. Barb about Sasha's decision to attend Virginia Tech, she replied, "God has an interesting way of going about things."
The Rev. Barb was right — this is where Sasha is supposed to be. Knowing there is a Wesley ministry on campus with both a great leader in Bret and a group of wonderful, welcoming kids made it clear. We will sleep a little better at night knowing she is part of their community.
Joe Halwax is managing director of institutional investment services for Wespath Benefits and Investments.
You can find more information about Wesley at Virginia Tech on its website: https://www.vtwesley.com/
And a list of Wesley centers on college campuses is available here: https://www.gbhem.org/education-leaders/collegiate-ministry/
---
Like what you're reading? Support the ministry of UM News! Your support ensures the latest denominational news, dynamic stories and informative articles will continue to connect our global community. Make a tax-deductible donation at ResourceUMC.org/GiveUMCom.