The shootings at a Florida State University library early Thursday had United Methodists on that campus gathering for prayer and mutual support.
"Everyone's pretty emotionally shaken," said the Rev. Mike Toluba, pastor of the Wesley Foundation at FSU and Tallahassee Community College in Tallahassee.
A man opened fire at Strozier Library about 12:30 a.m. Eastern time on Nov. 20. Three students were shot, with two hospitalized and one released. Police shot and killed the assailant.
The Associated Press identified the latter as Myron May, a lawyer who earned an undergraduate degree from FSU.
The victims' names had not been released as of Thursday afternoon.
Toluba said he had no indication any Wesley Foundation student was injured or in shooting range.
"We had a few students who were just outside the library when it happened," he said. "I haven't heard from anybody who actually heard the gunshot yet."
Some 400 students are involved in FSU's Wesley Foundation, and Toluba had not heard from all of them.
Strozier Library is at one end of Landis Green, a well-known campus public space. The Wesley Foundation is on Jefferson Street, not far from the other end of Landis Green.
"It's less than a five-minute walk," said the Rev. Vance Rains, pastor of Ortega United Methodist Church in Jacksonville, Fla., and leader of the FSU Wesley Foundation for 11 years.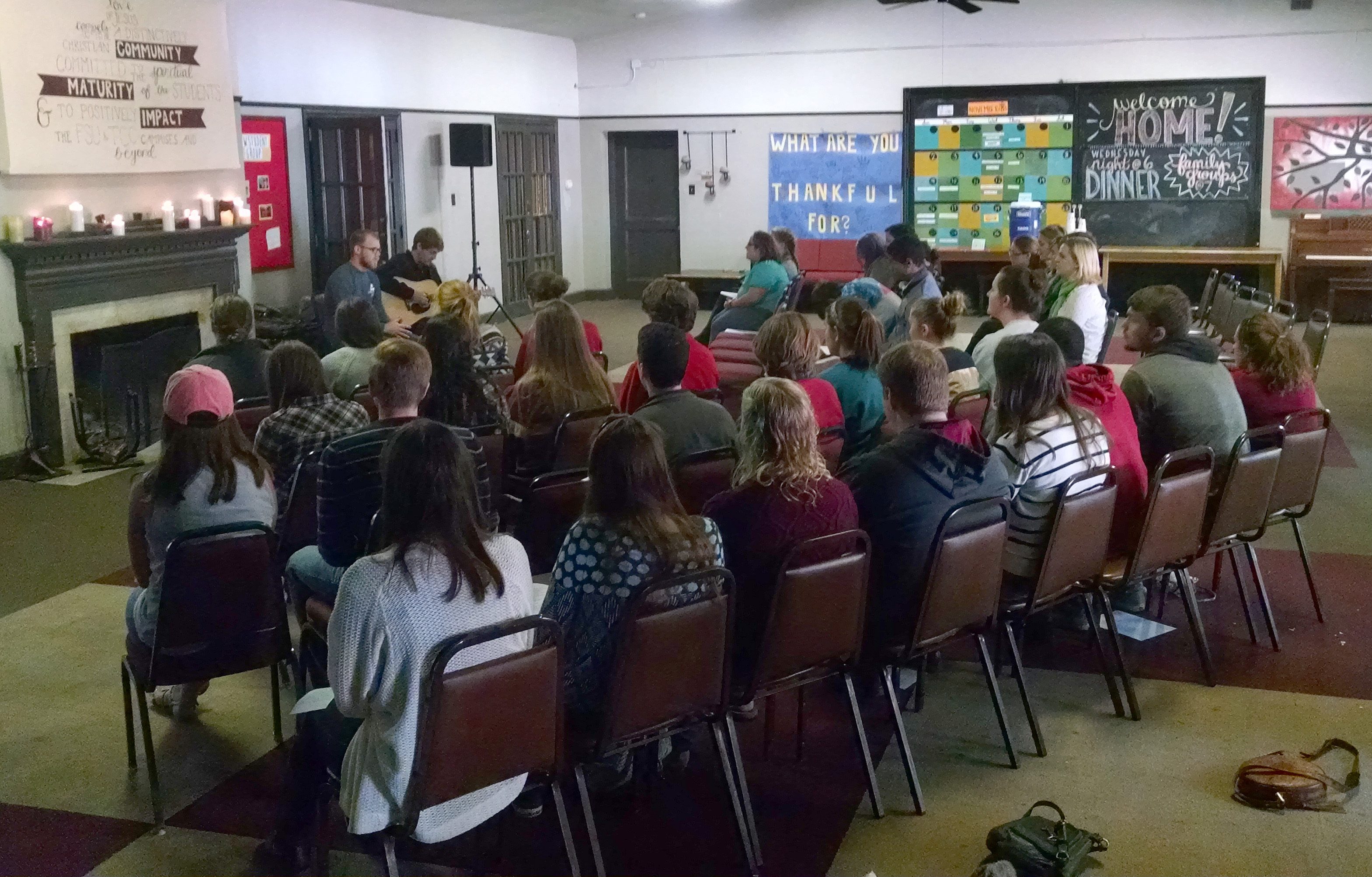 The Wesley Foundation had its Thanksgiving dinner on Wednesday, Nov. 19, serving about 500 people. Some 19 residential student staff members live in Wesley Foundation apartments, and learned of the shooting through an alert from the university.
They were told to remain indoors, away from windows. The all-clear did not come until about 3  a.m.
Ben Spangler, a senior from Fort Lauderdale who lives at the Wesley Foundation, had been studying when he first suspected trouble. He heard a siren that normally only sounds for dangerous weather.
When the alert came, he rounded up others on the property.
"We went to one apartment and sat together and prayed and contacted our parents, to let everyone know we were safe," he said.
The Wesley Foundation had a staff retreat planned for Thursday, but Toluba cancelled it and asked everyone to report to work early, to offer support to students.
A campus-wide prayer vigil occurred at 10 a.m. on Landis Green, and some Wesley Foundation students and staff, including Toluba, were among the hundreds participating.
The Wesley Foundation had its own service at 2 p.m. Eastern time Thursday.
"That was a time of prayer and reflection," Spangler said. "We did a call and response to Psalm 91, which was really great, because it provided a sense of unity."
Classes were called off and the library closed Thursday, but both were to be back on schedule Friday.
The Rev. David Fuquay, director of the Board of Higher Education and Campus Ministry for the Florida Conference, praised Toluba and his staff for reacting quickly to offer support.
"You never these things to happen, but when they do, you're glad you have a strong ministry there," Fuquay said.
At Gator Wesley, the United Methodist ministry at the University of Florida, students gathered at 10 a.m. Thursday to pray for FSU, knowing students there would be praying at the same time.
The Gator Wesley students also made cards to send to FSU's Wesley Foundation.
"Anything we can do to be in solidarity because it's tragic that students who went to the library to study during crunch time ended up getting shot," said the Rev. Narcie Jeter, pastor and executive director of Gator Wesley. "All of our campus ministries and collegiate ministries can understand that."
United Methodist leaders elsewhere expressed concern.
"Our hearts are broken by the senseless act of violence on the campus of Florida State University this morning," said the Rev. Kim Cape, top executive of the United Methodist Board of Higher Education and Ministry. "We are praying for the students and their families as they come to terms with this tragedy.
Bishop Kenneth H. Carter Jr. of the Florida Conference said he too was praying for those affected. He offered thanks for the Wesley Foundation at FSU.
"The students and leaders have an amazing capacity to care for each other and to draw others into a Christian community of grace and acceptance," Carter said. "In a time of violent chaos, the church is called to claim its true purpose: to be a sanctuary, a safe place."
Hodges, a United Methodist News Service writer, lives in Dallas. Contact him at (615) 742-5470 or [email protected]
---
Like what you're reading? Support the ministry of UM News! Your support ensures the latest denominational news, dynamic stories and informative articles will continue to connect our global community. Make a tax-deductible donation at ResourceUMC.org/GiveUMCom.