NOTE: This is the second of periodic stories following an incoming freshman and a first-time university president through their first school year at a United Methodist-related university.
Robert Manuel has had quite a first semester at the helm of the University of Indianapolis. He's announced the school's partnership with Richard Lugar, the now-retired, longtime U.S. senator from Indiana. He's launched an initiative to provide a long-term vision for UIndy. He's also taken a pie to the face. And he's had fun doing all of it.
The self-admitted "policy wonk" said, "My job connects me with all parts of the community, and the students are a big part of it."
So he agreed to participate in a trivia contest on "After the Update," an on-campus TV show. The stakes: Get a question wrong, get a pie in the face. But he came out even. He got to ask a question that another contestant got wrong, and that contestant got a pie as well.
"I got a question wrong about Justin Timberlake owning a minority stake in Facebook, but I got right a question about the year UIndy was founded," Manuel said. "I'm not up to speed on pop culture, but I know my university stats."
See? Wonk!
As amusing as this reporter found the pie ordeal, Manuel prefers to focus on the Lugar Academy and unveiling the school's Vision 2030 plan.
Lugar joined Manuel Dec. 7, 2012, in announcing the formation of the Richard G. Lugar Academy, an expansion of the university's existing Lugar Center for Tomorrow's Leaders. The university will add a branch office and a full-time staff position in Washington to support its new internship program as well as develop curriculum and opportunities to learn. Lugar will participate in symposiums on campus four times a year.
Lugar, a member of St. Luke's United Methodist Church in Indianapolis, is a former faculty member and longtime trustee of the United Methodist-related university.
"When I started this position, I was introduced to Sen. Lugar; he has been involved with UIndy forever," Manuel said. "After I got the job, he called, and we'd been planning the academy for about three months before the launch."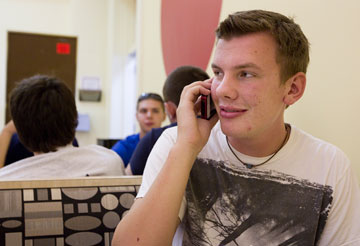 Freshman Andy Wegg keeps in touch with friends and family via smartphone at the University of Indianapolis.
A UMNS photo by Mike DuBose.
Planning for now and beyond
Vision 2030 is a strategic planning process to generate both a long-term vision for the university as it will operate in the year 2030 and a short-term plan for moving ahead. More than 1,600 faculty, staff, students, parents and alumni submitted input. A task force committee prioritizes the submissions and is working on an operations plan to guide the next 20 years. By graduation in May, Manuel hopes to see concrete goals for the next two years and long term for the next 18 years.
"We've got to ask ourselves what education will be like in 18 years, will our facilities be where they need to be, and are the students learning what they'll need down the road," Manuel said.
Juggling administrative responsibilities and carving out time to attend sporting events and other student activities means the busy president is usually up at 6 a.m. and not back in bed until at least 10 p.m. But, he said, that's the best way for him to stay effective.
"Get out of your office. Make sure important student events show up on your calendar. I constantly ask myself if I'm being productive."
Sleep is overrated
While the only pie in Andy Wegg's face has arrived there via fork, he has had to feed an evil singing plant named Audrey II. It's not as creepy as it sounds: Wegg played Seymour, the lead in the school's production of "Little Shop of Horrors."
Though the freshman music major had auditioned simply to be in the chorus, he was surprised to find himself cast in the lead role.
"I'd marked on my sheet that I'd take any part I could get. Next day, I found out I got the lead role so I thought, 'This is going to be an exciting, intense emotional rollercoaster,'" Wegg said.
Wegg also serves as a student ambassador through the admission office, giving tours of campus and helping over spring break with Campus Camp-In, an orientation experience for high school students to see what college life will be like. This summer, he's applied for a staff counselor job with Mountain T.O.P. (Tennessee Outreach Project), a United Methodist mission retreat in the Cumberland Mountains. He's been involved with the project for six years.
He also plays trombone in the school pep band ("It's pretty awesome to get free food and play as loud as you want") and represented his home country at UIndy's annual Celebration of the Flags.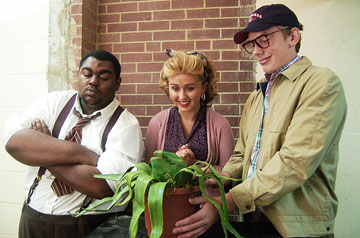 Wegg has settled into college life. Here, at right, he is cast in the school production of "A Little Shop of Horrors." A web-only photo courtesy of University of Indianapolis.
The school's student union has a collection of flags representing the nationalities of all the students who attend UIndy - 64 this year. In the fall, there is an Olympic-style procession of flags representing those home countries, with many participants dressed in traditional ethnic clothing. Though Wegg has lived most of his life in the United States, he was born in Canada and was chosen to bear the Canadian flag at the ceremony.
"We were encouraged to wear clothes from our country," he said. "I thought, 'What do Canadians wear that we're really proud of? I know - a hockey jersey!'"
Adopting his best Canadian accent, Wegg said, "It was super fun, and in my opinion, that's what life is all aboot, eh?"
"Andy's transition has been incredible," Manuel said. "He's shown an amazing ability to adapt to campus life. Every time I go to a big student function, Andy is part of it."
Their paths will cross yet again at Manuel's March 21 presidential inauguration. Of course, Wegg is singing in the choir for the event.
With all his other activities, one wonders when Wegg has time to go to class.
"With the music schedule and 18 credit hours, it is ridiculous how busy I am, but I'm happy that I have God here beside me telling me that it's OK and that I can make it every step of the way.
"I assume I'm doing things right because I made the dean's list last semester," he said. "I know God will take care of it as long as I work my butt off and have fun in the process."
Read the first story.
*Butler is editor of young adult content for United Methodist Communications, Nashville, Tenn.
News media contact: Joey Butler, Nashville, Tenn., (615) 742-5470 or [email protected].
Follow President Manuel at twitter.com/uindyprez.
---
Like what you're reading? Support the ministry of UM News! Your support ensures the latest denominational news, dynamic stories and informative articles will continue to connect our global community. Make a tax-deductible donation at ResourceUMC.org/GiveUMCom.