When Bishop Subodh C. Mondal of the Methodist Church in India spoke at The Upper Room at United Methodist Discipleship Ministries in November, he stressed the importance of strengthening bonds between the two churches.
Mondal and three other Indian bishops traveled to the U.S. to learn more about The Upper Room's programs and resources and to take part in a five-day Academy for Spiritual Formation in partnership with the Wisconsin Conference.
In 1981 the Methodist Church in India was established as an "autonomous affiliated" church in relation to The United Methodist Church. It adopted its own constitution and book of discipline.
"We want to be self-sufficient and stand on our own, but this relationship should continue. We want to have that link. Amazing things have come out of The United Methodist Church," Mondal said, sharing his own story about how a United Methodist couple sponsored his education from grade school through seminary and "transformed" his life.
It's those types of global connections that fueled the Rev. Im Jung, director of international relations in Asia for The Upper Room, to help organize the trip. She said learning about each other's ministries and challenges benefits both churches.
"The bishops came to learn about the Academy for Spiritual Formation, but they came to share who they are," said Jung. "We are learning from one another that it's not just God working in us in the United States, but how beautifully, amazingly and in awesome ways God is working with all of us. We need to continue to do this kind of interaction.
"Hopefully, this will become the role model with India and other countries."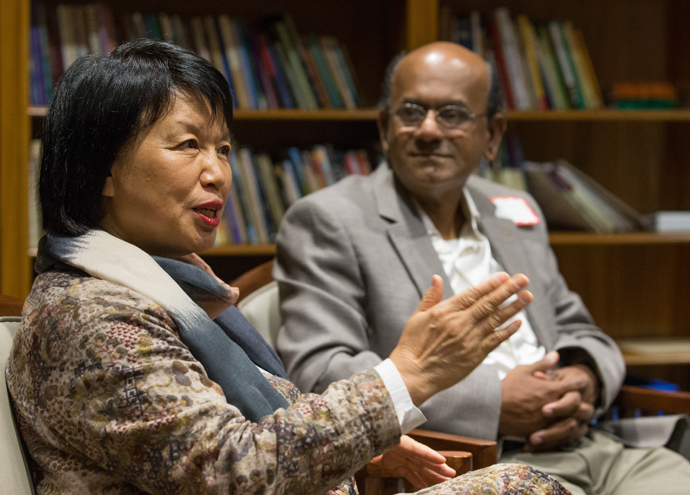 With 1.34 billion people in India — half of those under the age of 25 — the mission field for disciple making is ripe. Methodism came to India in 1856, and central conferences were established in the Methodist  Episcopal Church in 1885. Today, there are about 1 million Methodists in the country, served by seven bishops.
During the bishops' visit, they learned more about The Upper Room's resources, including the daily devotional guide, which is available in seven language editions in India.  
"If they see something that will help them in their ministry, we are willing to help to share those resources with them. … That's our ministry: Reach out to the world and share what we have," Jung said.
The Rev. Sam Royappa, director of connectional ministries for the Wisconsin Conference, worked with Jung to bring the Indian bishops and their spouses, as well as other church leadership, to the U.S. to attend the spiritual formation academy. His goal is to bring more leaders from the Methodist Church in India to experience the Upper Room renewal program in the next couple of years and eventually to launch the academy in India.
Royappa, Jung and a Volunteers in Mission team also will be traveling to India in December to continue building bridges between the two churches.
The trip will feature training for 400 Methodist clergy in India, with sessions on reading the Scripture the monastic way and developing and evaluating church ministry plans. There also will be an ecumenical seminar for Sunday school teachers on the missional value of Christian education.
Royappa hopes to continue the training sessions once every two years.
"All of these pastors received Methodist ordination, but they may not have a full understanding of who John Wesley was, who Charles Wesley was," he said. "So, the next piece of training will focus on the Renewal in Wesleyan Spirit. These are wonderful people. Every one is a disciple of Jesus Christ, but if you go deep into the theological framework, it may look shallow.
"I'm deeply committed to strengthening the foundation and theological framework of the Methodist Church in India. That will be the fruit of our efforts."
This is Royappa's sixth time leading a mission team to the country. He was ordained in the Methodist Church in India and moved to the states in 1998. During his upcoming visit, he will return to the church where he served as pastor for a decade as the church celebrates its 100th year.
The U.S. team also will help at an orphanage Royappa and his brother started 21 years ago. He said the orphanage, which serves children of all religions, is becoming a residential school. The team will help with painting, cleaning and other projects related to the new building.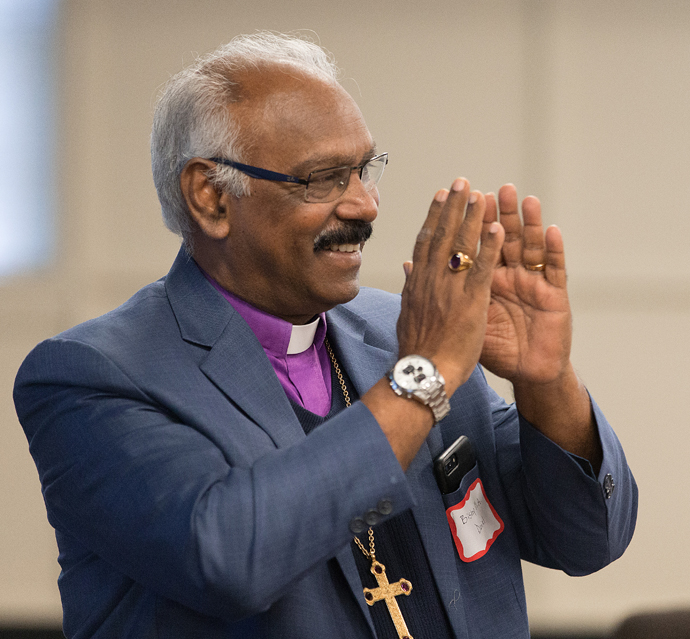 Jung said most of the bishops in India are new bishops and they are eager to share information about their ministries. While the number of schools and other institutions the church oversees has dwindled in recent years due to financial difficulties, many programs are still thriving, including the church's work with children at hostels and with the poor in rural villages.
Despite the challenges, the Indian bishops said it's prayers they need most, not money.
"We are not here by accident. There is some purpose God has for India and the connection with The United Methodist Church," said Bishop M. A. Daniel, speaking at The Upper Room. "We need your prayers for the whole of India."
For Jung, Royappa and other United Methodists who have been working to create stronger bonds with the Methodist Church in India, the time is right for collaboration.  
"There was some brokenness in the past, but I think now the time has come from both leaderships to put the bad past behind and move forward for creating a better and a brighter partnership," Royappa said. "We are finding ways to strengthen the connection so that the mission and ministry of Jesus Christ will continue to grow and expand."
Julie Dwyer is a writer and editor for United Methodist Communications. Contact her at (615) 742-5470 or [email protected]. 
To read more United Methodist news, subscribe to the free Daily or Weekly Digests. 
---
Like what you're reading? Support the ministry of UM News! Your support ensures the latest denominational news, dynamic stories and informative articles will continue to connect our global community. Make a tax-deductible donation at ResourceUMC.org/GiveUMCom.