By her own admission, British hospital chief executive Lesley Doherty isn't a particularly religious person.
But ask why her hospital and other publicly-funded National Health Service organizations across the United Kingdom provide professional chaplaincy services and she is unequivocal.
"Spirituality, in its holistic form, is an important part of health and well-being. Chaplains are an integral part of everything here," said Doherty, who heads the 658-bed Royal Bolton Hospital and community-care services assisting some 263,000 people in England's northwest. "Most people we deal with have a faith. We feed them (in the hospital), so why wouldn't we attend to their spiritual needs as well?"
When Doherty was a specialist nurse on a pediatric ward many years ago and a 3-year-old boy died of meningitis, a Methodist minister opened her eyes to what a difference skilled spiritual care can make.
Watching how he interacted with the child's parents was an experience that has stayed with her to this day.
"He gave me an example of how to speak in a situation of stress and bereavement. &ellipsis; What really impressed me was that he didn't say all that much, but I saw great compassion in him," remembered Doherty.
The Rev. Neville Markham, Methodist minister and part-time staff chaplain at Royal Bolton, said it is not just in a crisis, but in a wide range of illnesses, that good spiritual care can make a difference.
"People aren't just things to be repaired and fixed.So many factors affect people's ability to recover and cope," Markham said. "Spiritual care helps support those things you can't sort out with just medication and procedures."
The Rev. Neil Gray, Royal Bolton's head chaplain of 24 years, said the National Health Service has talked for many years about taking a holistic approach to patient care.
"We know our minds and belief systems affect the way we deal with illness and health crisis," said Gray.
His multifaith chaplaincy team - which includes four Methodists - combines specialist health-care chaplaincy training with diverse cultural and religious expertise. That combination enables the hospital to serve a diverse range of patients, families and staff around the clock.
Studies show chaplaincy can make a difference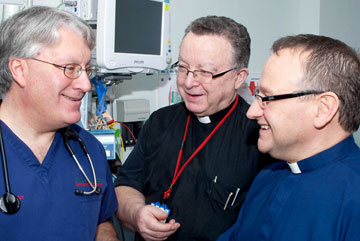 Moulton converses with the Rev. Neil Gray, Bolton's head chaplain, and the Rev. Graham Culter, a British Methodist parish minister and Bolton chaplain.
A Dec. 6, 2011, Wall Street Journal article cited studies of U.S. patient experience showing a chaplain's visit could result in less patient anxiety, shorter hospital stays and higher satisfaction.
It also reported on a Journal of General Internal Medicine study that found of 3,000 patients interviewed over a three-year period at the University of Chicago Medical Center, 41 percent said that they wanted to discuss religious and spiritual concerns. However, only half of that group reported actually having had the opportunity for such a conversation.
Within the past several months, the U.K. National Institute for Clinical Excellence (NICE), in consultation with the Department of Health, published new quality standards to ensure spiritual and religious care for all patients receiving end-of-life care is available 24/7.
But the need for spiritual care is being acknowledged and addressed for more than just the end of life. Increasingly, medical training for both nurses and doctors includes courses on spirituality and health.
The Rev. Doug Smith, a United Methodist pastor in the North Texas Annual (regional) Conference, worked as part-time chaplain at Royal Bolton Hospital for a number ofyears. He said he felt staff welcomed and appreciated for his presence and contributions, whether he was doing routine visits on a specialist cardiac ward or responding to an emergency in the middle of the night.
"Health-care staff were very supportive," Smith said. He also said he "thoroughly enjoyed" working in multifaith chaplaincy teams that included Muslim, Hindu and Buddhist chaplains as well as those from various Christian traditions.
Financial crisis threatens chaplaincy
As the global financial crisis has put pressure on public services in the United Kingdom, the Rev. Mark Stobart, who heads the British College of Health Care Chaplaincy, said chaplaincy is an "easy target" for budget cuts because not all health-care managers recognize it as a "core service."
He said some question the need for professional staff chaplaincy departments, suggesting local parish clergy provide religious care when requested.
Stobart disagrees, arguing that registered, specialist-trained health-care chaplains are key to providing appropriate, supervised care to a wide range of people and their families during very vulnerable periods in their lives.
"In the health service, you need to know there is a set standard for service and practice," he said.
"Just because you are a successful parish priest doesn't mean you have what it takes to be a hospital chaplain," said Doherty. "I've seen that myself. It's a different scenario altogether. Hospital chaplaincy is a sub-speciality, and it isn't for everyone."
Jim Dobbin, a Member of Parliament, served on the All Party Parliamentary Committee on Healthcare Chaplaincy. He said, "Human beings are complex. We're body, mind and soul, and we function best when all our parts are being cared for by experts."
Dobbin believes professional chaplaincy provision makes good economic sense, especially at a time of austerity when staff cuts have reduced the opportunities for "quiet, reassuring chat with patients."
"We can actually play a role in reducing health-care costs by reducing patient stress and helping them to cope or recover more quickly," said Gray. "We deal with crisis situations on a daily, sometimes minute-by-minute, basis. And we provide that support, not only to patients and families of many faiths and no particular faith, but also to health-care staff. People count on us, and they tell us over and over again what we do makes a difference in their lives."
*LaCamera, a United Methodist minister, is a freelance journalist who also works as a hospital and mental health chaplain in Britain's national health service.
News media contact: Kathy L. Gilbert, Nashville, Tenn., (615) 742-5470 or [email protected].
---
Like what you're reading? Support the ministry of UM News! Your support ensures the latest denominational news, dynamic stories and informative articles will continue to connect our global community. Make a tax-deductible donation at ResourceUMC.org/GiveUMCom.