Editor's note: This is a look at issues explored at a recent Pre-General Conference News Briefing in Tampa, Fla. A separate story, Preview to church restructuring debate, focuses on the proposal to restructure the church.
Diverse issues presented at a recent three-day briefing signaled the workload ahead for the lawmaking body of The United Methodist Church, which meets this spring.
More than 300 delegates, communicators and others who will be part of the 2012 General Conference met Jan. 19-21 at the Tampa Convention Center, site of the legislative assembly, for a preview of some of the issues they will face April 24-May 4. United Methodist Communications sponsored the event, with involvement and support from other agencies and ministries of the church. This is a brief look at the issues explored.
Leading vital congregations
Proposed changes to the ordination process will eliminate guaranteed appointments, streamline the ordination process and sharpen the focus on making disciples of Jesus Christ for the transformation of the world, said members of the Study of Ministry Commission in their presentation on clergy effectiveness proposals.
The Rev. Jay Williams, pastor of Glendale United Methodist Church, Everett, Mass., endorsed the plan, which would eliminate the commissioning step, create an orientation to ministry and require conferences to have vocational discernment coordinators.
Guaranteed appointments were introduced in the 1956 Book of Discipline as a way to protect women who received the rights to become ordained at that General Conference, said the Rev. Tom Choi, Hawaii District superintendent, California-Pacific Annual (regional) Conference.
"Racism and sexism haven't gone away, but we're in a different place than we were 56 years ago," Choi said.
Leadership needs to be creative and nimble, said the Rev. Amy Gearhart, senior pastor of Missouri United Methodist Church, Columbia, Mo. She said security of appointment for elders in good standing has become a "barrier to mission."
In 2010, the United Methodist Sustainability Advisory Group released a report saying there are 784 more pastors than appointments in the denomination. Clergy retirements by 2013 will leave drastically low numbers, if younger clergy are not recruited and encouraged.
Set-aside bishop
Bishop Larry Goodpaster, current Council of Bishops president, discussed the proposal to create a "set-aside bishop" without residential responsibilities.
"It is nearly impossible to be president of the Council of Bishops and lead an episcopal area," he said.
Some delegates questioned whether a new bishop position, along with the elimination of guaranteed appointments, would shift too much power to the bishops.
Goodpaster emphasized that the General Conference will still be the only voice that speaks for the entire denomination and bishops will remain bound by The United Methodist Book of Discipline.
Ethnic initiatives
Representatives of the United Methodist ethnic/racial ministries asked news-briefing participants to see and hear them because often they feel "invisible."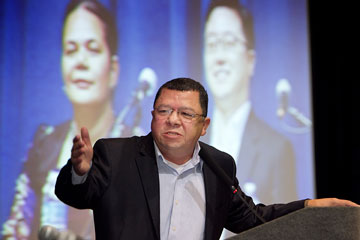 The denomination's ethnic initiatives help start new churches and cultivate new leaders to draw more people of color into The United Methodist Church.
"It is our mission to be the church for all people and to bring the great news to each in their own language," said the Rev. Francisco Cañas, speaking for the ethnic/racial ministries. Cañas is national coordinator of the National Plan for Hispanic/Latino Ministry.
The group expressed concerns with a proposed restructure of The United Methodist Church, which includes a plan to consolidate nine of the denomination's 13 general agencies into a new United Methodist Center for Connectional Mission and Ministry.
The ethnic initiatives said there was little or no consultation with them about the new structure proposed by the Interim Operations Team, which developed the restructure proposal endorsed by the Connectional Table and Council of Bishops. The Connectional Table drafted the legislation.
"We should have some direct say-so about where we are placed and financed," said the Rev. Fred A. Allen, national director of Strengthening the Black Church for the 21st Century.
"Pacific Islanders will give their last dollar before they see a church die," said Monalisa Tui'tahi, executive director of the Pacific Islanders National Plan. "We need your partnership to be part of the family."
Representatives of the United Methodist Council on Korean American Ministries, Asian American Language Ministry, and Native American Comprehensive Plan also spoke.
Trail of repentance and healing
"What if your greatest hope was also your greatest fear?"
The Rev. Anita Phillips, executive director of the Native American Comprehensive Plan, softly asked that question and stilled the room of General Conference delegates, communicators and agency staff.
An Act of Repentance and Healing for Indigenous Persons will be part of 2012 General Conference on April 27.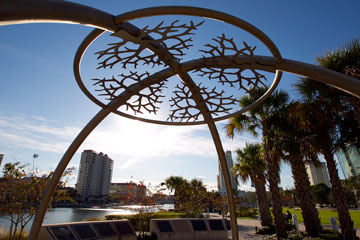 "I have two identities. I am a Christian, and I am Native American," said Phillips.
"It is with fear and trembling that I say, 'yes,' repentance is possible, and it can be genuine and honest."
Not far from the Tampa Convention Center, where the legislative assembly of nearly 1,000 delegates from around the world will meet, is a marker in honor of the remains of a small Native American tribe uncovered when the center was constructed in 1987.
"A temple mound stood five stories high and existed before the time of Christ," said the Rev. Stephen Sidorak, top executive of the United Methodist Commission on Christian Unity and Interreligious Concerns. Tampa was also the deportation center for Native Americans and African slaves, he said.
"We have to repent of what we have done and what we have left undone," Sidorak said.
The committee working on the service has been to the Philippines and other places to gather stories from indigenous persons "wherever United Methodism has spread its blanket on the land," Phillips said.
"My hope rests in Christ. I claim you as a brother or sister in Christ and ask that you claim me as a representative of the Native American nation," she said. "It is one of the most important things you will do at this General Conference."
Worldwide nature of the church
A 20-member Committee to Study the Worldwide Nature of The United Methodist Church considered how to forge deeper connections, establish greater local authority and create a more equitable sharing of power and representation, reported Kansas Area Bishop Scott Jones, who chaired the committee.
The process included consultation with United Methodists from around the world.
"Part of what we heard everywhere was &ellipsis; a desire to have greater equality across the church," said the Rev. Cathy Stengel, a district superintendent from the Upper New York Annual Conference.
The Rev. Forbes Matonga of Zimbabwe, the committee vice chair, said the denomination must make some changes to bind its members together. "As we were listening, it was very clear that people we met want to remain United Methodist," he added.
Central conferences outside the United States have the right to adapt the Book of Discipline for their own use, but "nobody knows what is adaptable and what isn't," Jones pointed out. The committee has submitted legislation to solve that problem.
The committee's other legislative petitions focus on the duties of general agencies to be responsive to the world church and continued conversations about a global model for the denomination.
Changes to clergy pensions
General Conference will consider two proposals that would change clergy pensions, shifting more of the risk in retirement preparation from annual conferences to individual clergy.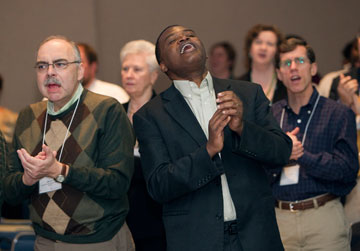 The United Methodist Board of Pension and Health Benefits is asking the denomination's top lawmaking body to choose between the two options. The first would combine a defined benefit component with a defined contribution component, like the clergy's current retirement program but with a reduced benefit for clergy and, consequently, a lower contribution for conferences. The second option would be a defined contribution-only plan.
A defined benefit plan provides a monthly pension payment for life, with the employer assuming the bulk of the investment risk. A defined contribution plan - like the 401(k) plans most corporate employees now have - provides an account balance to use during retirement, with the clergyperson assuming most of the risk that the money will not run out in his or her lifetime.
The pension board recommends the first option, which combines a reduced defined benefit component with a defined contribution component.
Either option would reduce the costs to conferences overall by about 15 percent.
"We have a theology of hope, but we try not to build that into our actuarial projections," said Barbara Boigegrain, the pension board's top executive.
The proposed changes would not reduce benefits for retired clergy that already are being paid or reduce what active clergy have already earned.
Church budget
As the U.S. economy improves, more than 40 percent of United Methodist congregations "describe their financial health as good or excellent," reported John Goolsbey, a staff executive with the denomination's Council on Finance and Administration.
Still, all levels of the church responded to the recession, he said, by cutting staff, freezing salaries and re-aligning ministries. The downturn affected church endowments and savings, capital projects and giving to mission work.
At General Conference, the finance and administration agency's main task will be to present a proposed church budget for 2013-16. The agency also submitted 43 petitions.
To facilitate the budget process, the agency established an economic advisory committee, which created three economic scenarios and worked with the projections of denominational agencies, explained the Rev. Pat Youngquist, staff executive.
At $603 million, the recommended budget reflects general reductions of 6.6 percent and marks the first time a budget smaller than that for the previous quadrennium will be presented.
The World Service Fund represents 52 percent of the budget, at $311.6 million. Other categories are Ministerial Education, $105.6 million; Episcopal (the bishops), $90.3 million; General Administration, $8.2 million; Black College, $42.1 million; Africa University, $9.4 million; and Interdenominational Cooperation, $8.2 million.
"Great ministries cannot be done without your support for the apportionments," A. Moses Kumar, top staff executive of the Council on Finance and Administration, reminded the delegates.
Holy conversation
Leading a session on "Holy Conversation about Challenging Issues," Minnesota Area Bishop Sally Dyck said, "For many people, General Conference is dread-full.
"As a people of The United Methodist Church, we can demonstrate a more excellent way."
Holy conferencing, or holy conversation, she said, "sets a tone for respectful dialogue and relationship building." The goal is to have dialogue instead of debate and to find consensus around important matters rather than have "winners" and "losers."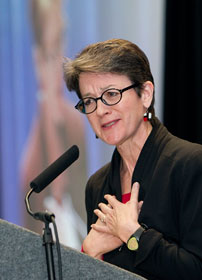 "We do more political conferencing than holy conferencing," declared the Rev. Mike Slaughter, lead pastor of Ginghamsburg United Methodist Church, Tipp City, Ohio. Paraphrasing John 16:13, he expressed hope that "the Holy Spirit will lead to things to come."
The Rev. Bruce W. Robbins, pastor of Hennepin Avenue United Methodist Church, Minneapolis, agreed. "The challenge of holy conversation can be a source of frustration and despair," he said. He cited the dilemma of being asked to conduct same-sex marriage ceremonies and the two covenants to which he is called - "as an ordained clergy and as a disciple of Jesus Christ."
The Rev. Thomas Lambrecht, vice president and general manager of Good News, said he experienced holy conferencing in the Wisconsin Annual (regional) Conference's study of homosexuality and called it "next to impossible at General Conference."
While some issues may seem impossible to resolve, he said, "it is important to remember how we treat one another, with respect and understanding. Holy conferencing allows us to talk about our deeply held convictions and the reasons we hold them."
Erin Hawkins, who leads the United Methodist Commission on Religion and Race, said, "We are tasked with sustaining a difficult conversation every day.
"Holy conversation is a commitment to see equity, participation and access to participation."
Approaching General Conference, said the Rev. Stephanie Hixon, it is normal to feel anxious and somewhat fearful. She is co-executive director of the denomination's JustPeace Center for Mediation and Conflict Transformation.
"My prayer," she said, "is that we may know God's embrace is strong enough, wide enough and tender enough to carry the important conversations that are put before us."
Asked what they hope to experience about holy conversation from presiding bishops, other delegates and themselves, panel participants listed courage, fairness and respect, honesty, humility and openness to others in the Spirit.
"Will General Conference be dread-full or will it be hopeful?" Dyck asked the audience. "It's up to you."
Worship
Gathering participants with rousing, contemporary music was the worship team from Van Dyke United Methodist Church, Lutz, Fla.
In his sermon, the Rev. Tom Albin, dean of the Upper Room for the United Methodist Board of Discipleship, focused on the importance of prayer before, during and after General Conference.
"We need the church united in prayer," he said.
He introduced a resource, "50 Days of Prayer Before & During General Conference 2012." Electronic communication will make it possible for every local congregation in every part of the world to pray with and for the 988 delegates. Using the Internet and free, downloadable files, every United Methodist will be able to read the same Scripture, share the same insights and pray the same prayer for 40 days before General Conference as well as pray through each day of the conference, April 24 through May 4.
"I know if we listen and God speaks, there will be transformation," Albin said. "God can answer in amazing ways."
Preaching on the second day of the news briefing, the Rev. Francisco Cañas challenged participants to find "new forms of being the church."
Calling for diversity, he said, "To continue perpetuating the old rule of inviting only the people we know, who look and behave like us, will not produce the vitality and diversity that by nature belongs to God's kingdom.
"As United Methodist people, we find the solid ground of our mission in God's trust, love and compassion for the entire breadth of humankind."
*Linda Bloom, Joey Butler, Barbara Dunlap-Berg, Kathy Gilbert and Heather Hahn contributed to this report.
News contact: Maggie Hillery, Nashville, Tenn., (615) 742-5470 or [email protected]
---
Like what you're reading? Support the ministry of UM News! Your support ensures the latest denominational news, dynamic stories and informative articles will continue to connect our global community. Make a tax-deductible donation at ResourceUMC.org/GiveUMCom.