"Brexit" — Britain's process of withdrawing from the 28-member European Union — threatens two decades of life-changing gains in Northern Ireland's peace process.
That's the conviction of many, including Irish Methodists, who have devoted their lives to building bridges across political, cultural, religious and physical divides in Ireland.
The Rev. Gary Mason — a Methodist pastor known to many United Methodists — is one such peacebuilder. The respected conflict mediator and faith leader has helped governments, local communities and faith groups in Northern Ireland build trust and understanding where little previously existed.
His work has earned honors from the British government, presented to him by Queen Elizabeth herself in 2007. Mason's organization, "Rethinking Conflict," uses lessons learned in Northern Ireland to help others living in divided communities all over the world.
"Five years ago, relations between Ireland and Britain were the best they've been in hundreds of years," Mason told UM News. "Now, there are a number of fault lines running through both British and Irish society. It hasn't ruined British-Irish relationships but it has hurt them … Brexit has set that relationship back."
Britain's exit from the European Union is scheduled for Oct. 31. It will likely bring new, "harder" border arrangements between the Republic of Ireland, which remains part of the EU, and Northern Ireland, which will leave the union along with the rest of Britain. Ways of handling trade, security, safety standards, employment and much more will change with Brexit, but no one yet knows what those exact arrangements will be.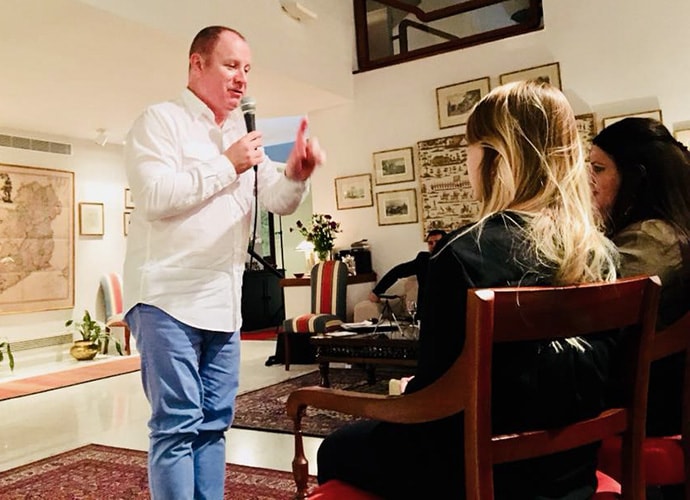 There are more than 300 points along roads, paths and waterways that crisscross the border dividing north and south on the island of Ireland. Whole communities, even individual homes, farms and businesses straddle the border, which requires no passports or inspections of goods.
The open border is generally considered one of the major peace dividends of the 1998 Good Friday Agreement — a treaty that officially ended 30 years of sectarian conflict called "the troubles." A whole generation of young people have grown up knowing nothing of hard or physical borders inside Ireland.
Rethinking Conflict
Rethinking Conflict
is a UK-based not-for-profit social enterprise working in the field of conflict resolution, peace building and reconciliation.
Its founder, the Rev. Gary Mason, is a Methodist pastor who travels widely, speaking at universities, churches, and other forums. On June 12-13, he is delivering a series of plenary addresses at the North Georgia Annual Conference called "Living with Conflict."
In recent years, Rethinking Conflict has brought together between 700-800 Palestinians and Israelis in Belfast to experience a model of coexistence and shared space developed in post-conflict Northern Ireland.
The Good Friday Agreement had the approval of 71% of Northern Irish voters. Those proposing a Brexit "Irish Backstop" or other forms of border arrangements requiring checks and security have received almost universal condemnation, even from staunch political rivals.
"Everyone in Northern Ireland wants an open border," Mason said. "A backstop is a disaster in any form."
The destructive effects of barriers dividing people during the troubles were apparent at Springfield Road Methodist Church in Belfast, which sat in the shadow of barbed wire, concrete and metal walls between Catholic and Protestant neighborhoods. The Methodist cross-community work at Springfield Road helped bring Catholics and Protestants together.
Like the old Springfield Road peace line, Mason predicts a "hard Brexit" and harder border will result in a less secure border rather than more secure border. "The 'harder' you try to make the border (between north and south), the more it becomes a recruiting campaign for paramilitaries," he explained.
The deadly consequences of those paramilitary recruiting powers were all too clear in April when journalist Lyra McKee was shot dead as she observed an unfolding riot in Derry. A paramilitary group calling themselves the New IRA took responsibility for her killing, though it said McKee wasn't their intended target. Of the four suspects who were arrested following McKee's death, two were teenagers, aged 15 and 18 years old.
Bertie Laverty, who grew up in a Catholic community hating Protestants, was an example of the effects of division on young people. Getting involved in cross-community work helping children in her late teens at university transformed her views.
Two decades ago, Mason appointed Laverty to lead the efforts to support Catholic and Protestant teenagers and families at the Fourthspring Inter Community Group at Springfield Road Methodist Church. Although she currently lives in Dublin, where she works with vulnerable young people, Laverty is still in contact with some of the young people she knew through the group.
Many are now parents with young children themselves. "They have stayed in touch with each other and want things to be different for their children to what they had," she said. "The work that happened [at Springfield Road] was impactful and life changing."
Laverty admits that despite many gains, Brexit uncertainty and political instability undermine a peace that remains "fragile."
Twenty-five years of peace "is not gone but sectarianism is still there," said Laverty. "If there's a hard border with British troops, it won't be the old IRA, but a new armed resistance that will come out."
The Corrymeela Community is the oldest faith-based peace and reconciliation community in Northern Ireland. Its program manager for public theology, Glenn Jordan, says Brexit has become such a contentious issue that individuals within the same congregation cannot even talk about it with each other.
Promoting peace and reconciliation
Corrymeela is Northern Ireland's oldest peace and reconciliation community.
It was founded in 1965 by Ray Davey, a former chaplain in World War II who witnessed the horrors of the Dresden bombing, and a group of students from Queens University, Belfast.
Corrymeela calls itself an "open village for all people of good will" and a place that brings together people of different backgrounds, identities, political views and religious beliefs.
While Northern Ireland has been a major focus for its life and work, Corrymeela also has made commitments to engage with the wider world at points of "fracture, faith and potential."
"It's just too hard," said Jordan, who has developed a study resource based on the Book of Ruth to help open up those conversations. The study challenges people to look at the stereotypes of enemies and also to consider how language itself fuels conflict.
Jordan first spoke to UM News in 2003 about communities traumatized by three decades of conflict. He hopes the current Corrymeela resource will help users consider how an attitude of generosity, kindness and hospitality might shape Brexit debates.
"Brexit issues are complex. It isn't just about the EU but economics, alienation from the political class and immigration," says Jordan. "No matter how we voted [on Brexit] we need to be able to develop the skills to listen."
Mason shares the belief that language is hugely important in arenas of conflict and says faith needs to "spill into these spaces."
"We too easily fling verbal hand grenades" said Mason. "People verbally assassinate one another because they disagree.
"We need to learn how to disagree well. Flexibility is part of that."
What he also sees as crucial in addressing conflict in Northern Ireland and around the world are more opportunities where "people are allowed to just hear each other in a quiet space."
The Rev. Kathleen LaCamera is an ordained United Methodist minister and a writer, film-maker and mental healthcare chaplain living in Manchester, England.
News media contact: Linda Bloom, assistant news editor,
[email protected]
or 615-742-5470. To read more United Methodist news,
subscribe to the daily or weekly digests
.
---
Like what you're reading? Support the ministry of UM News! Your support ensures the latest denominational news, dynamic stories and informative articles will continue to connect our global community. Make a tax-deductible donation at ResourceUMC.org/GiveUMCom.