Accessing clean water in some parts of Uganda is difficult, especially for girls and women who are usually responsible for walking long distances to fetch water, often from unsafe sources.
The addition of five boreholes near United Methodist churches in the Uganda-South Sudan Conference will alleviate that problem for some.
Members of Baxley First United Methodist Church in Baxley, Georgia, First United Methodist Church in Vidalia, Georgia, and Lynn Haven United Methodist Church in Panama City, Florida, worked with local United Methodists in the East Africa Episcopal Area to drill the boreholes.
Edisa Nailubo, 40, a member of Bukitimbo United Methodist Church in a village near Buwenge, said that before they got the borehole, residents had water struggles.
"We used to fetch water from man-made holes in swamps. This borehole is a sigh of relief. We no longer have to fetch water from unsafe sources," she said.
Patience Nabirye, 15, said the nearest source of water was a mile away and she had to walk there every day. Sometimes, she said, she would return late, putting her life is danger.
"Most times, there are many people at the well and we have to line up for hours. By the time one goes back home, it is night. This can be dangerous for us girls. One can easily be defiled as she is moving at night. So, we are happy the borehole is nearer to our home," she said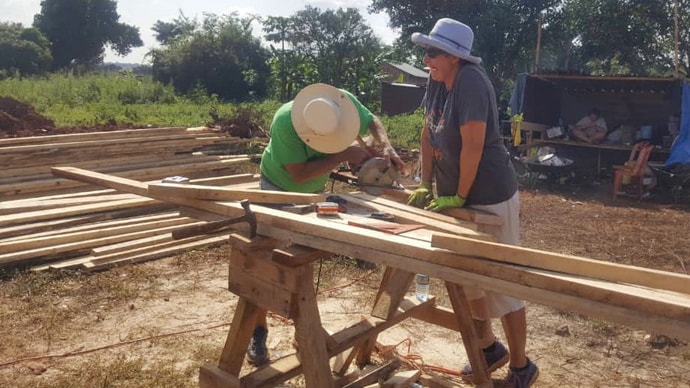 Sharot Muwanguzi, a resident of Ngova-Kaliro, said the borehole has saved women the burden of walking long distances in search of water, and now that it's clean, they don't have to worry about water-borne diseases.
The Rev. David Muloowoza, pastor at Bukitimbo United Methodist Church, said most people in the area had not been boiling the water before drinking it, even though it came from unsafe sources. Often, he said, children suffered from diarrheal-related illnesses.
According to the World Health Organization and UNICEF, more than 780 million people do not have access to safe drinking water. It's estimated that 801,000 children younger than 5 years of age die from diarrhea each year, mostly in developing countries.
Muloowoza was happy to note that since the boreholes were drilled, incidents of diarrhea have drastically reduced.
The boreholes were drilled in the villages of Ntokoro, Bukitimbo, Yuuka, Luzinga and Budondo, each of which serves a population of about 2,000 to 3,000 people.
The goal was to place the boreholes in areas where there are large populations without access to clean water, or in places that have only one source of water, said the Rev. Isaac Kyambadde, Jinja District superintendent and senior pastor at Wanyange Central United Methodist Church. He said the boreholes were drilled on church grounds.
Kyambadde, who oversees the drilling of the boreholes and construction of new churches in the district, said beyond preaching the word of God, it is important that the church also does critical work like this that promotes the wellbeing of believers.
He applauded United Methodists who traveled to help make the lives of local people better.
"People's lives have totally changed just because of the clean water project (in) Uganda. Both believers and non-believers, many have joined The United Methodist Church. People have access to clean water. Incidences of cholera outbreaks and other diseases related to dirty water have reduced. School-going children are also able to go to school when they are not sick," he said.
And the boreholes aren't the only good news for United Methodists in the Jinja District. Several new churches have been built recently.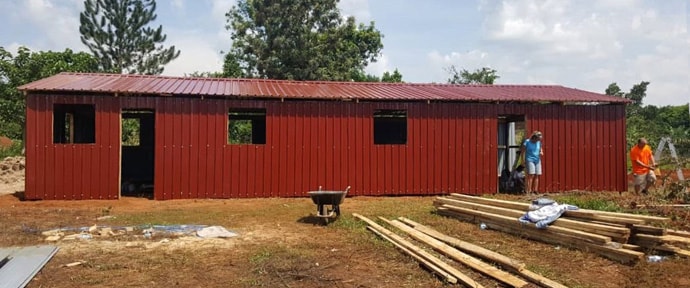 Kyambadde said that when he became district superintendent in 2009, there were only eight churches. Now, there are 20 churches in the district, with eight newly constructed.
The Uganda-South Sudan Conference has 15,711 professing members and 8,728 attending worship weekly, according to 2016 data compiled by the denomination's General Council on Finance and Administration.
Recently, a group of United Methodists, led by Jack Williams and Doris Hast from Lynn Haven United Methodist Church, visited and helped build two new churches in Nabirumba and Ngova.
Lydia Naigaga, 25, a mother of three, prays at Good Hope United Methodist Church in Wairaka, one of the newly constructed churches. She is grateful for the opportunity to worship in a new church.
"The previous church was in a bad shape — very old, no doors, no windows — and whenever it rained, it rained on us. It is good we have a new church and we are grateful to the team that built (it)," she said.
The Rev. Steve Maguiar, pastor at Baxley United Methodist Church, said the decision to collect money for the boreholes was a simple one for his congregation.
"Water is essential to life and being able to help provide such an important element to others gives us great joy. We know that this is what Jesus Christ would have us do. We are called to be our brothers' keepers. We are able to help our brothers and sisters because of the connection we share as United Methodists. The world is our parish," he said.
Being involved in providing safe water to the people of Uganda has been a great experience for his congregation, he said. "It has also caused us to be more aware of the blessings that we too often take for granted."
He praised the work and faithful commitment of district superintendent Kyambadde.
"His friendship to us and his passion for his people fuels that same passion in us. Although separated geographically, we are one with pastor Kyambadde and the people of Uganda through the shared love and faith in Jesus Christ."
Agaba is the communications officer for the East Africa Episcopal Office of The United Methodist Church in Kampala, Uganda.
News media contact: Vicki Brown at (615) 742-5470 or [email protected]. To read more United Methodist news, subscribe to the free Daily or Weekly Digests.