More than 400 members of The United Methodist Church's African-American membership caucus celebrated the 50th anniversary of its first meeting, even as many speakers addressed work that still needs to be done in fighting racism.
The initial 1967 meeting drew about 30 black Methodist leaders to Detroit, to strategize and prepare for the end of racial segregation and the anticipated formation of the new United Methodist Church at the 1968 Uniting General Conference. They planned a National Conference of Negro Methodists for March 1968 in Cincinnati. When that conference ended, they had organized as Black Methodists for Church Renewal.   
The 50th anniversary of that 1967 meeting was celebrated at the BMCR annual gathering in Cincinnati, March 8-11. Caucus members, spanning multiple generations, reveled in worship and fellowship.
Those attending this year's anniversary celebration included the Rev. James Lawson, a leader in the U.S. civil rights movement, who was the first chair of the BMCR.  His brother, the Rev. Phil Lawson, also attended. Other former leaders from BMCR's earliest years, including retired bishops Woodie White, Melvin Talbert and Charles Jordan, also attended.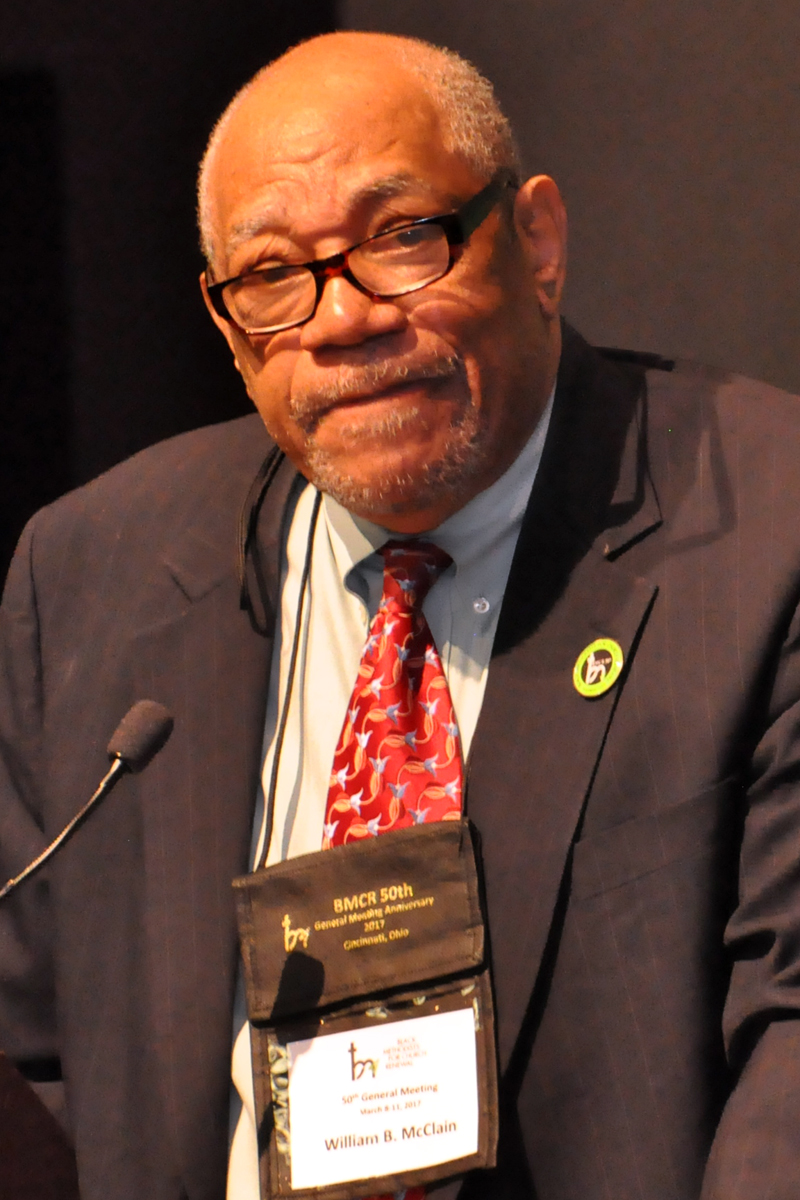 The Rev. William Bobby McClain, an original caucus board member and professor emeritus at Wesley Theological Seminary in Washington, recalled early heroes and highlights in the movement of black Methodist history that led to the 1967 and 1968 meetings.
But citing Methodism's perennial struggle over race, McClain also echoed "the enduring question" raised at critical times, he said, when the church either divided or reunited: "What shall we do with the blacks?"
About eight members stood when McClain asked who was at the 1968 General Conference when the racially segregated Central Jurisdiction was abolished after 29 years. He recalled that many who came to BMCR's initial meetings feared threats of retaliation for their activism but came anyway. Some had considered leaving the denomination.
The retired professor, who has taught preaching to hundreds of seminary students, reprised some reasons he often gives for why African-Americans joined and retained "their fierce fidelity to Methodism despite its checkered career in race relations."
"Our very presence is both a testimony and a protest," he said. "We have stayed to affirm and live out the gospel of God's amazing grace, to claim our history and heritage, that The United Methodist Church is as much ours as anybody else's."
BMCR National Chairperson Deborah Dangerfield, in her address, followed with a list of historic accomplishments attributed in part to BMCR's efforts and influence. They included creation of the General Commission on Religion and Race, the Black College Fund, the Strengthening the Black Church for the 21st Century initiative, and the African American Methodist Heritage Center, as well as the election of African-American bishops.
She referred to black Americans' many triumphs during long struggles against racism and oppression as "punching holes in the darkness." But, she added, "there is still too much darkness in the land for BMCR to rest on its laurels, too many churches broken, too many of our folks destitute and distraught, too much hatred, bigotry, racism, sexism, classicism and even Methodism."
BMCR Today
Black Methodists for Church Renewal is the organized black caucus of The United Methodist Church, one of the denomination's five U.S.-based racial-ethnic caucuses. BMCR represents and is dedicated to more than 2,400 black United Methodist congregations and approximately 500,000 African-American members across the United States. 
The national BMCR caucus advocates for the interests and inclusivity of blacks in the general church structures, while members of its jurisdictional and annual conference caucuses do likewise in their areas. Moreover, its stated goal is to "raise up prophetic and spiritual leaders who will be advocates for the unique needs of black people in the UMC."
View the photo slideshow from the 2017 meeting.
Indeed, the meeting's lengthy theme began with "Celebrating a Legacy of Faith, Hope and Renewal," but speakers more often quoted the second part of the theme: "More Rivers to Cross, More Milestones to Reach."
West Ohio Area Bishop Gregory Palmer, who hosted the gathering, emphasized the unfinished mission in his sermon during the opening night worship service.
Preaching from Harlem Renaissance poet Langston Hughes' popular verses in "I've Known Rivers," Palmer lauded the often "hidden figures" of black ingenuity and intellect, stretching from design of the earliest African pyramids to present-day high achievers. But he also lamented the ongoing sufferings of black people that have always inspired their dependence on God for refuge, help and strength. 
"Don't mistake your milestones for your destination," he admonished the congregation, decrying excessive celebrations of church anniversaries, successful programs and even the election of black bishops, when too many churches "are going to rot" or are virtually empty during Sunday worship.
Recalling his father's inexpressible joy and wonder at the historic election of former President Barack Obama in 2008, Palmer ridiculed the premature notion of the U.S. having become a "post-racial society."
Citing current crises like police killings of young black men and the national epidemic of opioid addiction, he said there will always be "an infinite number of rivers to cross, until we can see the ultimate and complete reign of God here on Earth as it is in Heaven."
Cincinnati was a meaningful location for this 50th General Meeting of BMCR. Not only was it the site of the caucus' organization in 1968, but it also was where many black runaway slaves, escaping to freedom via the Underground Railroad, landed when they crossed the Ohio River in the 1800s. Many referred to the river in biblical terms as the River Jordan.
The meeting's featured banquet speaker, the Rev. Clarence G. Newsome, stressed that symbolic connection, as head of the National Underground Railroad Freedom Center, located on the banks of the Ohio River in downtown Cincinnati. The $110 million institution, which some members visited, opened in 2004 and honors historic and present-day efforts around the world to "abolish human enslavement and secure freedom for all people," including victims of human trafficking.
Newsome, a Baptist minister and former dean at the divinity schools at Duke and Howard universities, challenged BMCR with "A Divine Summons for Church Renewal through Prayer." His speech included heroic accounts of escaped slaves and abolitionists.
Newsome came to the Freedom Center in 2013 and, by building partnerships, increased its endowment from $4 million to $10 million. He leaves March 31 to return home to North Carolina, where he serves on Duke's Board of Trustees and the state's Board of Ethics.
Several breakout discussion groups offered concerns, information and ideas to the caucus board for consideration and further development by its Advocacy Committee. One advocacy statement, which members approved, calls for "solidarity with the Black Lives Matter movement" and calls on the "connectional church" to engage in self-education, advocacy and organizing in the quest for social justice. That statement is now in the hands of the BMCR board for perfecting before it is shared with the full membership, according to Dangerfield.
"One major concern," said Dangerfield in an interview, "is where are we as black people and black churches going to be with the conversation that's happening now about the possibility of a change or a split in the church?"
Thus, BMCR, born as Methodism's racial segregation was ending and a new denomination was being created, now finds itself facing another possible schism in the church and asking the "enduring question" William McClain posed in his keynote address: "What shall we do with the blacks?"
Coleman is director of communications for The United Methodist Church's Eastern Pennsylvania Conference, based in Valley Forge, Pennsylvania.
---
Like what you're reading? Support the ministry of UM News! Your support ensures the latest denominational news, dynamic stories and informative articles will continue to connect our global community. Make a tax-deductible donation at ResourceUMC.org/GiveUMCom.