A controversial Arizona law giving police broad powers to detain suspected illegal immigrants is mobilizing United Methodists across the denomination to work for immigration reforms.
The Council of Bishops at its spring meeting offered prayer and support to Phoenix Area Bishop Minerva Carcaño in her opposition to the new law. She said the measure "not only invites abuse, but gives wing to racial profiling."
In turn, Carcaño asked bishops from each regional conference to appoint a member or members to form local "rapid response teams" to disseminate information about developments in the immigration debate and ways church members can respond.
In response to a request from Iowa Area Bishop Julius Trimble, several bishops signed a large poster with a statement calling on The United Methodist Church "to recognize humane, comprehensive immigration reform as the faith issue that it is and hold our officials accountable."
Carcaño told the bishops the public debate over the Arizona law offers hope amid the pain of its consequences.
"This is a historic opportunity to move (on) comprehensive immigration reform," she said.
Profiling concerns
The Arizona law that passed last month is scheduled to take effect by August, pending legal challenges. It requires police officers, "when practicable," to detain people they reasonably suspect are in the country without authorization and to verify their status with federal officials. It also makes it a state crime - a misdemeanor - to not carry immigration papers. In addition, it allows people to sue local government or agencies if they believe the federal or state immigration laws are not being enforced.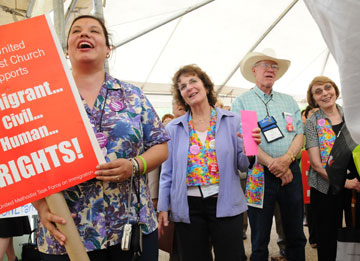 United Methodists rally for immigrants' rights during the 2008 General Conference in Fort Worth, Texas. A UMNS file photo
by John C. Goodwin.
Backers of the law, including Arizona Gov. Jan Brewer and U.S. Sen. John McCain, say it will help secure the state's borders and address particular concerns about human smuggling and the drug trade.
Opponents, however, say it will lead to harassment of Hispanics and other racial and ethnic groups.
Carcaño, chairperson of the United Methodist Task Force on Immigration, said the new law turns all people of color "into criminal suspects." Hispanics, who make up about a third of the state's population, feel they are being pushed into "the shadows of American society," she said.
With applause and in public comments, bishops gave their blessing to a visit next week to Washington by Carcaño and others in an interfaith delegation from Arizona seeking federal support for immigration reform.
Retired Bishop Elias Galvan noted that MARCHA, the denomination's Hispanic caucus, has called on every United Methodist to oppose the new law.
The issue is more than a legal one, he said.
"There are so many ethical and moral questions we are called to address."
Welcoming the stranger
Immigration reform has been a priority for church leaders.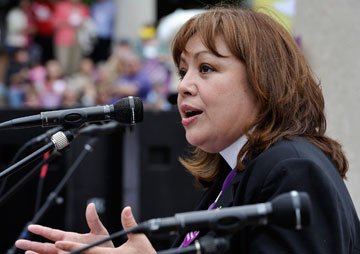 Bishop Carcaño speaks at a rally on behalf of immigrants' rights during the United Methodist Women's Assembly in St. Louis.
A UMNS photo by Paul Jeffrey, Response.
In May 2009, the Council of Bishops called on President Barack Obama to back measures to help immigrants obtain citizenship, reunite immigrant families, increase the number of visas for short-term workers, and extend legal protections to documented and undocumented workers.
Last fall, the bishops appealed to church members "to become acquainted with the plight of immigrant families living in the U.S. and to join the effort to reform U.S. immigration laws and practices."
Carcaño said afterward she was "greatly encouraged" by the response from the bishops.
What she would like to convey to each United Methodist: "Immigrants are our brothers and sisters, and we're called by Holy Scripture to love our neighbor."
*Briggs is news editor of United Methodist News Service.
News media contact: David Briggs, Nashville, Tenn., (615) 742-5470 or [email protected]
---
Like what you're reading? Support the ministry of UM News! Your support ensures the latest denominational news, dynamic stories and informative articles will continue to connect our global community. Make a tax-deductible donation at ResourceUMC.org/GiveUMCom.