As young men, Dr. Alexis Montes and the Rev. Leo Soriano worked together to provide health care in rural areas of the Philippines.
Soriano would go on to become a United Methodist bishop. Montes continued his work in community-based health care up until Feb. 6, when he and 42 other health workers were arrested by the government on charges of being communist insurgents.
"If I didn't become a bishop, I could be in the cell right now," Soriano said last week during breakfast at the spring meeting of the United Methodist Council of Bishops.
Though their paths diverged, Soriano and other United Methodist leaders have not forgotten Montes or any of the women and men they believe have been persecuted for serving the poor in the Philippines.
The bishops at their spring meeting affirmed an April 22 statement by the United Methodist Connectional Table expressing outrage at the arrests of the health care workers along with a pattern of human rights abuses in the Philippines that include kidnappings and extrajudicial killings.
"Pressure must be placed on the Philippine government by governments around the world to stop these killings and violations of basic human rights," the Connectional Table and the bishops declared.
On May 5, Bishops Rodolfo A. Juan and Daniel Arichea of the Philippines and John Schol of the Washington, D.C, Area left the spring meeting for a day to be part of a delegation urging federal officials in Washington to work for human rights in the Philippines.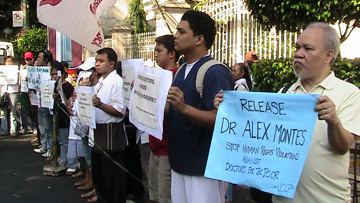 Protesters ask for the release of Dr. Alexis Montes and 42 other medical caregivers. A UMNS Photo by Juliet Solis-Aguilar courtesy of Global Ministries.
The United Church of Christ in the Philippines, the National Council of Churches of the Philippines and the World Council of Churches also have called for the release and just treatment of the health workers arrested earlier this year at the home of Dr. Melecia Velmonte, chairperson of the Community Medicine Development Foundation. The 43 were arrested on suspicion of being supporters of the New People's Army, a Communist rebel group.
Filipino Bishop Solito Toquero visited the imprisoned health care workers as part of an ecumenical delegation. The visitors were denied the ability to hold a worship service, but those held responded by singing hymns for justice as the religious leaders visited prisoners individually, Toquero said.
Toquero, Soriano and Schol said pressure from the United States, which gives military and economic aid to the Philippines, is effective in addressing human rights issues.
They encouraged United Methodists in the United States to write their representatives to help compel the Philippines government to stop the killings and bring those responsible to justice.
Church members are also urged, Schol said, "to pray for the people of the Philippines, to pray for the people who lost people."
*Briggs is news editor of United Methodist News Service.
News media contact: David Briggs, Nashville, Tenn., (615) 742-5470 or [email protected]