United Methodist bishops approved a proposal May 4 that would significantly redefine the role of president for the Council of Bishops.
The amendment to the church's constitution would allow the council to elect one of its own to a full-time, four-year position without the usual responsibilities of overseeing a geographic area.
The individual in that role would serve as the denomination's chief ecumenical officer, help align the strategic direction of the church and focus on growing vital congregations, among other duties.
At present, the council president serves a two-year term and retains a residential assignment to a geographic area. The council's ecumenical officer usually has been chosen from the ranks of retired bishops.
The bishops' vote on the proposal which, by a show of hands, was not unanimous came after hours of discussion over a three-day period. Some bishops, particularly from the central conferences outside the United States, expressed misgivings that such a position would fairly represent the global nature of the church.
To be ratified, a constitutional amendment first requires a two-thirds majority vote at General Conference, the denomination's top lawmaking body. It next must win a two-thirds majority of the total annual (regional) conference voters. If ratified, the change would not take effect until 2016.
More effective leadership
After the vote, Charlotte (N.C.) Area Bishop Larry M. Goodpaster -- the council's current president -- voiced his support for the proposal to United Methodist News Service. A set-aside bishop whose sole focus is the global church would be able to more effectively connect people and get everyone moving in the same direction, he said.
Doing that in his current role is a challenge.
"I'm trying not to take anything away from Western North Carolina," Goodpaster said. "However, it just means I have to lose days off to do council business. I think the time and energy is huge for somebody to do everything that needs to get done."
Another hope is that the president would help give The United Methodist Church a more prominent voice on the public stage.
"Right now within the denomination, we don't have somebody if the (U.S.) president wants to invite somebody from The United Methodist Church to the White House," Washington Area Bishop John R. Schol said.
"Because our bishops have residential responsibilities, we also can't just leave to work with other denominational leaders. Having a president (with no residential responsibilities) helps to focus on those areas."
Nebraska Area Bishop Ann Brookshire Sherer-Simpson, the chair of the Council of Bishops ecumenical task force, agreed.
"I think it will give more continuity and more authority to the church's ecumenical work," she said of the proposal.
Source of contention
Still, a handful of bishops have their doubts.
"My reservations are not about the principle of a set-aside bishop; my reservations were more about what is packed into it," Central and Southern Europe Bishop Patrick Streiff said after the vote.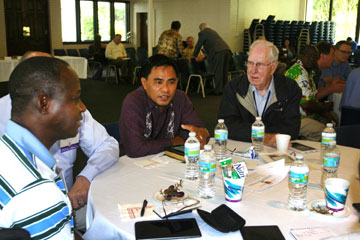 Baguio (Philippines) Area Bishop Rodolfo Alfonso Juan (center) and retired Bishop Robert H. Spain (right) share in a discussion about proposals for implementing the Call to Action recommendations.
For example, he said, he does not think the president should be an ecumenical officer. Instead, he would like someone in that role to serve far longer than four years to develop continuity.
Streiff had other doubts as well.
"I think the task of alignment is crucial and it needs for at least a certain time a set-aside bishop," he said. "What I am not so sure about is whether we need a set-aside bishop in perpetuity. The language (of the amendment) is permissive, but I heard no indication that it's for a set period of time."
Currently, the role of the president rotates among the U.S. jurisdictions and the central conferences. The president-elect for 2012-14 is Bishop Rosemarie Wenner from Germany.
He echoed a concern expressed by a number of other central conference bishops that the new position of a four-year, nonresidential president would shut out candidates from outside the United States because of differences in episcopal election dates and terms of service.
The central conferences also may not have a bishop to spare for a nonresidential post because they are limited in the number of bishops they can elect. "When you take someone out from residential responsibilities in a central conference, the legislation as it is now gives no possibility to fill that place with another person," Streiff said.
A chairperson as well
Details of the proposal are yet to be worked out, but supporters remain confident that the concerns about central conference representation can be addressed.
One possibility put forward is for the Council of Bishops to elect a chairperson who serves a two-year term in addition to a nonresidential president. The chairperson, who would also serve a geographical area, would oversee the council's executive board and its committees. The position would also rotate among bishops from around the globe much like the presidential role does now.
"It would give us someone who would focus on organizing the council meetings and council life," Illinois Area Bishop Gregory Palmer said. "It also gives more opportunities for more people to bring leadership to different aspects of the council."
Retired Bishop Emerito P. Nacpil of the Philippines remains skeptical about having the two positions.
"I think it will be a two-headed hydra," he said. "I don't think it's going to work."
Past efforts and Call to Action
Proposals to have a full-time president go back at least to 1968, with the merger that created The United Methodist Church. But each time the move failed to gain traction.
What's different now, many bishops say, is the Call to Action effort aimed at reversing the denomination's declining and aging U.S. membership.
The change follows a recommendation from the Call to Action report to reform the Council of Bishops and increase accountability.
"I really think it's another signal that the bishops are committed to living into the mission of making disciples of Jesus Christ for the transformation of the world," Goodpaster said. "And we want to put our house in order so that we can more effectively help the church to do that."
Zimbabwe Area Bishop Eben Nhiwatiwa voted for the proposal, but he said church leaders need to watch whether the change works to make more disciples of Jesus Christ. If it fails in that mission, he would like to see it quickly abandoned.
"I support it with the understanding that it's not just an additional structure," he said, "but someone who can focus us, even shepherd us, in the mission."
*Hahn is a multimedia news reporter for United Methodist News Service.
News media contact: Heather Hahn, Nashville, Tenn., (615) 742-5470 or [email protected].
---
Like what you're reading? Support the ministry of UM News! Your support ensures the latest denominational news, dynamic stories and informative articles will continue to connect our global community. Make a tax-deductible donation at ResourceUMC.org/GiveUMCom.