A call by a group of retired bishops to end The United Methodist Church's ban on homosexual clergy has prompted varied reactions from church leaders.
In the past two weeks, some bishops have urged prayer and thoughtful discussion. Others have expressed disappointment in the retired leaders. Still others have voiced support for the change. In each case, bishops have stressed their commitment to uphold church law.
Bishop Larry M. Goodpaster, president of the United Methodist Council of Bishops, released a statement on Feb. 3 encouraging "thoughtful, prayerful dialogue about sensitive and challenging issues."
"We call this holy conferencing," Goodpaster wrote on behalf of the council's executive committee. "We are committed to embody this in our own life as a council and lead the church in doing the same."
Meanwhile, three more retired bishops have signed the Statement of Counsel to the Church, bringing the total to 36 retired bishops asking the church to change its policy.
The three new signers are Bishops Daniel Arichea of the Philippines, Alfred Johnson of New Jersey and Richard B. Wilke of Kansas. About 42 percent of the denomination's 85 retired bishops have signed the statement, released Jan. 31.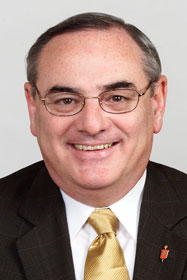 Bishop Larry M. Goodpaster
Most signers live and serve in the United States. But in addition to Arichea, two other retired leaders from the denomination's central conferences signed the statement - Bishops Joseph C. Humper of Sierra Leone and Franz W. Schäfer of Switzerland.
The Book of Discipline states that "the practice of homosexuality is incompatible with Christian teaching. Therefore self-avowed practicing homosexuals are not to be certified as candidates, ordained as ministers, or appointed to serve in The United Methodist Church."
The retired bishops' statement asks that this passage be removed.
Only General Conference, the denomination's top lawmaking body, can change the Book of Discipline. The subject of homosexuality has surfaced every four years at General Conference, and delegates consistently have voted to keep the restriction.
The next such gathering is scheduled for April 24-May 4, 2012, in Tampa, Fla., and Goodpaster asks church members to pray for the whole church as General Conference approaches.
In the mean time, Goodpaster assured church members that the Council of Bishops remains "committed to living within the covenant defined by the Book of Discipline."
'A serious matter'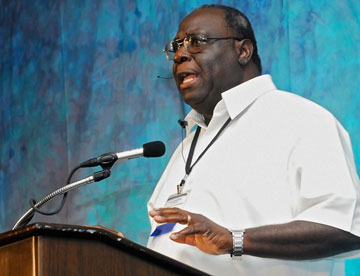 Bishop James Swanson
Neither active nor retired bishops are allowed to vote at General Conference.
Still, it is "a serious matter" when a group of bishops communicates to the church disagreement with established doctrine, Bishops John Schol and James E. Swanson said in separate statements to their respective conferences.
"The Council of Bishops needs to teach and lead; and when the church is divided on essential doctrine, teaching and leading becomes even more important," Schol told the Baltimore-Washington Annual (regional) Conference in his statement.
In coming months, Schol said he hopes to invite United Methodist bishops with varying views to share the denomination's teachings on controversial matters. He committed to pray for the church and asked others in his conference to do the same.
Swanson shared a similar message with the Holston Conference, which encompasses 900-plus churches in Tennessee, Georgia and Virginia.
"We want to make it clear that we respect the right of people of good conscience to disagree with the positions of The United Methodist Church," Swanson said in a joint statement with Mary Ruth Richards, conference lay leader. "However, we assure you that we are committed to faithfully upholding the Book of Discipline of The United Methodist Church."
Voices of disagreement
Some bishops expressed disappointment with the retired bishops' public opposition to the Book of Discipline's current rule.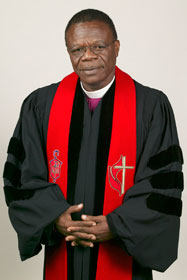 Bishop John G. Innis
"I think that it's unfortunate that this group of bishops has stepped outside of the covenant relationship and find this the only way in which to voice their opinion about the issue of homosexuality," Oklahoma Bishop Robert E. Hayes Jr., said in an interview.
He said the statement steps outside the accepted process for changing church policy. Any person, regardless of whether that individual is clergy or a layperson, can petition General Conference to ask for a change.
"This circumvents our way of handling difficult issues," Hayes said. "I am very disappointed the bishops chose this way to make their opinions known."
Bishop Eben K. Nhiwatiwa of Zimbabwe said, by and large, people in his conference stand by what the Book of Discipline says about homosexuality.
"Africa should not be pushed on this issue," he said. "The position of The United Methodist Church right now is the position that is in sync with the context of the African church right now."
Bishop John Innis of Liberia agreed. He said he respects the retired bishops, but he must stand with the Book of Discipline.
"We are all created by God," he said. "A person who practices homosexuality can be my friend, but I cannot condone that behavior."
Voices of support
Bishop Robert T. Hoshibata of the Oregon-Idaho Conference takes a very different view. He is among those who endorse the retired bishops' statement.
He believes "good, biblical people" are on both sides of this issue.
"But &ellipsis; in the context where I am doing ministry, there are many persons that I know gay and lesbian and transgender who are good people, good Christians, who the church is neglecting or turning away from," he said.
Retired Bishops Sharon Z. Rader and Donald A. Ott said they circulated the statement to their fellow retirees urging the change in part because of their experience as church leaders.
Since the statement was released, Rader said the responses she has personally received have been almost universally positive.
She said many have told her the initiative "brings hope for the future of our church and the making plain of our desire to invite, receive and empower all who desire to live as faithful disciples of Jesus as part of The United Methodist Church."
She and Ott have not sought the signatures of active bishops, but Rader is looking forward to hearing their thoughts.
"We hope the change we propose will help bishops and the whole church tofind our placebeside Jesus where people live on the margins of church and society," she said.
At this point, the Council of Bishops has not discussed the retired leaders' proposal as a group.
Goodpaster, the council's president, predicted in an interview that when the council meets in May, "there will be some conversation."
*Hahn is a multimedia news reporter for United Methodist News Service. Linda Bloom, a multimedia news reporter for United Methodist News Service, also contributed to this article.
News media contact: Heather Hahn, Nashville, Tenn., (615) 742-5470 or [email protected].
---
Like what you're reading? Support the ministry of UM News! Your support ensures the latest denominational news, dynamic stories and informative articles will continue to connect our global community. Make a tax-deductible donation at ResourceUMC.org/GiveUMCom.