United Methodist Bishop Hee-Soo Jung has issued a letter urging "North and South Korea to negotiate directly through their government leaders to forge an agreement ending the nuclear threat in the Korean peninsula" for the sake of the world community.
"It is a painful reality that North and South Korea have remained at war for over 60 years," the Wisconsin Area bishop noted in a letter distributed April 11 by the Council of Bishops. "Hundreds of thousands of families are divided by the demilitarized zone and experience the violation of the basic human right to live in peace as family. Military confrontation stirs up the culture of mistrust and hatred between people."
John Kerry, the U.S. secretary of state, in Seoul on April 12 for a series of talks on East Asia, made clear that the United States will defend its allies and itself if needed. Tension in the Korean peninsula has been escalating for months.
Jung has been instrumental in working with the Korean Church of Atlanta UMC and others to set up an Ecumenical Korea Peace Conference for May 15-17 in the Atlanta suburb of Duluth, Ga.
Bishop's perspective
He has a unique perspective. Jung grew up on Gwanghwa Island, on the west coast of South Korea, which borders the demilitarized zone with North Korea. His mother and siblings still live there.
Relations between the two Koreas had been more constructive and fluid during the past decade, he told United Methodist News Service, but they have deteriorated over the past two years.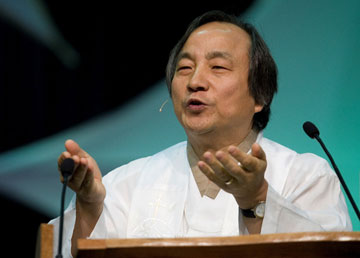 Bishop Hee-Soo Jung gives the sermon during morning worship at the 2008 United Methodist General Conference in Fort Worth, Texas. A UMNS file photo by Mike DuBose.
The bishop believes it is imperative for Christians to help build bridges between north and south and to encourage relations with North Korea to be "conversational, not confrontational" or driven by conflict.
"We need to visit and we need to explore the facts," he said. "We need to do all we can."
In an invitation letter to the Atlanta event, titled "Embrace Peace; Pursue It: From Armistice to Just Peace in Korea," the bishop noted, "It is time for Christians in the two Koreas, Canada and U.S., to renew a divine call to be peacemakers."
Jung said the May gathering "will give us a podium and information so we can be organizing more." Noting the "crucial" nature of the relationship between the United States and North Korea, he also believes the U.S. church must do more advocacy on that issue.
'Korean Christian diaspora'
According to January 2013 statistics provided by United Methodists in Service, there are 290 Korean United Methodist churches in the United States. There is no "United" Methodist Church in Korea, but there are Korean Methodist churches, which are related. Many Korean United Methodist pastors are graduates of the Methodist Seminary in Korea.
Jung also pointed to the numerous Korean Christians in other countries, such as Russia, China and Japan. They constitute a "Korean Christian diaspora," he said, who are "yearning, prayerfully, to be reunited and reconciled."
In the April 11 letter, Jung offered a prayer that included:
"My prayers are for the people of the North; suffering in a desperate economic climate, cut off by embargo, living in want and fear. May they be reminded that war and isolation are not the solution they seek or need.
"My prayers are for the people of the South; enriching freedom socially but living as if on a thin sheet of ice that may crack under their feet at any moment. May they recognize the frustration and limitations of the North and build up each other to achieve solidarity with sisters and brothers in the North.
"My prayers are for the nations and their leaders - United States, China, Japan, Russia and others - who directly influence the whole Korean peninsula. Six-party talks and negotiation should be continued. The Korean peninsula is at the mercy of many interests beyond their nation's borders. Conversation at the table, not confrontation on the battlefield, is what is most needed."
News media contact: Jacob Lee, Nashville, Tenn. (615) 742-5470 or [email protected].
---
Like what you're reading? Support the ministry of UM News! Your support ensures the latest denominational news, dynamic stories and informative articles will continue to connect our global community. Make a tax-deductible donation at ResourceUMC.org/GiveUMCom.