Bishop Mack B. Stokes, who taught thousands of preachers and helped desegregate Mississippi United Methodists, died Nov. 21 in Perdido Key, Fla. He was 100, just a month shy of his 101st birthday.
Before his election to the episcopacy, he taught for 31 years at Emory's Candler School of Theology in Atlanta, where he was the school's first Parker Professor of Systemic Theology, associate dean and later acting dean. As director of Emory's Graduate Division of Religion, he helped inaugurate the university's Ph.D. programs in theological studies in 1958.
The Southeastern Jurisdictional Conference elected Stokes a bishop in 1972 and assigned him to the Jackson (Miss.) Episcopal Area, where he served until his retirement as active bishop in 1980.
In Mississippi, he took on the task of merging African-American and white annual conferences into two integrated conferences. This was four years after the newly formed United Methodist Church had voted to abolish the all-black Central Jurisdiction, which served to compel the separation of African-American and white Methodists in much of the southern United States.
"He served in Mississippi at an important time," said retired Bishop Kenneth Lee Carder, who was the Jackson Area bishop from 2004 to 2008. "He brought to that task not only a pastoral sensitivity but also a deep theological grounding for reconciliation."
Bridging divisions
Stokes arrived in Mississippi less than 10 years after Ku Klux Klansmen had murdered three civil rights workers near the town of Philadelphia on June 21, 1964, and four years after the assassination of the Rev. Martin Luther King Jr. Racial divisions in Mississippi, even within The United Methodist Church still ran deep, Carder said.
However, during his first year as bishop, Stokes led the four annual conferences - two black and two white - to merge into the new Mississippi Conference and the new North Mississippi Conference (the predecessors of today's Mississippi Conference). In all four annual conferences, the votes for merger passed with large majorities.
Stokes made a point of cultivating leaders without regard for race. He announced from the start that he would appoint an African-American district superintendent in each of the newly formed conferences.
By 1980, United Methodists in the state had changed, said retired Bishop C. P. Minnick Jr., who immediately followed Stokes as Jackson Area bishop.
"I was pleased and shocked when I got there at the racial openness that had developed, which being from Virginia, I had not anticipated," he said.
Minnick recounted meeting a group of men in Mississippi who tearfully confessed to standing with ax handles on their church steps to bar black people from entering.
"They said, 'That's not who we are. We don't know why we did that,'" Minnick recalled. "And I am sure Bishop Stokes' influence had a lot to do with that change of mind and heart."
Minnick added that Stokes "was greatly loved by the clergy and laity of that area."
Carder said he believes Mississippi United Methodists have "made more progress" in integration than many other conferences. He attributes that in part to the spotlight Mississippi's violent history has drawn.
He also credits the leadership of African-American church members in the state.
"And of course, Bishop Stokes was there at the time the foundation for that was being laid," Carder said.
Bishop James E. Swanson, who began his tenure in the Jackson Area in September, is the first United Methodist African-American bishop assigned to Mississippi.
"In many ways the bishop led both conferences in the process of integration through a model of relational evangelism," Swanson said. "The model has served and continues to serve United Methodism in Mississippi in significant ways as the church seeks to live out an inclusive life in Christ. I am living proof that the church can live into God's preferred future of a Church in which people of all races can worship, serve and lead God's people."
Swanson added that he was personally grateful to Stokes for attending six straight sessions of the Holston Annual Conference while Swanson was the conference's bishop. "He would have attended the seventh if illness had not prevented him from doing so," Swanson said.
Intellectual legacy
Stokes not only bridged gaps between races but also between the academy and the pews. The bishop was a prolific writer whose works included "The Bible in the Wesleyan Heritage" (1981), "The Holy Spirit in the Wesleyan Heritage" (1985), "Scriptural Holiness for the United Methodist Christian" (1987), "Talking with God: A Guide to Prayer" (1989), "Theology for Preaching" (1994), "Major United Methodist Beliefs: Revised" (1998) and "Question and Answers about Life and Faith" (2000).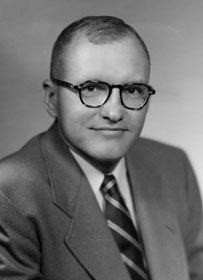 Bishop Stokes when he was associate dean of the Candler School of Theology. A UMNS file photo.
Some of his books were translated into multiple languages.
Carder said his late colleague wrote primarily for lay audiences. "There is a sense in which he bridged scholarship with the practices of ministry," Carder said.
In retirement, Stokes continued to teach and preach. From 1980 to 1984, he served as director of doctoral studies at the School of Theology, Oral Roberts University, in Tulsa, Okla. He served as senior pastor of Peachtree Road United Methodist Church in Atlanta in 1988.
Throughout his ministry, he maintained a commitment to United Methodist-related Emory University, serving on the university's board of trustees from 1972 until almost the last year of his life. He and his late wife, Ada Rose, endowed a scholarship to the Candler School of Theology for international students. In 2008, shortly before her death, the couple established the Bishop Mack B. and Rose Y. Stokes Chair in Theology at Candler.
"I always marveled at the continuing vigor of his mind and his engagement in writing theology to the end," said Gary S. Hauk, vice president and deputy to the president at Emory University.
Hauk, who is working on a history of Emory, said Candler dean and later Bishop William Cannon wrote with great admiration about Stokes' ability to engage in theological debate without even the semblance of rancor.
"He was absolutely committed to doing theology in a way that enlarged people's understanding of God, not of Mack Stokes," Hauk said. "He was perhaps best known on campus for his much-publicized and ballyhooed debate in Glenn Memorial Church with Thomas Altizer, an Emory College religion professor who gained notoriety in the mid-'60s for his theology of the 'death of God.'"
Retired Bishop Robert C. Morgan was a former student of Stokes' at Candler and later followed him as bishop in Mississippi from 1984 to 1992. In recent years, the two lived down the block from each other at Lake Junaluska, N.C.
"He was an excellent teacher," Morgan said. "I still have my notes from his course on theism."
Son of missionaries
Stokes was born Dec. 21, 1911, in Wonson, Korea, where his parents were missionaries. All three of his brothers also became Methodist clergy.
The late bishop graduated from the Seoul Foreign High School at age 16. He received his A.B. from Asbury College, his B.D. from Duke University, and his Ph.D. from Boston University.
In June 1941, Stokes married Ada Rose Yow of Henderson, N.C. Later when asked whether she was his first love, the bishop responded, "Oh, no, she was my only love."
Morgan said Stokes and his wife traveled everywhere together. "They had a beautiful love affair," Stokes' friend said.
He is survived by two sons, Arch Yow Stokes of Perdido Key, Fla., and his wife, Maggie; Marion Boyd Stokes III of Atlanta; seven grandchildren; two great-grandchildren; numerous nieces and nephews; his brother-in-law, Jensen Yow; and his sisters-in-law, Alda Stokes, 102, and Marilyn Stokes. He was preceded in death by his wife, Rose; his daughter, Elsie Pauline; and, his three brothers Lem, Jim and Charlie Stokes.
Memorial services are planned in Pensacola, Fla.; in Atlanta, and at Lake Junaluska. Dates will be announced.
In Stokes' obituary, his family said the bishop is "best known as a humble servant of Christ, having preached around the world for more than 70 years."
*Hahn is a multimedia news reporter for United Methodist News Service.
News media contact: Heather Hahn, Nashville, Tenn., (615) 742-5470 or [email protected].
---
Like what you're reading? Support the ministry of UM News! Your support ensures the latest denominational news, dynamic stories and informative articles will continue to connect our global community. Make a tax-deductible donation at ResourceUMC.org/GiveUMCom.