Bishop John Wesley Hardt was, as his name suggests, a cradle Methodist who would have a long, profound influence as pastor, episcopal leader and bishop-in-residence at Southern Methodist University's Perkins School of Theology.
Hardt died June 18 at C.C. Young, a Methodist-founded retirement home in Dallas. He was 95.
"His spirit was such that he brought out the best in the people he worked with, and his faith was such that he endured to the end, trusting that whatever happened, he was in God's hands," said the Rev. Boyce Bowdon, communications director of the Oklahoma Conference under Hardt.
Many United Methodists paid tribute to Hardt's contribution over decades and to his personal attributes. Those included a memory for names and family connections that astonished people and remained sharp into his 90s.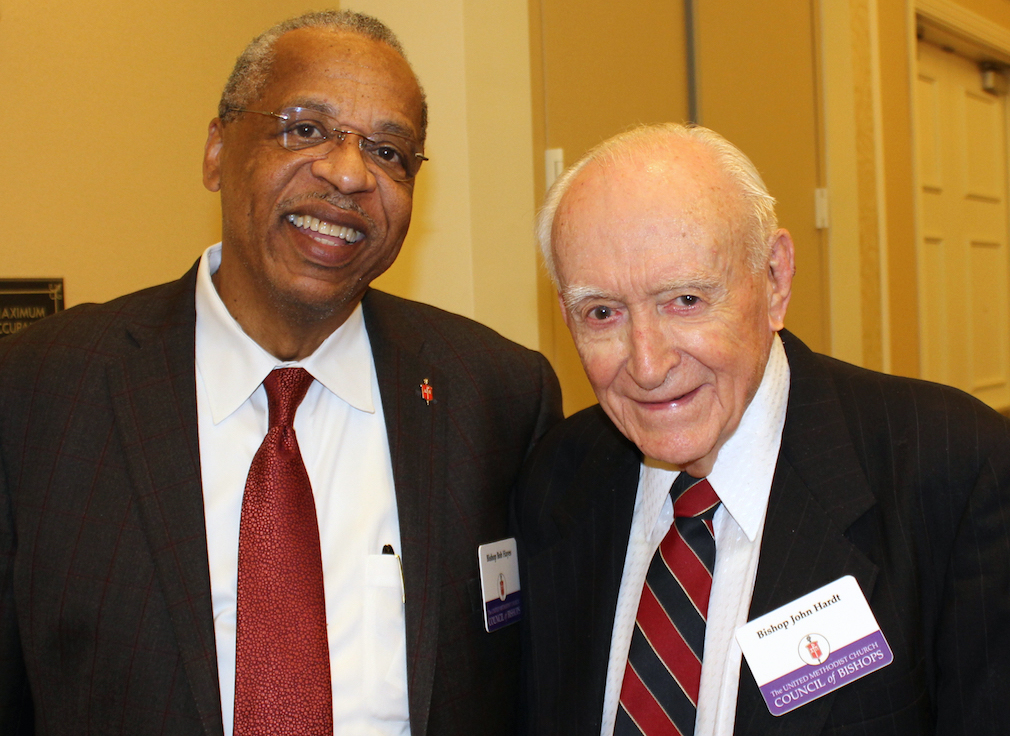 "That was a sign not simply of a man with a great memory but with the heart of a pastor," said the Rev. William Lawrence, a professor at Perkins and its former dean. "He cared about the people he served."
Hardt was born on July 13, 1921, in San Antonio. His father, the Rev. Wesley Hardt, was a Methodist Episcopal Church South pastor, and his mother, Ida Wilson Hardt, was also a devout Methodist.
"I've never known what it was to be outside the church," Hardt said in an oral history video for SMU.
The family moved from parsonage to parsonage in East Texas during the Depression. In the video interview, Hardt recalled a particularly trying move.
"On the first night there, the rats chewed up my father's hat and my mother's best dress," he said.
Hardt would attend Lon Morris, a Methodist two-year college in East Texas. There he and another male student worked in the college dairy (they formed what Hardt called the Moo Chi Moo fraternity) and sometimes got called out of class when the cows escaped the fence.
At Lon Morris, he also met Martha Carson, whom he would follow to Southern Methodist University. Their 73-year marriage began in 1943, and she survives him.
"Martha has always been my confidant, counselor, comforter, encourager, partner and best friend," Hardt said in a recent interview with United Methodist Women's Response magazine.
Hardt preached his first sermon in 1938, and at SMU, where he earned his undergraduate and theology school degrees, he led five small East Texas churches on Sundays.
He recalled taking a bus and sometimes hitchhiking to get to them, returning late Sunday night.
"I had a Greek class at 8 on Monday morning," Hardt said in the video interview. "Naturally, I didn't major in Greek, but I did pass the course."
Hardt's SMU years also saw the death of his father. While still a student, Hardt in 1943 succeeded his father as pastor of a Methodist church in Malakoff, Texas. Hardt would go on to lead a handful of Texas Conference churches, including a long tenure at the First Methodist Church of Beaumont.
There, Hardt helped pull together an interracial coalition of pastors who took a stand against corruption in local government.
"It was a huge event in Beaumont, and he was very much engaged in that, as well as in the efforts for school integration," said the Rev. Ted Campbell, a historian of Methodism and professor at Perkins. "He played positive roles in both those Beaumont crises."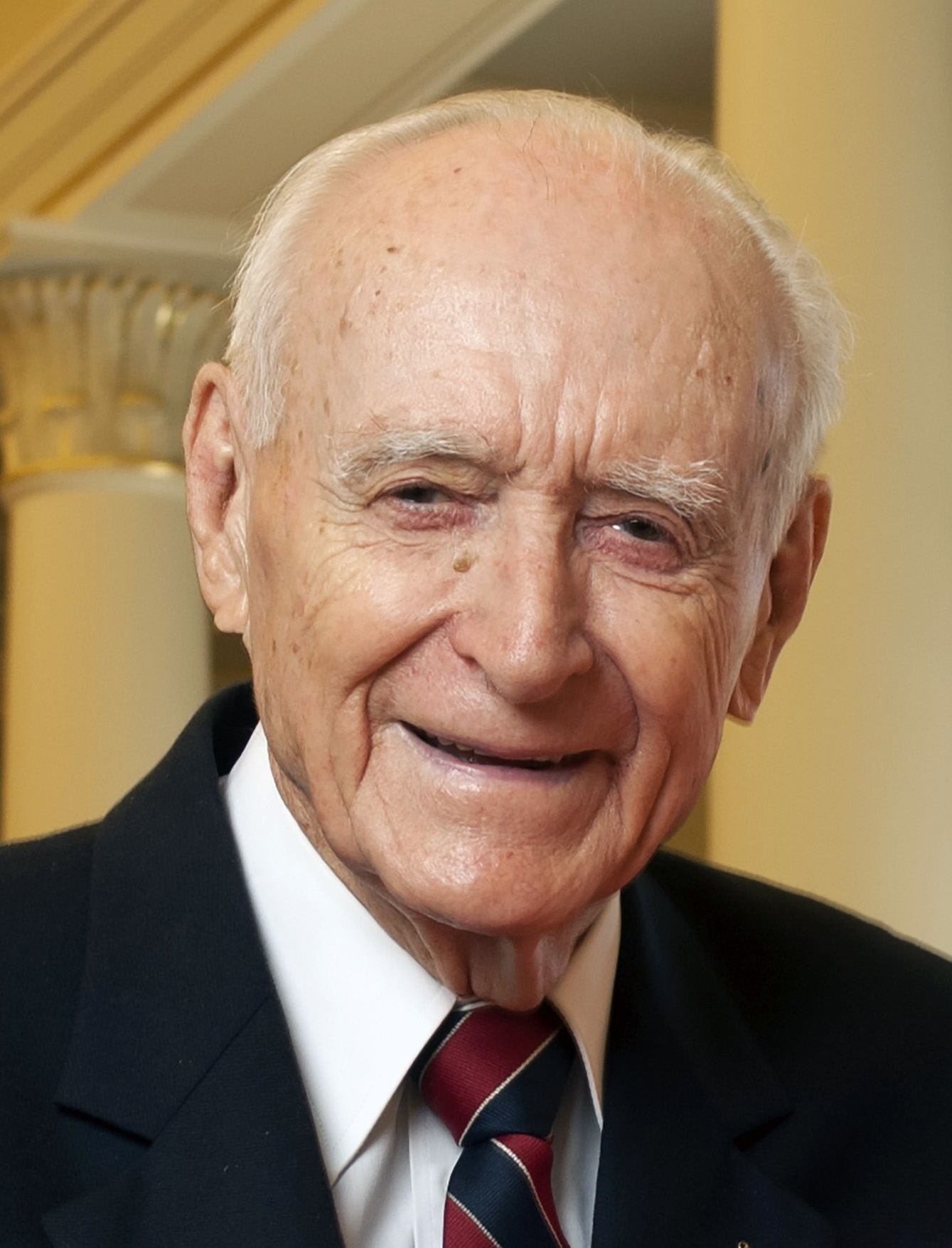 Hardt later served as a district superintendent in the Texas Conference, and was elected to the episcopacy in 1980. For the next eight years he would oversee the Oklahoma Conference and Oklahoma Indian Missionary Conference.
Before going there, Hardt acquired the last 10 years of journals for those conferences and memorized all the appointments and key statistics, according to his son, William.
He also read a stack of business management books, but without much enthusiasm.
"They're all about technique," his son remembered Hardt saying. "Technique without character leads to disaster."
The Oklahoma conferences saw membership growth in some of Hardt's years, bucking the denominational trend. Hardt also pushed successfully for the establishment of United Methodist retirement homes, and for bolstering endowment funds and pension contributions for pastors.
In Oklahoma, he formed a friendship with Oral Roberts, the faith-healing evangelist who had a Methodist background. Hardt preached in chapel at Oral Roberts University in 1982, and one of the students present was Adam Hamilton.
Hamilton is now the pastor of the best-attended United Methodist Church in the U.S., The Church of the Resurrection, in Leawood, Kansas. But then he was a young Pentecostal in search of a new expression of Christianity.
In a phone interview, Hamilton recalled that Hardt's generous spirit – including raising his hands in worship along with the Pentecostal students – and "message of grace" made a big impression.
"My turning to Methodism may not have happened without Bishop Hardt preaching at ORU chapel," Hamilton said.
Hardt retired as a bishop in 1988, moving to Dallas with his wife, and becoming bishop-in-residence at Perkins. He taught classes and served as a mentor to students going through pastoral internships. He also kept a study carrel at Bridwell Library.
"Bishop Hardt was a beloved patron of Bridwell," said Roberta Schaafsma, library director. "He took a particular interest in Bridwell Library's Center for Methodist Studies and in 2001 set up the Bishop John Wesley and Martha Hardt Endowment Fund in support of the center."
Hardt extended his influence as an author of books, including "Historical Atlas of Texas Methodism," written with son William. He also was a general resource for Perkins faculty and students, especially on the history of Methodism, so much of which he had witnessed.
"He was in the midst of every major change that occurred the last 70 years," Lawrence said.
Hardt was part of the Methodist Episcopal Church South, The Methodist Church and The United Methodist Church. He attended every session of the South Central Jurisdictional Conference from 1956 to 2012, and was a delegate to a string of General Conferences, including the uniting conference in Dallas in 1968.
He and Mrs. Hardt also were part of various World Methodist Conferences, and made repeated mission trips abroad, with a focus on Zimbabwe and Indonesia.
Hardt experienced the advent of women clergy as well as racial integration of the denomination. He served as a trustee at SMU, Lydia Patterson institute, Oklahoma City University, Saint Paul School of Theology and other United Methodist institutions, and Lawrence credits him as an important leader as SMU overcame its football scandal of the 1980s.
Lawrence and Campbell also point out that Hardt was a student at SMU when the school had its 25th anniversary, and was present for the 50th, 75th and 100th anniversaries.
"He was the living connection to the past," Campbell said.
Campbell's Facebook tribute to Hardt collected, in a matter of hours, more than 100 comments from clergy and others who wanted to share their respect and affection for Hardt - and their amazement at his memory.
Along with his wife, Hardt is survived by their children, Betty Lesko, William Hardt, John Hardt, and Joe Hardt, and by eight grandchildren and 12 great-grandchildren.
Hardt's memorial service will be June 23, at 11 a.m., at First United Methodist Church in Dallas.
In lieu of flowers, memorials may be sent to the Texas Methodist Foundation, 11709 Boulder Lane, Suite 100 Austin, Texas, 78726-1808. Condolences may be sent to 4833 W Lawther Drive, Overlook 416, Dallas TX 75214.
Hodges, a United Methodist News Service writer, lives in Dallas. Contact him at (615) 742-5470 or [email protected]. To read more United Methodist news, subscribe to the free Daily or Weekly Digests. 
---
Like what you're reading? Support the ministry of UM News! Your support ensures the latest denominational news, dynamic stories and informative articles will continue to connect our global community. Make a tax-deductible donation at ResourceUMC.org/GiveUMCom.