Four years ago, a British medical journal presented concrete proof that nations that don't invest in proper nutrition for pregnant and lactating women and their infants will suffer economically as a result.
That research has prompted governments, relief agencies and advocacy groups to create a new anti-poverty focus, and faith groups, including United Methodists, are joining the effort.
The "1,000 Days" partnership - referring to the time between a woman's pregnancy and her child's 2nd birthday - was launched "to help raise awareness of this new knowledge," explained Asma Lateef of Bread for the World, the hunger advocacy organization that has helped lead the faith-based response.
Bread for the World is emphasizing a connection with denominational women's organizations on this issue, Lateef said, because women have "understood, through their own experience, the importance of early childhood nutrition."
Participation in 1000 Days is a natural fit for the United Methodist Committee on Relief, said June Kim, executive secretary for world hunger/poverty and sustainable agriculture and development.
"UMCOR has always worked to provide nutrition," she explained. "For us, food is the first medicine."
Many nongovernmental organizations and governments are "on the same page" when it comes to assessing this data, added Maurice Bloem, deputy director of Church World Service. "Everybody is talking now about the thousand days, the importance of working with these kids and mothers."
Church World Service already has shifted its organizational focus to hunger and malnutrition, Bloem said, as the result of a visioning process initiated by its top executive, the Rev. John McCullough, a United Methodist pastor. The organization is recognized for its CROP Hunger Walk, which raises money for local and global hunger and poverty initiatives.
'Lifelong consequences'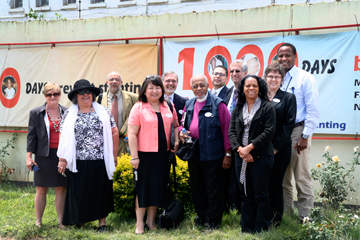 June Kim of the United Methodist Committee on Relief
(center, in peach jacket) and others visited three African
countries last October as part of a trip sponsored by
Bread for the World related to the "1000 Days" initiative.
Photo courtesy of Bread for the World.  
In January 2008, "The Lancet" medical journal published research showing that a child experiencing even a short period of malnutrition during the period before birth through the age of 2 "would suffer lifelong consequences," said Lateef. "If you're in a country where there is widespread malnutrition among that age group, the consequences are much broader."
At the time, a global crisis over food prices was causing political unrest in some countries, so world leaders took notice. In addition, the Lancet offered proven, cost-effective interventions "that could be scaled up immediately," she pointed out.
This month, Church World Service, in collaboration with the Kenyan Ministry of Health, started distributing packets of vitamin and mineral-rich powder supplements to maternal and child health clinics in Mwingi and Kwale districts of Kenya.
The two districts had been treating hundreds of malnourished children on a monthly basis but previously had no access to these supplements, according to Sammy Mutua, emergency coordinator for CWS Africa.
"You need to strengthen people's abilities to grow nutritious foods as well," Bloem said. "There is not one solution."
What churches can do
Churches can engage in campaigns to raise awareness of the importance of early childhood nutrition and collaborate with governments and nongovernmental organizations, says June Kim of the United Methodist Committee on Relief. Find information and ideas at 1,000 Days.
In the United States, an important action against malnutrition, adds Asma Lateef of Bread for the World, is protecting funding for programs covered under international affairs - Feed the Future, the Global Health Initiative, maternal and child nutrition and food aid - "in a very difficult budget environment."
Participate in Bread for the World's traditional Offering of Letters and join Women of Faith for the 1,000 Days Movement.
Practicing "sustainable consumption" by choosing foods from small-holder farmers or through fair-trade groups is another concrete action, advises Maurice Bloem of Church World Service.
The launch of the 1000 Days partnership in 2010 coincided with a plan for "Scaling Up Nutrition," endorsed by more than 100 government, civil society, academic and business organizations. What is referred to as the SUN Framework outlines core priorities and actions and provides a structure for national plans.
Last October, Kim joined a group of religious leaders, organized by Bread for the World, who visited Malawi, Zambia and Tanzania in Africa to get a sense of how national strategies on nutrition are being implemented.
The effectiveness of such government efforts can depend on who takes responsibility, she said. In Malawi, for example, the early nutrition strategy is lodged in the vice president's office "so it had a lot more visibility and a lot more clout."
The U.S. response is "Feed the Future," which has two objectives: improving the livelihoods of farmers and improving the nutritional status of mothers and children.
In the past, the health sector has considered nutrition to be a "food" issue for the agriculture sector, while the agriculture sector thought of nutrition as a health intervention. The result: "There was no ownership of nutrition either within the donor countries or in governments in developing countries," Lateef said.
But, she pointed out, the research has helped developing countries understand that "they're never going to be on a sustainable path because their future is already being compromised by the devastating impact on these children not being able to grow and develop like other children."
Marking progress
A progress report from 19 countries, unveiled last September at a High Level Meeting on Nutrition at the U.N. General Assembly, found that hundreds of millions still experience hunger and poor nutrition, despite overall reductions in global poverty.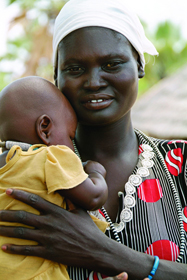 Zambian mother and baby. The Zambian government is working to cut malnutrition rates. A web-only photo by Margaret W. Nea from the Bread for the World 2011 Hunger Report.
But major achievements made over the past year include increased political commitment for better nutrition within countries and regions and on an international level; "bold goals and specific targets" by governments to reduce under-nutrition; and the organization of more than 100 "international stakeholders" into six task forces.
Expected results in participating countries include fewer low-birth-weight babies and less stunting in children under 2, fewer incidents of severe weight loss from birth to 24 months and less iron deficiency in women in the third trimester of pregnancy.
"The need for such an initiative is abundantly clear," U.N. Secretary-General Ban Ki-moon wrote in the report's preface. "The food insecurity being faced by millions of people following prolonged drought in the Horn of Africa underscores the need to provide nutritional care and to support national authorities as they help vulnerable families realize their right to food, enjoy food and nutrition security, and resist the impact of climatic and other shocks."
Raising income levels through development programs does not automatically translate into the consumption of more nutritious food. UMCOR has always used a multifaceted approach to its training programs for farmers and communities.
In this case, it is essential, Kim said, to incorporate behavioral changes into such programs to stress nutrition. "Insuring household nutrition will, in turn, help with the country's GDP (gross domestic product)."
Some countries are not seeing improvements in the areas of malnutrition and maternal mortality because proper attention is not given to the education of girls and women, Bloem said.
"If your mothers have less education, nutrition in the household is going down," he explained. "With every level of education, the chance of improving the nutrition of the child is increasing."
*Bloom is a United Methodist News Service multimedia reporter based in New York. Follow her at http://twitter.com/umcscribe.
News media contact: Linda Bloom, New York, (646) 369-3759 or [email protected].
---
Like what you're reading? Support the ministry of UM News! Your support ensures the latest denominational news, dynamic stories and informative articles will continue to connect our global community. Make a tax-deductible donation at ResourceUMC.org/GiveUMCom.