A United Methodist-related university in Oklahoma City is taking a major step forward in the fight against one of the nation's most difficult problems.
Oklahoma City University has created a program in addiction-prevention studies in which students may earn a bachelor's degree.
"The degree is designed to help combat one of our nation's most widespread and destructive problems," says Peter Messiah, director of the school's addiction-prevention efforts.
The National Institute on Alcohol Abuse and Alcoholism estimates that drinking by college students ages 18 to 24 contributes to an estimated 1,825 student deaths, 599,000 injuries and 97,000 cases of sexual assault or date rape each year.
"Addictions are not confined to college campuses," Messiah said. "They occur all through our society. And, people are not only addicted to alcohol; thousands are addicted to other drugs, gambling, pornography and a variety of substances and behaviors."
Courses in the program focus on preventing addiction, Messiah said.
"At this stage, the program's priority is to discover risk factors that contribute to addictions, then develop the most effective ways possible to minimize the risk factors, and then put in place protective factors - positive influences - that will help people avoid becoming addicted."
Courses for many majors
The bachelor's degree is not only for students who plan to become addiction prevention specialists, Messiah said. It also is for students preparing for other vocations - such as ministry - where knowledge about addiction prevention can enhance their effectiveness.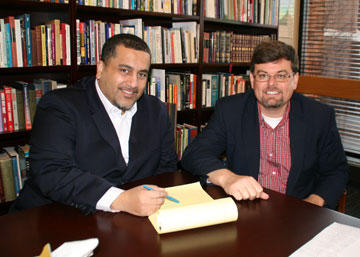 Messiah taught the first course in the addiction-prevention program during the spring semester, which ended May 3.
"We examined prevention from an integrative approach, including the biological, environmental, social, cultural, familial and political forces that currently define addictive behaviors," he explained. "Then we reviewed the history, theories, research and best practices that are now being used to prevent addiction."
Kelsey Cartwright, a nursing student, says she decided to take the course after shadowing medical personnel in a hospital.
"I was amazed to see so many patients with addictions and to see how addictions devastate families and friends," Kelsey said. "I have a passion for helping people, especially those with chemical dependency problems, and I believe what I have learned in this course will enable me to be more helpful to them."
The Revs. Steve and Wanda Littrell, an Oklahoma Conference clergy couple, say the class was very practical for them.
"One of our assignments was to develop an addictions-prevention program for a specific age group," Steve Littrell explained. "We reviewed risks factors that might influence a person to become addicted, and then proposed ways those risks can be minimized and replaced by positive influences. Each student made a 30-minute presentation to the class."
Steve Littrell developed his addictions-prevention program for those 60 and older. Wanda Littrell designed her program for students in grades four through six.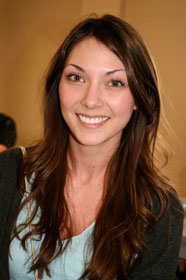 Plans to expand beyond classroom
Messiah said the introductory course will be repeated during the fall semester and two new courses will be added during the spring semester.
In addition to academic studies, the addiction-prevention program will include a variety of non-classroom activities aimed at minimizing addiction, Messiah said.
Plans are under way to provide educational and other addiction-prevention services to local churches and communities across the Oklahoma City area.
Mark Davies, dean of OCU's Petree College of Arts and Sciences, said Oklahoma City University's trustees April 26 voted unanimously to create the new degree.
"The degree fits perfectly into our mission as a United Methodist university, which is to help persons fulfill themselves as much as they possibly can as children of God," Davies said. "We know when people fall into addictions, it becomes far more difficult for them to experience quality lives and to have a positive impact on others."
Davies said Jack Turner, an Oklahoma businessman, contributed $500,000 to provide initial funding for the addiction-prevention studies.
After an extensive search for a director of the addiction-prevention studies, the university chose Messiah, who previously managed the safe-schools department of the Houston (Texas) Independent School District, which included 300 schools. An Oklahoma City native, he is certified in drug-prevention counseling, anger resolution and about 10 other areas.
To help design the addiction-prevention program, the university recruited an advisory board that includes some of the area's leaders in addiction prevention and treatment.
Melanie B. Overton, an executive at the United Methodist Board of Higher Education and Ministry, said she is pleased the university is playing a leading role in fighting the problem of addiction. She said her records indicate Oklahoma City University is the only United Methodist university to offer a bachelor's degree in addiction prevention.
"This is one example," Overton said, "of how United Methodist-related educational institutions are developing leaders who can bring knowledge and vital piety to bear on critical human issues."
*Bowdon is a retired communicator for the Oklahoma Annual (regional) Conference and editor of the conference newspaper.
News media contact: Maggie Hillery, Nashville, Tenn., (615) 742-5470 or [email protected].
---
Like what you're reading? Support the ministry of UM News! Your support ensures the latest denominational news, dynamic stories and informative articles will continue to connect our global community. Make a tax-deductible donation at ResourceUMC.org/GiveUMCom.