Alma Miller Brooks quietly walked up the sidewalk swarming with strangers busy tearing out the walls of her house and throwing her belongings on a huge, smelly heap on the front lawn.
She didn't make a fuss; she just wanted to check her mail.
Brooks rented this little house on Shelly Street in north Baton Rouge for 22 years, but she was chased out of her home by the floodwaters that devastated thousands in Louisiana in mid-August.
"Excuse me, Jesus," said 16-year-old Jeremaih Robinson as he jumped over a portrait of Christ lying on the ground on his way to add more ruined items to the trash heap. A ghost of the portrait was visible on the yellowing wall in the front room.
Jeremaih and his twin brother, Jeremain, were happily picking up heavy furniture and hauling out trash.
"Let's get to work, brother!" one said to the other.
"I'm motivated, man, I feel like a champ," said Jeremain. "I like to help because I like to see people smile — makes my day, makes their day." Watch video of recovery efforts.
The twins have been volunteering all summer for First United Methodist Church in Baton Rouge. They were baptized last Sunday, said Rebecca Mitchell, a member of First United Methodist, smiling as she watched them work. "They are in church every Sunday. They are the most polite, well-mannered children."
Mitchell explained the twins live close to the church. Their father died recently and their mother has had six strokes.
"We were supposed to go back to school last week. No school, more work. Help the flood victims," Jeremaih said.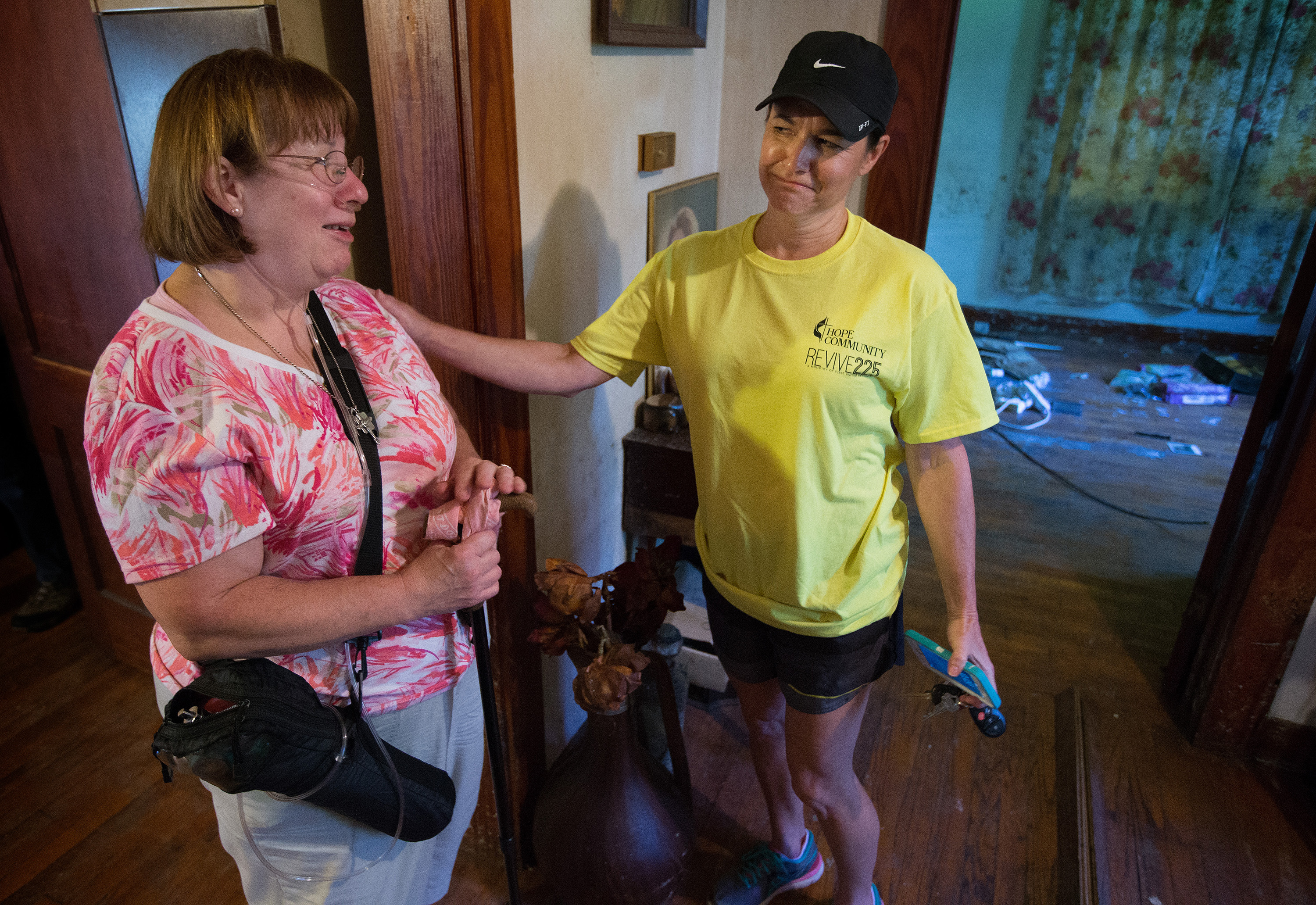 New name on the deed
Also outside the house was Janet Schilling. Until Aug. 29, her family had owned the house rented by Brooks. The family then donated the house to First United Methodist.
Schilling explained that her mother, Audrey Schilling, 85, had been hanging onto the property because of a single concern: "Where would Miss Alma go?"
Brooks was raising her two grandchildren when she moved into the house.
Schilling's parents "wanted to make sure those grandbabies had a place to stay," she said, but the upkeep of the house was becoming too difficult for the family.
The Schillings made it a ministry to rent to people based on their need.
Lots of fond memories are wrapped up in this house for both families. Brooks moved in with relatives and is searching for another place to rent, and the "grandbabies" are now 17 to 18 years old, Janet Schilling said.
This was once the home of her best friend, she said. Pointing to various places in the home, she said, "I remember eating peanut butter sandwiches over there. I remember Mr. Peterson always had a garden out back. My daddy built that gate so me and Analise could go back and forth between our houses."
The volunteers working on the house promised to carefully box up any photos or other personal items they found for Brooks.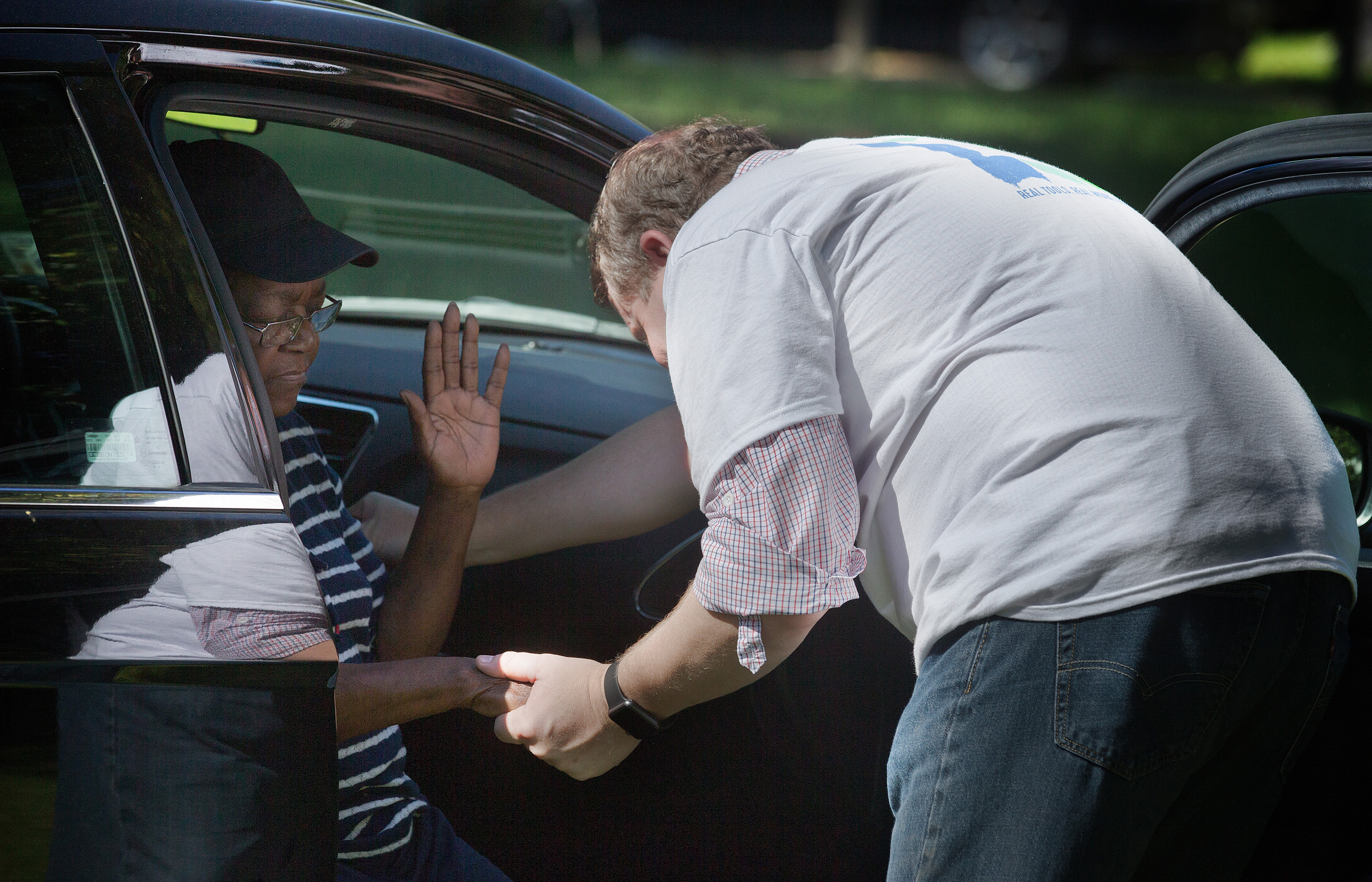 "05 zone"
The neighborhood the house is in is one of the poorest ZIP codes in the city.
"They call this the '05 zone' in Baton Rouge," said the Rev. Brady Whitton, pastor of First United Methodist Church in downtown. "Since the Alton Sterling shooting, Florida Boulevard is known as the dividing line between the white and black population. Our church is right on the dividing line."
Whitton said the church has started to do home repairs in this neighborhood as a way to cross the dividing line.
"If you go through these neighborhoods you will see people living in substandard housing while the rest of the world just goes on in south Baton Rouge," he said.
A member of the congregation recently donated $1 million for the renovation project.
"This is 70-percent rental, owned by slum lords who are keeping them barely livable," Whitton said. "If we can buy houses, rehab them and then sell them for a reasonable mortgage like Habitat for Humanity, then we could up the home ownership in this neighborhood."
Pulling out molding furniture, ripping up water-soaked sheetrock, that's the fun stuff, he said.
"I get energized by this stuff; I call it a holy, beautiful mess. You see more God out doing this than almost anything else we do."
Gilbert is a multimedia news reporter for United Methodist News Service. Contact her at (615) 742-5470 or [email protected]. 
---
Like what you're reading? Support the ministry of UM News! Your support ensures the latest denominational news, dynamic stories and informative articles will continue to connect our global community. Make a tax-deductible donation at ResourceUMC.org/GiveUMCom.