Miracles and death
Jeanne and Gaston have seen many miracles. They also have witnessed death.
"I can do all kinds of flying, into bad weather and all kind of scary flying, but I cannot be a doctor," Ntambo says.
He remembers the woman whose baby had died before she could give birth. "The baby was dead in her stomach for two days already, and she needed help immediately."
He had flown her to an airport seven kilometers from the hospital and was waiting for a vehicle to transport her the rest of the way. The vehicle did not come in time.
Ntambo is haunted by the memory of her asking him for a drink of water.
"To this day, I still don't know if I did the right thing by giving her water. She died right in front of me."
Shelter for recovery
Ntambo soon realized flying into danger to snatch people from the jaws of death wasn't enough. Those people needed shelter while they recovered.
"It is complicated for them to come into the city," Ntambo says. "Most have never seen cars. They don't know how to cross the street; they can't speak the language; and they are sick. It is just too much."
The couple converted two large banana-storage containers into a guesthouse. Jeanne visits the patients and provides transportation between medical offices and hospitals.
"It's not much, but it's free," Ntambo says.
The patients living in the house are grateful.
"If Gaston hears a pastor is sick, he will stop eating or whatever he is doing to go get them," says the Rev. Kasongo-Katala. "When Gaston got the news that some pastors were very sick, he flew to the area. Even though it was raining and the conditions to land were very difficult, he did the best he could to come and pick us up."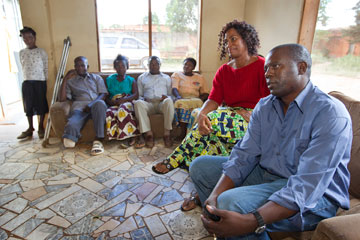 Recovering patients sleep in bunk beds in the containers. During the day, they share a small hut. Sitting on threadbare couches and chairs, they comfort each other.
The electric stove Ntambo bought and installed in the hut didn't last long. They loaded it with sticks and lit them like they are used to doing in the bush.
Around the room, everyone is sitting quietly, smiling. They all have a story to tell about how Ntambo saved them.
The Rev. Mwanza Ndala says he was sick for a long time with diabetes. He developed a wound on his leg that would not heal. His district superintendent called the bishop, and the bishop called his son.
Ndala's leg had to be amputated.
"I would have been in a lot of pain trying to get here by train or bicycle. &ellipsis; It would have been almost impossible," he says. "That's why we continue to say 'thank you' to Gaston and his wife for the help that they gave us and for the chance to have a guesthouse where we can stay while I receive treatment."
While many of the men and women at the guesthouse are older, one young man sits in a wheelchair listening and watching. His father sits at his side and tells his son's story.
"My son had an accident. It was a hit and run. Somebody hit him by vehicle and just left and went away," says Mukckwa Philibert.
Ilunga Kalombo Ndoe suffered a head injury. He had to have brain surgery and for four months could not eat, move or open his eyes, his father says. Slowly, he has started to regain some movement, but he is still unable to walk and his speech is halting and slurred. He also has lost his memory.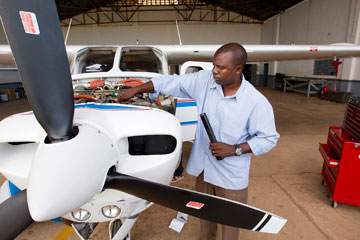 The story is even more tragic considering he was a promising student studying to be a doctor, Ntambo says.
Bigger plane, bigger dreams
Ntambo said Wings of the Morning at one point had four pilots. The ongoing war forced the other pilots, one by one, to flee the country. He was left with two small planes that require expensive aviation gasoline.
"But God is the richest person I know; my faith tells me something big is about to happen."
The ministry needs a Turboprop Cessna, a larger plane that uses jet fuel readily available in the Congo. A larger plane would mean he could carry medicine, more patients and, eventually, doctors to the people who need them.
Ntambo says Wings of the Morning may be the only free program in the world that takes people out of the bush and brings them to the city. It costs about $1,000 to make the roundtrip.
"I believe when you fly someone for free you don't have to tell them how much it costs; they just know it," he says. "When you land in the city, they go home with a message that only Christ can do that for them.
"Whether they believe or not, we leave it up to them. At the end of the day, we have so many people who have become United Methodists."
*Gilbert is a multimedia reporter for the young adult content team.
Resources
North Katanga Annual Conference
---
Like what you're reading? Support the ministry of UM News! Your support ensures the latest denominational news, dynamic stories and informative articles will continue to connect our global community. Make a tax-deductible donation at ResourceUMC.org/GiveUMCom.