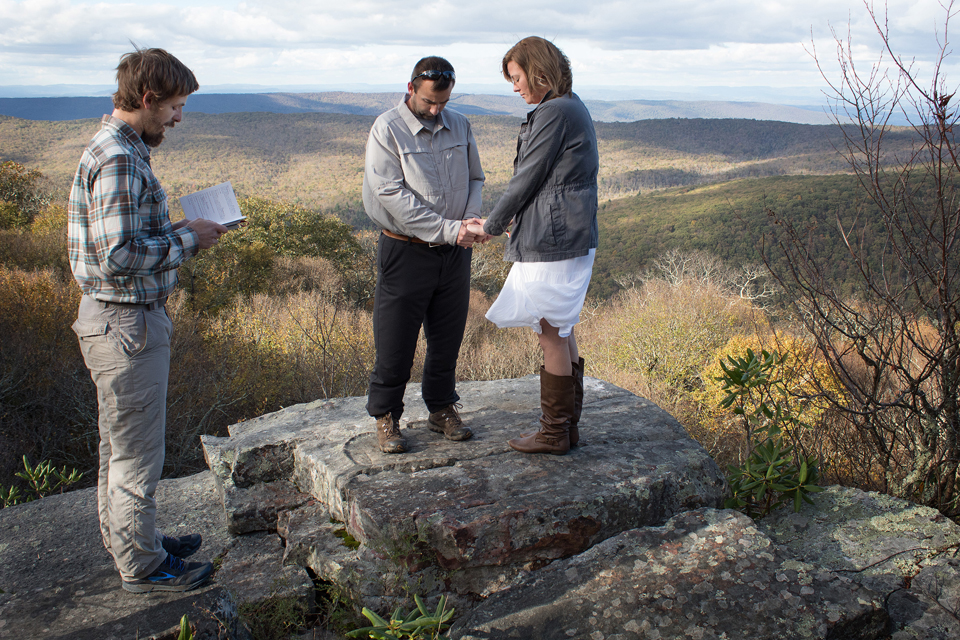 The Rev. Matt Hall conducts a renewal of wedding vows service for Nick and Stephanie Houle atop Sugar Run Mountain, just off the Appalachian Trail near Pearisburg, Va. Hall serves as a United Methodist chaplain appointed to the trail community.
Story by Joey "Hills" Butler, photos by Mike "Grateful" DuBose
Nov. 1, 2017 | PEARISBURG, Va. (UMNS)
 
For most United Methodist itinerant pastors, changing churches can be a period of anxiety. But once the Rev. Matt Hall finishes his appointment now, he may welcome a pulpit that doesn't move every day.
Hall is the fifth chaplain sent to hike the Appalachian Trail by the Holston Conference, which includes East Tennessee, northern Georgia and southwest Virginia — also a significant portion of the trail. He began his trek at Mount Katahdin in Maine on June 21 and is on track to finish his nearly 2,200 miles of ministry at Springer Mountain in Georgia around Nov. 19.
"My goal is to eat Thanksgiving dinner with my family," Hall said.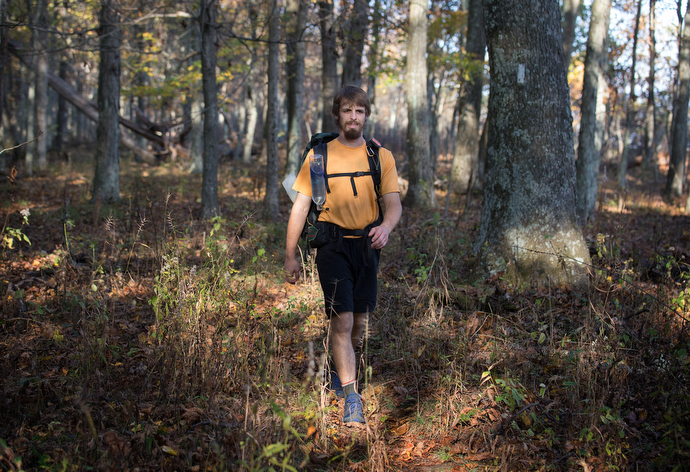 The chaplain position was born out of a ministry to thru-hikers — those attempting to hike the entire trail in one stretch — that two United Methodist churches in Bland County, Virginia, began 16 years ago. The conference has been sending chaplains to thru-hike "the A.T." since 2013, but Hall is the first to be officially appointed to the trail as clergy. The previous four chaplains have been commissioned laity.
"It's more of an appointment to a community; that's no different from a typical church appointment," Hall said. "I'm here to serve spiritual needs as they arise, but a lot of my ministry is just simple service."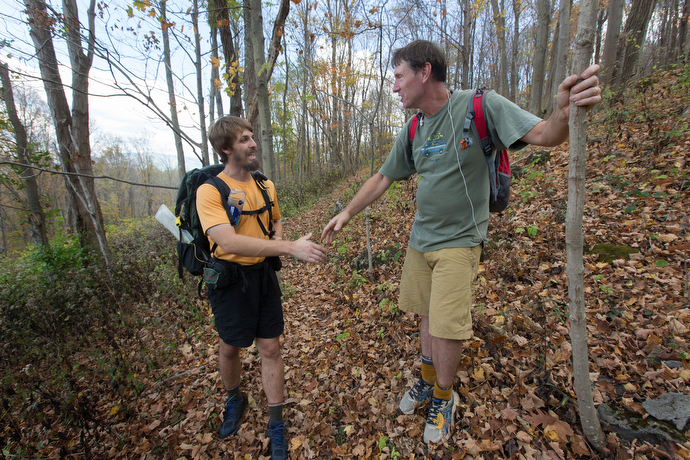 Hall said he often draws more water than he needs to share it with other hikers. During a stay at Woods Hole Hostel in Pearisburg, Virginia, he helped "33," a hiker from Kentucky, repack his backpack to better distribute the weight and avoid shoulder pain. He stripped others' bedsheets in the bunkhouse and took them up to the main house to wash. He greets everyone he meets on the trail and offers encouragement or just wishes them a good day, and sometimes they stop for a quick chat. Many hikers are by themselves and may go long stretches without any personal interaction; a kind word or a listening ear is welcomed.
"During the hike, most of the conversations are relaying information to make someone's existence on the trail better," he said. "That's what we're supposed to do in the real world as well as here."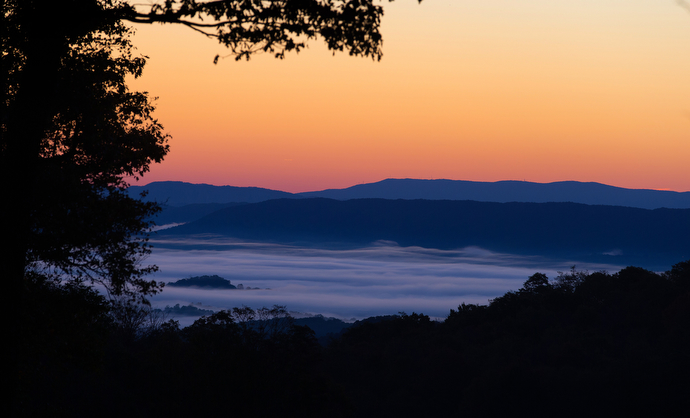 His presence as a chaplain also generates conversation. "Pak" and "Ibu," hikers from Oklahoma, asked about the nature of his ministry. Pak shared a story about growing up United Methodist in Texas and participating in the U.M. Army, a Texas-based mission service agency for youth and young adults.
Hikers typically adopt trail names given to them by others. Hall's trail name is "Trigger" — a reference to both Willie Nelson's famous guitar and a term Hall learned while in recovery from substance abuse.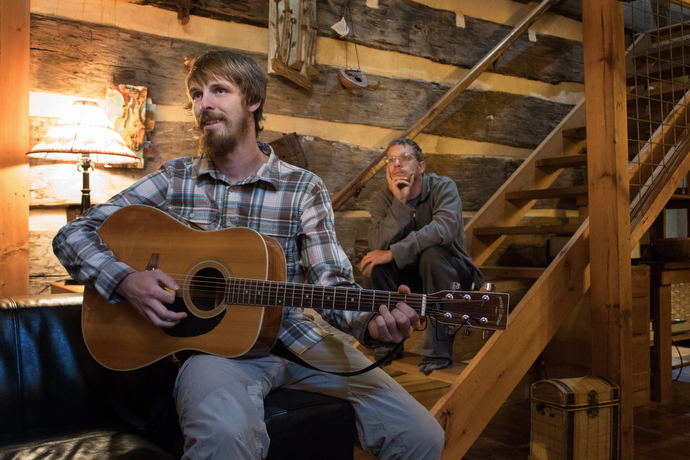 It's a common occurrence for people struggling with addiction to turn to the trail as a way to get clean. Hall gleans from both his ministerial training and personal experience to help them.
"If I meet someone and they're having problems with drugs or alcohol but want nothing to do with Jesus, that's fine. I've been there, that's where I started. But to help I can point them to a community like AA, NA, just those small things. Once you get one roadblock out of the way, then we can worry about the other ones.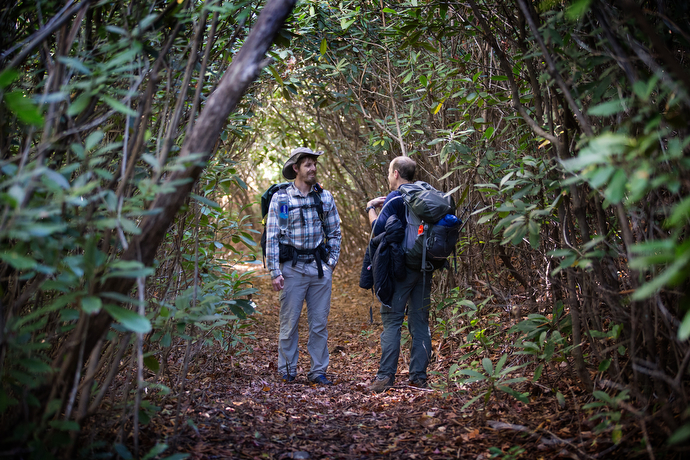 "Some folks come here because they're between careers, or maybe something tragic happened and they're looking for a way to 'check out' and let some healing happen. In those instances, I ask them what they came here to find and are they finding it."
Since hikers are on the move during the day, the deeper conversations happen in the evenings at shelters and hostels.
"That's one reason I start later in the day, so I can talk to some of the stragglers in the shelters," Hall said. "I try to be where I'm going by 5 p.m., and that gives me about four hours to talk to people as they come in." 
See photos, watch video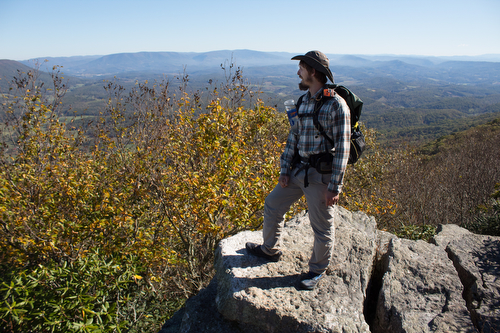 See more photos at our Flickr link.
Take a trip along the trail with our slideshow.
See Matt Hall's interview on "Issues of Faith," WTVF Nashville.
Learn more about the Appalachian Trail Chaplaincy.
He said some of his deepest encounters have come not with hikers, but with hostel owners and townspeople who provide services and help to hikers.
"These folks are people-pleasers at heart and are so used to pouring themselves out to help hikers but don't often have someone to listen to them. A large part of what I'm doing is just listening. I like to get people to tell their faith stories — even if they have no faith.
"I don't claim to be an expert in anything but I do know that if someone came to me firmly rooted in any faith, my role as a chaplain is to be able to help them in any way possible."
As the trail brings people from all walks of life together, Hall has not only been able to share his faith with others, but learn from their beliefs and backgrounds.
He hiked with a neurosurgeon for a while who told him about a field called neurotheology, which studies "the effects of God on the brain." The neurosurgeon told Hall that when people in Eastern religions meditate, they use their visual cortex while prayers in Western religions activate the part of the brain related to speech.
"Prayer and meditation have a vast impact on the brain. Talking to the neurosurgeon gave me a new appreciation for that," Hall said. Earlier, he met a Buddhist monk who gave him advice on how to meditate, and his goal is to spend 10-15 minutes each night doing so.
As he learns of others' faith journeys, he is able to share his own, but is always careful not to be pushy. He said his thru-hike has made him more aware that some things Christians or United Methodists believe are hard for others to accept.
"I was hiking with a geologist — based on science, he believes the universe is 4.5 billion years old. If I started in on Genesis and a six-day creation, that would shut our conversation down. For me, the essentials are that Jesus showed up in my life and when I let him start being a force in my life, it changed me."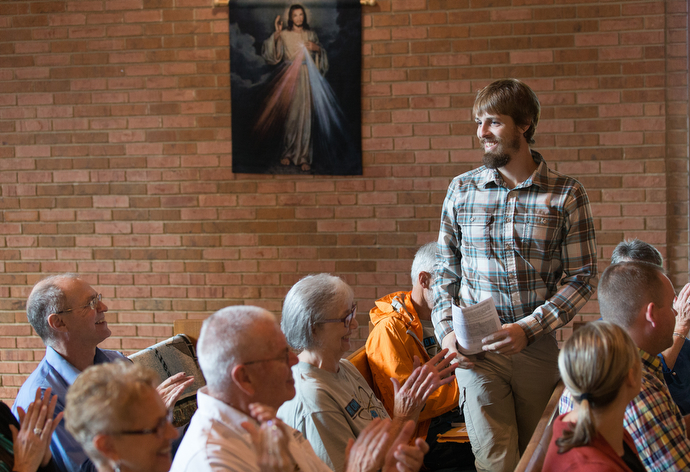 Hall's thru-hike led him back to the very spot where faith changed him. A native of Hillsville, Virginia, Hall reached his "backyard" in mid-October and a homecoming service honoring him Oct. 15 at Pearisburg First United Methodist. The church is a special place for him: It's where he preached his first sermon.
During the service, the Rev. Kim Goddard, district superintendent, said, "The Appalachian Trail Chaplaincy is an example of our church and connection working at its best. Individual and small churches with a passion for this ministry made this happen. This is a celebration of who we are:  churches large and small working together for the glory of God."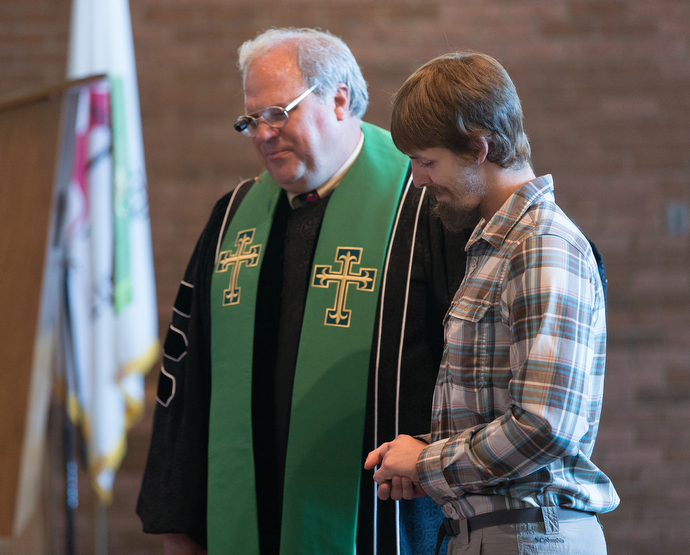 After an arduous (at least to this reporter!) hike up Pearis Mountain, Hall got to experience another first: Wedding officiant.
Nick and Stephanie Houle of Jacksonville, Florida, were looking to renew their vows and decided to do it on the trail.
"We love to hike," said Nick. "The church is God's house, but the A.T. is God's masterpiece. What better place to stand on the edge and say 'I do' than God's great creation?"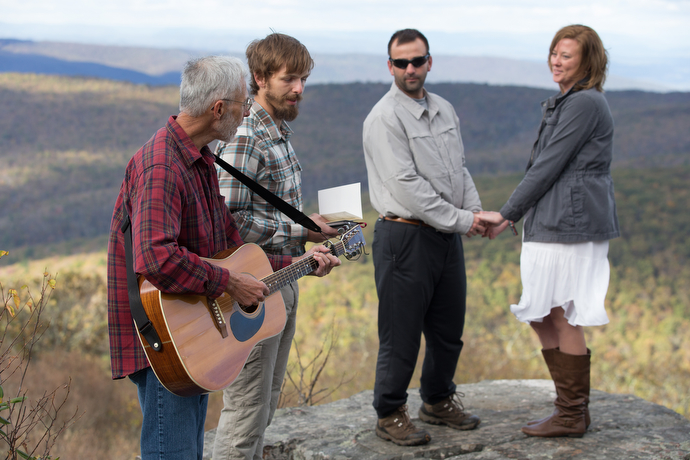 The couple had married three years ago, but in a civil ceremony at a courthouse and, by Stephanie's admission, "not for the right reasons" — essentially to secure insurance coverage for Nick's children from a previous marriage. Personal problems brought the couple to the brink of divorce. Nick had even consulted a divorce attorney who, after hearing his story, encouraged Nick to save the marriage rather than end it.
"We were lost," said Stephanie. "It took us finding God in order to find who we were as people to become married."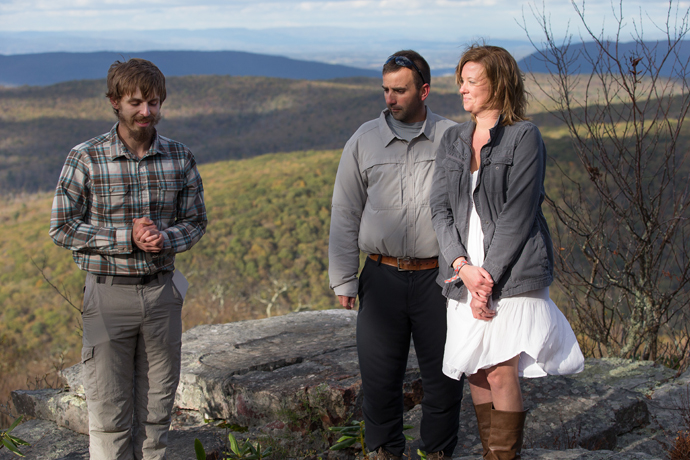 Nick contacted the Appalachian Trail Conservancy, which directed him to the Rev. Alan Ashworth, pastor of the two Bland County churches that began the hiker outreach and co-founder of the Appalachian Trail Outreach Ministry. Ashworth initially offered to officiate, but when Hall decided to pick up his hiking pace, everything fell into place for him to arrive in time for the ceremony.
Learning about Hall's personal struggles with addiction before his current path "made me feel even better about this," said Nick. "We all have a past, we're all broken, we've all decided to change for the right reason. Somehow, while Matt was hiking from Maine, we were in Florida deciding to renew our vows, and we were brought together at this spot."
At that spot, a rocky overlook atop Sugar Run Mountain, on a frigid and blustery day, five strangers turned new friends helped the Houles celebrate their new union. It was beautiful.
"I'm glad it was so cold up there," Hall said afterward. "It hid the fact that my hands were actually shaking from nerves!"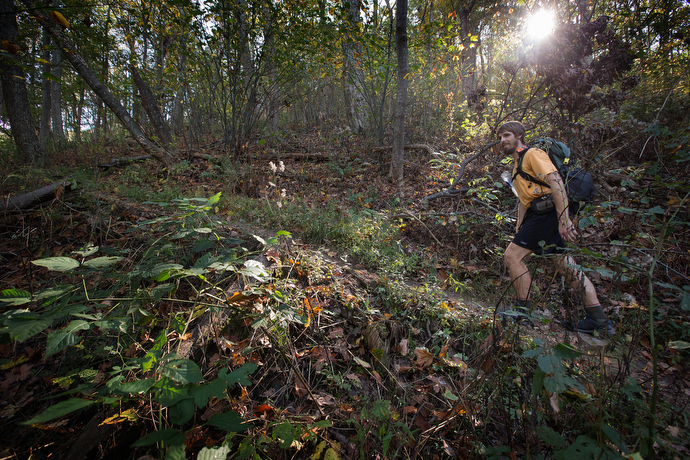 As he nears the end of his trail journey, Hall has begun to consider what ministry will look like from now on.
"I'll be in a more formal and traditional setting for ministry. I may be at a two-point charge, but we're not 100 percent on that yet."
Apart from regular showers and ready access to soda, Hall acknowledged that he has also missed traditional worship.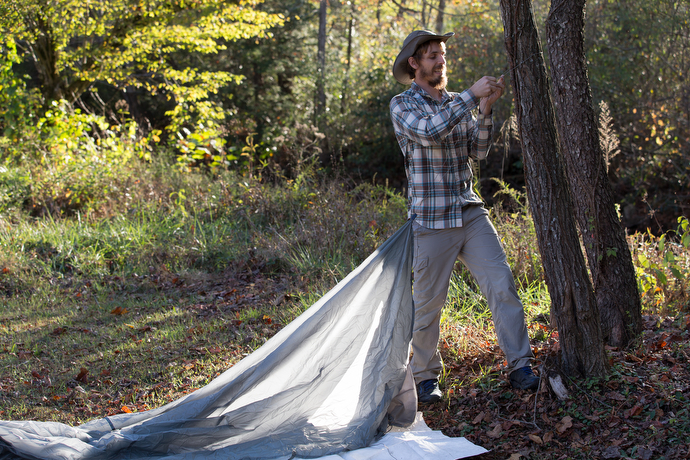 "It took a while to adjust to an unstructured community," he said, "but part of this ministry is to bring an intentional community experience to people on the trail who would normally never walk through church doors. As I miss things like liturgy and lectionary, it's almost the creativity to make our own."
One thing both Hall and Ashworth hope for is the possibility of some type of partial appointment to the A.T., even after his thru-hike ends. Since the chaplaincy remains open to both laity and clergy, a layperson would be unable to serve communion like Hall has, or officiate a wedding. Ashworth likes the idea that someone may one day want to be baptized there.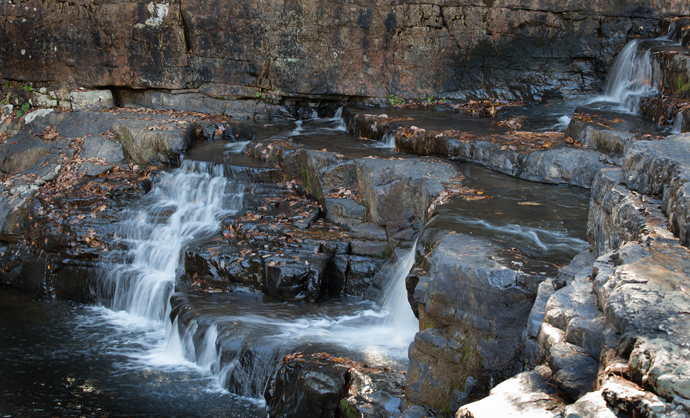 "We've appreciated the benefit of having sacramental authority on the trail," Ashworth said. "It would be nice to maintain that authority when the circumstances call for it."
Hall is definitely open to the idea. He said that for most, once you hike the trail, you never get too far from it. He'd also like to find a way to give back to the place that's been such a big part of his ministry.
After all, he said, "how many pastors get to marry people in the same clothes they run trails in?"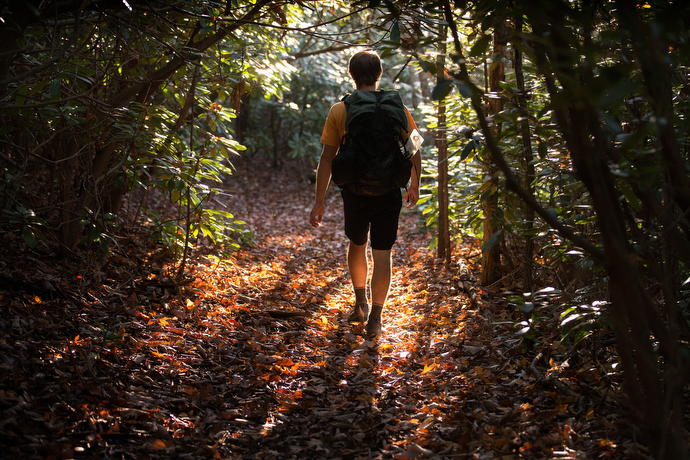 "Hills" is a multimedia producer/editor for United Methodist Communications and "Grateful" is staff photographer for United Methodist News Service. News media contact: Vicki Brown, Nashville, Tenn., (615) 742-5470 or [email protected]. To read more United Methodist news, subscribe to the free Daily or Weekly Digests.
---
Like what you're reading? Support the ministry of UM News! Your support ensures the latest denominational news, dynamic stories and informative articles will continue to connect our global community. Make a tax-deductible donation at ResourceUMC.org/GiveUMCom.