After suffering years of physical abuse from her husband, "Jane" ventured into First United Methodist Church, Anchorage. Jane's mother had warned her about going to a church for help because they probably would tell her to "pray about it and go be a better wife and you won't get beat."
But Jane had heard that First Church was different. She had read about the congregation's "Shed the Light on Domestic Violence" service, slated for Oct. 24 and now in its third year.
"This event was born out of an idea at a United Methodist Women national seminar," said Jennifer Miller, administrative assistant at First Church and a UMW leader. "A small group of us came up with the idea of lighting a candle for domestic violence at the same time across the United States. No matter what state you were in, it was a way to connect us all together.
"When I came back to Alaska, I met with our pastor, the Rev. Ronald Myers, and we discussed having a prayer service as well as a candlelight vigil." A representative from the local domestic violence shelter attended the 2011 event and offered resources.
Last year, seven other Anchorage-area churches joined First United Methodist in offering services on the same night. Participants were encouraged to set aside time for discussion and information sharing.
"A fireworks stand donated 3-foot-tall sky lanterns," Miller said, "so following the service, we released the lanterns as a sign of hope" and observed a moment of silence.
The domestic-violence shelter encourages those who do not attend worship services regularly or do not have a home church to join First Church for the event. The goal is for 1,000 community members to hear messages of safety and respect in relationships and to release 1,000 purple lanterns to honor survivors of abuse.
'We saved her life'
Today, Jane is grateful for the help she received.
Miller recalls Jane's initial visit to the church. "We talked for about 30 minutes, and Jane told me she was running from her husband and needed gas money to get out of town," Miller said. "I am usually skeptical when someone asks for money, but on good faith, I gave Jane $40 and told her I would pray that she (would be) safe."
Six months later, Jane returned to the church. She "looked great," Miller said. "She told me that we saved her life .... that she was in town to go to court for a divorce and wanted to say 'thank you.'"
'People of faith should respond'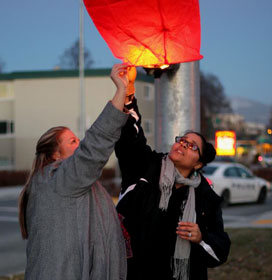 Both the Abused Women's Aid in Crisis staff and Miller have urged churches and government leaders to take a role in stepping up the effort to fight domestic violence in Alaska. Gov. Sean Parnell emphasized Sexual Assault Awareness Month (April) and started a "Choose Respect" campaign. The Shed the Light on Domestic Violence event "gives us a little foot in the door to reach out to those who participate in the Choose Respect march and rally," Miller said.
Recently the Washington Post referred to a domestic violence pandemic. Domestic violence is the leading cause of injury to women in the United States, and three women perish at the hands of abusers daily.
Why should people of faith care? Miller replied simply, "People of faith should respond because a woman is assaulted or beaten every nine seconds. In Alaska, the statistics (indicate) that one in four women is abused." Domestic violence affects men, women and families "of all races, of all economic levels, of all ages, of all religions."
They "are in our congregations," she added. "They are seeking the love and support of our faith community. The Scripture says that Christians should stand in defense of others being harmed and stand against injustice, especially as it relates to children or helpless members of our society."
For First United Methodist Church, domestic violence is a year-round concern.
"Our church has become partners with the (AWAIC) shelter on a few ongoing ventures," Miller said. During the Christmas season, the church acts as a store with donated presents for the children staying at the shelter so parents and others can "shop" for gifts and wrap their purchases.
"We also are the emergency backup shelter," Miller said. "In case the shelter is ever damaged beyond use, they will move to our facility where supplies are stored for this exact purpose." The church is also part of the Anchorage Alliance for Violence Prevention, which includes several agencies across the city.
Involvement is key
Resources for churches and individuals
Related Stories
"By being a part of AAVP, being a part of South Central Foundation Family Wellness Warriors Initiative, as well as being a point of contact for the shelter," she added, "they know if they need something that I can help find, they can call. It's about open communication and making it a point to be involved."
In preparation for the event later this month, the Alaska United Methodist Women hosted a rally on the Denali Park Strip in Anchorage on Oct. 4.
"This is a kickoff event for our UMW annual gathering," Miller said. "Our theme is 'Walkin' with My Sister.' What better way to walk with my sister?" Women made signs and walked a mile around the park strip to bring awareness to domestic violence. Others joined in a prayer vigil in the sanctuary. Participants collected new shoes, boots and socks for the domestic violence shelter.
"When families are in crisis," said Suzi Pearson, AWAIC executive director, "they often turn to their church or faith community for support and guidance. Domestic violence is a pervasive problem in Anchorage, and faith communities have a critical role in responding to victims and their children and ensuring that the church is a true sanctuary of non-judgment and safety.
"First United Methodist Church has been a leader in working with AWAIC and AAVP to build community awareness as well as to open its doors as a gathering place for events like Shed the Light. First Church has set an example of caring and compassion for all those impacted by domestic violence, and we are grateful for their support."
*Dunlap-Berg is internal content editor for United Methodist Communications, Nashville, Tenn.
News media contact: Barbara Dunlap-Berg, Nashville, Tenn., (615) 742-5470 or [email protected].
---
Like what you're reading? Support the ministry of UM News! Your support ensures the latest denominational news, dynamic stories and informative articles will continue to connect our global community. Make a tax-deductible donation at ResourceUMC.org/GiveUMCom.