A spiritual journey that led a university music teacher through 17 years of research on the Holocaust has culminated in a new challenge: studying for the ministry.
"There were so many times my husband would walk in the room and I'm writing and working on it, and there were tears," said Kellie D. Brown, author of "The Sound of Hope: Music as Solace, Resistance and Salvation During the Holocaust and World War II."
"I decided a long time ago that if I could write about this and tell the stories and not feel any emotion, then it was time for me to be done with this. And so I'm thankful that hasn't happened."
Brown, professor of music and chair of the department at Milligan University, published the book last summer. She is a member of First Broad Street United Methodist Church.
The book weaves together stories about Jewish musicians caught up in the Nazi regime's genocidal policies during the 1940s.
It's a complex tale partly about how music helped people in concentration camps and Jewish ghettos cope with brutal surroundings and the constant threat of death. On the other hand, because the musicians sometimes received privileges and performed for Nazi officials, some fellow prisoners held grudges and considered the musicians to be collaborators with the Nazis.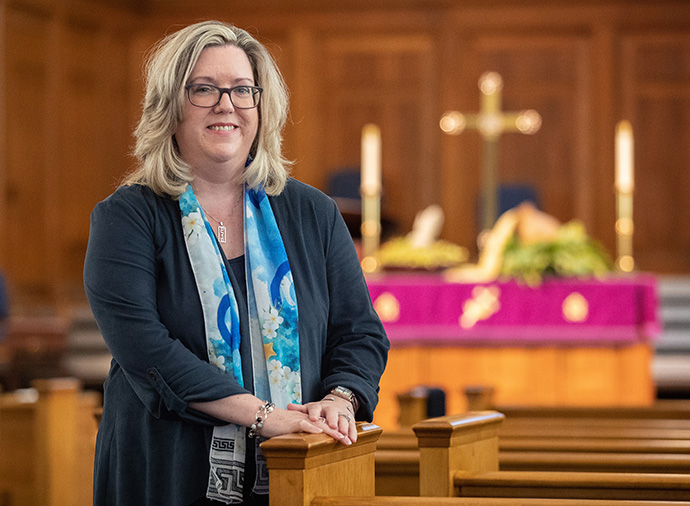 Included are Alma Rosé, an Austrian violinist and the niece of composer Gustav Mahler, who directed an orchestra of female prisoners and later died at the Auschwitz-Birkenau concentration camp, and Wladyslaw Szpilman, a Polish pianist and composer who narrowly survived the Holocaust.
Rosé's story was made into the television movie "Playing for Time" starring Vanessa Redgrave, and Adrien Brody won an Academy Award for his portrayal of Szpilman in "The Pianist."
"When people read the book, I want them to be moved and to relate to these people, to feel empathy, to imagine what it would be like to be in these places," Brown said. "I try to paint the pictures very vividly, so you can smell the smells, hear the sounds, see the sights, so you can imagine yourself there."
A passage from the Szpilman section of the book offers a taste of the indignities documented in "The Sound of Hope," in addition to the slave labor and mass murder.
"On at least one occasion, Szpilman observed guards ordering musicians into the street to perform dance music and then forcing residents to dance," Brown wrote in the book. "Intending to create a grotesque spectacle, the soldiers picked only those who would make the most 'amusing' dance couples, such as the fat, the short or the crippled."
"The Sound of Hope" received a positive review in The Washington Post.
"It's little wonder … that in times of extreme calamity, music is crucial," wrote Diane Cole in the review. "Kellie D. Brown shows how for persecuted and imprisoned Jews, music became a way to preserve their humanity and at times even their lives. … While our current (coronavirus) crisis differs vastly from the era she depicts, the contemporary resonance is inescapable."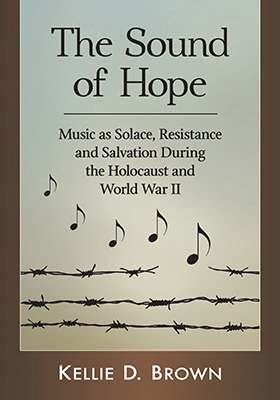 Cover art courtesy of McFarland & Company Inc.
While Brown does not consider the Holocaust and COVID-19 to be even close to equivalent tragedies, she does see some shared elements. The same could be said of racial tensions in the U.S. after the killings of Black citizens including George Floyd.
"When this started out, it was very academic," Brown said of the book project. "I wanted to do a great job with the research. I wanted to write well. But then something else started happening. I found my heart become more and more tender, not only toward these people, what happened to them, but just thinking about empathy for other people."
Brown began contemplating the role of the church when it comes to racial issues.
"We're still fighting these same kinds of battles about race and us versus them," she said. "So I began to think, 'What is the church's role in all of this? What is our role as followers of Christ?'"
Brown did not address those issues in the book, but she said something began to change inside of her.
"What can we do today, as followers of Christ, as ministers, to recognize these things and to make change for social justice, racial justice?" she said. "And I wanted to have a heart for that kind of ministry."
Brown recently began classes to earn her credentials as a licensed lay minister. Her friend Miriam Perkins, professor of theology and society at the Emmanuel Christian Seminary at Milligan University, said she is excited to see where the new direction takes Brown.
"Her teaching has always been in the spirit of someone who cares about faith and cares about how young people are formed in ways that might make them servant leaders within the community and within the church," Perkins said.
"In some ways, her intellectual journey has become a spiritual journey, and I think it's beautiful in the way that God has sort of matured her interests in ministry toward becoming a certified lay minister."
Brown does not aspire to be the lead pastor at a church. She sees herself more as a guest speaker on issues important to her, or perhaps as an interim pastor.
"I see an urgent need for people to speak out on behalf of social justice issues because I've seen what happens when the hate is there, when it's front and center and when it's given permission to come out from under the rocks that it's hiding," Brown said.
"We saw it on Jan. 6 (when) they were storming the Capitol," she said. "One man (had a) 'Camp Auschwitz' shirt on. Another man had 'Six million wasn't enough.'
"I think it is urgent to counter that."
Patterson is a UM News reporter in Nashville, Tennessee. Contact him at 615-742-5470 or [email protected] To read more United Methodist news, subscribe to the free Daily or Weekly Digests.
---
Like what you're reading? Support the ministry of UM News! Your support ensures the latest denominational news, dynamic stories and informative articles will continue to connect our global community. Make a tax-deductible donation at ResourceUMC.org/GiveUMCom.