In Romans 16, the apostle Paul encouraged the early Christians to welcome "Phoebe, a deacon of the church at Cenchreae" and to "help her in whatever she may require from you."
In today's United Methodist Church, Phoebe would be considered a deaconess, a laywoman called by God to full-time vocation in ministries of love, justice and service. The deaconess movement — which Phoebe unwittingly began — is flourishing in the Philippines.
"At present," said Jocelyn Bunggay-Baluyut, "439 deaconesses are appointed in church institutions and agencies of The United Methodist Church in the Philippines and actively performing multifaceted ministries that help the church pursue its mission."
She is alumni association president at Harris Memorial College in Taytay, located outside Manila, where women prepare for consecration as deaconesses as well as for other careers.
In 1903, Harris Memorial College was founded to train deaconesses. It has since expanded its offerings to include non-deaconess programs and basic education from preschool to grade 12.
Simultaneous with the birth of the institution was the modern-day birth of the deaconess movement, which began with a small group of young women who usually taught music and hygiene, especially to children. As more women committed their lives to this vocation, their numbers grew, and their ministries became more diverse and dynamic.
Often, candidates enter Harris right out of high school. Each must write a personal narrative of why she wants to become a deaconess. All incoming students receive need-based partial or full financial scholarships. The school's deaconess program offers bachelor's degrees in elementary and early childhood education and Christian education.
Together, the women form a covenant community that is rooted in Scripture, informed by history, driven by mission, ecumenical in scope and global in outreach.
"It is amazing," said Cristina N. Manabat, Harris president, "to see deaconesses who have been called by God and were trained (years ago) by Harris Memorial College, who continue to serve as deaconesses wherever they are."
Manabat said deaconesses model Jesus' ministries: teaching, preaching and reaching out to people, especially those who are less privileged. In public and private institutions, they serve as kindergarten teachers, Christian educators, curriculum writers, guidance counselors, music ministers, youth directors and more.
Mariel E. Lumibao, a fourth-year student in the deaconess program, is studying elementary and early childhood education.
"I appreciate so much how this institution has been molding me to be a person who possesses Christ-likeness character. It serves as a great avenue in preparing me to be the ideal deaconess."
She said her training is a means to being a living testimony of God's love in leading the church and the community.
"Harris Memorial College has so far equipped me as the best version of who I am," she said.
Some deaconesses fulfill their calling in agencies such as the National Council of Churches in the Philippines, an ecumenical institution of mainline Protestant and non-Roman Catholic churches. Others are involved in migrant ministries of the church; Kasimbayan, an ecumenical center for development; and Rise Up for Life and for Rights, an ecumenical alliance campaigning against extrajudicial killings.
Zenaida P. Lumba, class of 1959, served as Harris president for 19 years. "Deaconesses are like yeast," she said. "They make a difference quietly. They don't call attention to themselves for whatever they do or accomplish. As they say, 'once a deaconess, always a deaconess.'"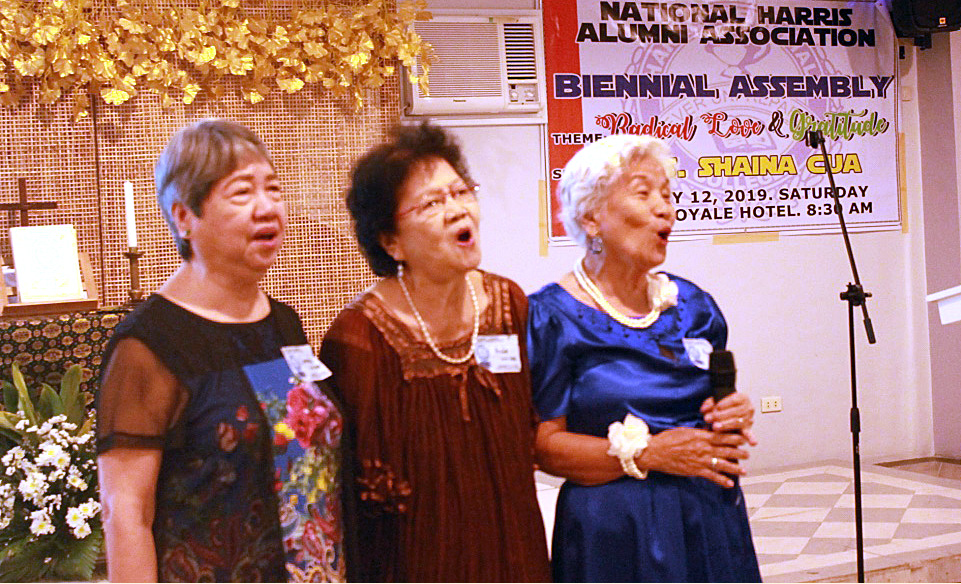 Deaconesses serve in other parts of the world as well, though their numbers are fewer. In the United States, The United Methodist Church has about 160 active deaconesses (laywomen) and home missioners (laymen). In the U.S., a deaconess and home missioner must find employment approved by the Office of Deaconess and endorsed through a process approved by United Methodist Women. They are consecrated by a bishop, who reads the appointment at the annual conference where the deaconess will serve.
In the Philippines, a deaconess is generally assured of an appointment in a local church.
During her last weeks at Harris, each woman goes through a final interview by the Commission on Deaconess Service to assess her spiritual, emotional, educational and physical fitness and preparedness to serve. Active deaconesses are appointed by the three bishops who preside over 26 annual conferences and one provisional annual conference. Their names are read aloud during the annual conference reading of appointments.
While clergy serve as spiritual administrators of local churches, deaconesses have more focused tasks.
In a report, the Rev. Amelita Grace G. Cajiuat and retired deaconess Liwliwa Tubayan Robledo said, "The deaconess movement is so strong in the Philippines because the local churches continue to rely on the gifts and skills they contribute to the development of the children, youth and women" of the church and community.
"Whereas laypeople (not necessarily a member of the church) staff these offices in the U.S., (Filipina) deaconesses continue to supply leadership to these important contributions the church offers to the communities."
The 2016 General Conference recognized deaconesses and home missioners as an order of United Methodist Women. They are not ordained. It wasn't until the 1996 session of the General Conference that deaconesses were recognized as full members of the annual conference, entitled to the right to vote and be voted upon.
Inspiring young women to enter deaconess ministry today is a challenge, Manabat noted. "We are intentional in promoting the programs of Harris Memorial College, actively sharing testimonies of our calling, sharing our faith journeys."
Another challenge is financial.
"Most of the student deaconesses," Manabat said, "come from poor families. But God is faithful and generous. God provides, despite the meager amount we get from student fees. Whatever financial support — every peso, every dollar being sent to Harris Memorial College — goes a long, long way."
Lumba said faith and trust in God are essential.
"When God gives you a ministry," she said, "do it with all your might and do it joyfully. There may be mountains and valleys along the way. Rest assured, you will not walk alone. When you get tired …, he will carry you through. When you do his work, you will never be in want."
Mangiduyos is a United Methodist News Service correspondent based in the Philippines. News media contact: Vicki Brown, Nashville, Tennessee, (615) 742-5470 or [email protected].
To get more United Methodist news, subscribe to the free Daily or Weekly Digests.
---
Like what you're reading? Support the ministry of UM News! Your support ensures the latest denominational news, dynamic stories and informative articles will continue to connect our global community. Make a tax-deductible donation at ResourceUMC.org/GiveUMCom.